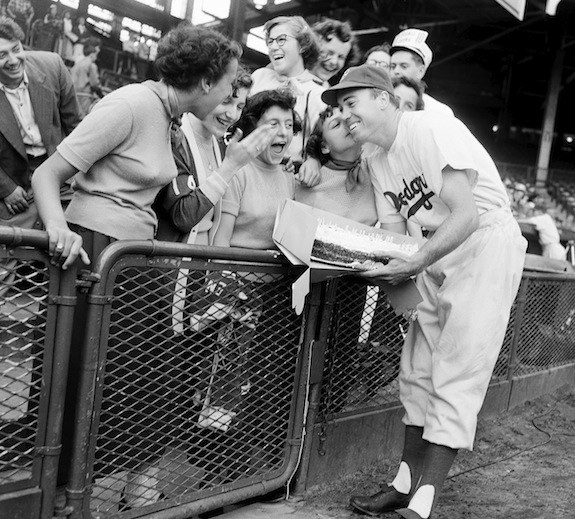 The Hall of Fame, on behalf of the Snider family, announced on Sunday afternoon that Duke Snider, the Duke of Flatbush, had died at the age of 84. Snider, a mercurial player who had a love/hate relationship with the fans and eventually faced tax fraud charges, is the only player to hit four home runs in the World Series twice and blasted the last long ball at Ebbets Field. Of the famous trio of New York center fielders immortalized in highlight reels and song by Terry Cashman, only Willie now remains alive.
Snider, enshrined in the Hall of Fame in 1980, suffered under the shadow of his more well known center field counterparts. Both Willie Mays and Mickey Mantle put up better career numbers and won more awards. But Snider, an eight-time All Star and one of two players to drive in 1000 runs or more in the 1950s, earned Brooklyn's love by sticking it to those damn Yankees in the 1955 World Series. He blasted four home runs and hit .320/.370/.840 during the Dodgers' lone World Series win while in Brooklyn.
What I know about Snider I've learned through second-hand sources and my own study of baseball history. I'd urge you to read The Times obituary and excerpt Dave Anderson's profile:
They don't make center fielders like that anymore. With the big ballparks now, most center fielders are gazelles who can chase down balls lined into the gaps and hit for average, if they hit at all. Willie, Mickey and Duke not only were sluggers, they could also run.

Over their careers, Mays and Mantle each earned adulation as arguably the best baseball player ever. Snider never did, but for a time in the '50s the Duke of Flatbush was better than either of them. He hit 407 home runs, almost all for the Dodgers in Brooklyn and Los Angeles, and a few for the Mets and the Giants at the end. But in the '50s he hit more home runs than Mays or Mantle or anybody else in the big leagues.

Duke had it all: a sweet swing, a bazooka arm, springs in his legs. He also had the luck of being virtually the only left-handed slugger in a lineup dominated by right-handed hitters like Jackie Robinson, Roy Campanella, Gil Hodges and Carl Furillo. As a result, Snider usually was swinging against right-handed pitching.

Then again, he didn't really have it all. As he often acknowledged, he had a "big mouth" that tarnished his image and his popularity. After being booed at a game at Ebbets Field one night, he snapped that Brooklyn fans "don't deserve a pennant." That prompted even more boos the next night. He later put his name on a Collier's article confessing that he played baseball only for the money, that he would rather be in California on his avocado farm not far from Los Angeles.
Today, I live a short walk — and an even shorter subway ride — away from where Ebbets Field once stood. Now and then, old Brooklyn Dodger fans emerge to wax nostalgic about Dem Bums. Baseball lost another one. Here's to you, Duke, ever the Duke of Flatbush, ever a thorn in the Yanks' side.