We've got a relatively short but still sweet mailbag this week. I assume all of you were too busy scheduling your parties for Bartolo Colon's start tomorrow to send in questions. Anyways, this week we're going to talk about a long-term deal for Phil Hughes, Plan B after Russell Martin, a Joba-for-Johan trade, and one more Joba-to-the-rotation scenario. Send your questions in via the Submit A Tip box in the sidebar.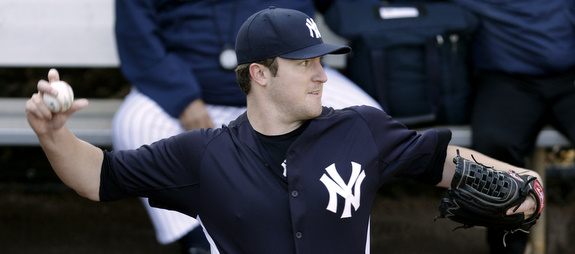 Vinny asks: Though it will obviously be determined by a combination of performance coupled with salary demands, do you see Phil Hughes staying with the Yankees long-term once he hits free agency?
We're a long ways away from this, but I'll go out on a limb and say yes. That assumes he's healthy and performing at a level deserving of a long-term extension, of course. The Yankees have no trouble paying to keep their own guys unless they have concerns with the medicals, so the cost won't be a problem unless Hughes is being unreasonable. Remember, when Andy Pettitte left after 2003, it was because the Yanks were worried about his elbow. Sure enough, he hurt it the next year.
Hughes will hit free agency after the 2013 season, when he'll be just 27 years old. Quality pitchers make major, major bucks when they hit the open market at that age, and the Yankees have more money than anyone. A seven-year deal (if it comes to that) would only take Phil through age 34 as well, so it wouldn't be a crazy commitment. As it stands, I think he stays.
Joe asks: Even though Cashman stated that Russell Martin is the primary catcher, what happens if he does not make it? What will be the best pair then? Cervelli/Montero, Cervelli/Romine, Montero/Romine or at the very least Cervelli/Posada? Or sometime of different catcher combo?
If Martin doesn't hack it for whatever reason, injury or poor performance, I'm all for turning Jesus Montero loose. Jorge Posada is the designated hitter now and should remain there; I only want him catching in an emergency or in an NL park during the World Series or something. Frankie Cervelli would stay in the backup role because that's what he's best suited for, and Austin Romine just isn't ready yet. He absolutely needs more minor league seasoning.
Montero's ready as far as I'm concerned. I have no worries about the bat playing against AL East pitching, and he could work on his defense at the big league level as long as he's behind the plate regularly. In fact, an argument can be made that being around Joe Girardi and Tony Pena everyday would be the best thing for his defensive development. We all know he's going to be below average defensively but that's fine, you take the bad with the good. We've been talking about Montero's time coming for over a year now, and that time is rapidly approaching.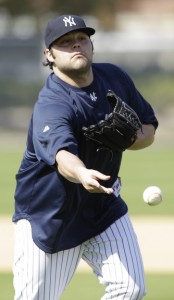 Brian asks: Assuming he's healthy, would the Yankees trade Joba Chamberlain for Johan Santana straight up?
They'd better be willing to do that. Joba's nothing more than a middle reliever right now, a middle reliever they only control for another three years at a below-market but not absurdly team friendly rate. If you can't give up a reliever for an ace level pitcher, you love your players far too much, I don't care how good your guy is. If I was the Padres or Dodgers, I'd give up Luke Gregerson or Hong-Chih Kuo for a healthy Santana in a heartbeat.
Of course, Johan is not healthy and won't be for some time, so this is just a hypothetical. Shoulder surgery is scary stuff, and Santana would have to show he's healthy and effective before I'd consider trading for that contract. For all we know, that ace level pitcher could be gone forever.
Shaya asks: Is it all possible that Joba remains a reliever until his late twenties (when there is absolutely no more physical maturing and the body is more durable) and then they try again as a starter (a la C.J. Wilson etc.)?
Sure, it's always possible. I don't see it happening with the Yankees though, so Joba will have to either get traded or sign elsewhere as a free agent first. The Yankees seem pretty hellbent on keeping him in the bullpen, which is fine, it's their call. I don't agree with it but I'm not the one with my neck on the line if it blows up in my face.