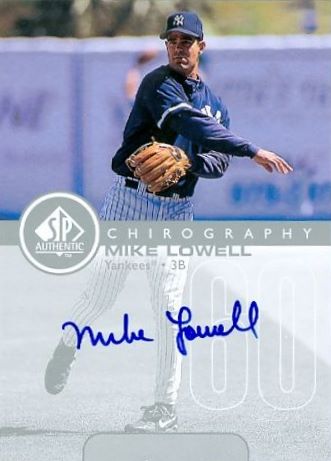 If you blinked, there's a chance you missed Mike Lowell's career as a Yankee. A 20th round draft pick in 1995, Lowell received a grand total of 15 plate appearances in pinstripes, picking up four singles in 1998. With Scott Brosius coming off a .300/.371/.472 season, the Yankees traded a then 24-year-old Lowell to the Marlins for three young pitchers: Todd Noel, Ed Yarnall, and Mark Johnson. Yarnall had been ranked as the 60th best prospect in the game by Baseball America before the 1998 season, and he was the only one to ever make an appearance in the Bronx (20 IP, 5.40 ERA). He was later traded to the Reds for Denny Neagle while Noel never made it out of A-ball and Johnson went to the Tigers in the 1999 Rule 5 Draft.
Lowell, meanwhile, went on to have a long and productive career first with the Marlins and then with the Red Sox. He doubled off Andy Pettitte in Game Six of the 2003 World Series, and during his career he hit .314/.377/.506 with a dozen homers in just over 300 plate appearances against the team that originally drafted him. Brian Cashman later said he wishes he could have a do-over on the Lowell trade, a trade that took place 12 years ago today. Pitching prospects, eh? They'll break your heart.
Anyways, here is the open thread for the evening. The Devils, Isles, and Rangers are all back in action now that the All Star break is over, so hooray for that. Talk about whatever your heart desires.