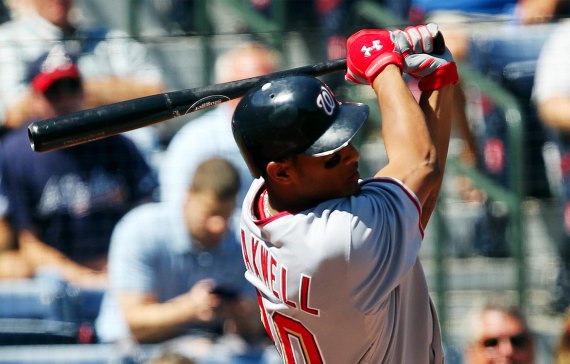 Via MLBTR we learn that the Yankees have acquired recently DFA'd outfielder Justin Maxwell from the Nationals. It's not a particularly big move, but it does give the Yankees a potential fifth outfielder, as well as some depth for AAA. That is, he'll likely push Greg Golson back to the minors. The Yankees will send Adam Olbrychowski to the Nationals.
Maxwell, 27, was rated the Nationals' No. 8 prospect heading into the 2010 season. Baseball America call him a "physical specimen with plus athleticism" and noted his patience and power potential. His review ends with an encouraging note, too: "If he hits, he can be a valuable four-tool player." In between, though, were a few negatives, including injuries, inconsistent contact skills, and a poor arm. The injuries remain an issue: Max well recently underwent Tommy John surgery, though he's expected back for spring training.
The Nationals have recalled Maxwell in three seasons, but he's managed just 260 PA in his career. In 2009 it appeared he was on the path to regular playing time, as he produced a .357 wOBA, which included plenty of power, in 102 PA. But in 2010 he fell off, a mere .279 wOBA in 131 PA. Even in AAA he experienced a power dip, though his .390 OBP helped compensate.
The Yanks aren't asking much of Maxwell. He's out of options, so either he makes the team or he heads back through the waiver process. (Edit: He does have a remaining option.) I think he's a better option than Greg Golson, but even if he's not there's little risk in this move. The only downside is having to remove someone from the 40-man roster. That man is Jordan Parraz. They still have to remove someone for Andruw Jones. Mike and I discussed 40-man roster issues on a recent podcast.
This move won't make an enormous difference in the 2011 season, but it's another example of the Yankees shoring up when there's an opportunity. If Maxwell helps, great. If not, he's easily expendable. We've criticized Brian Cashman in the past for not using his resources to build powerful benches. It appears this year that he's put a bit more focus on that aspect of the team.
Bonus: Here's another Maxwell grand slam.
Update by Mike (2:58pm): Joel Sherman says that Maxwell does in fact have one option remaining, which is excellent news.