When the Yankees seek pitching help during the 2011 season, it will likely come from outside the organization. This morning Joel Sherman reminisced about previous years where the Yankees used a young player they had not intended, but this situation feels a bit different. When Phil Hughes came up in 2007 he was the the best amateur pitching prospect in the game and had just finished a season in which he threw 146 innings. In 2011 Dellin Betances and Manny Banuelos might appear attractive options, but in 2010 they combined to throw as many innings as Hughes did the season before he made the bigs. Both pitchers are short on experience, and I think that keeps them out of the picture, at least as starters, for the 2011 season. Unless Andrew Brackman breaks out in a serious way, the Yankees are going to have to explore other options to fill in rotation spots.
Today Buster Olney listed 11 pitchers who might become available during the 2011 season. Some we've written about, and some we haven't. But if the Yankees don't get much use out of Freddy Garcia, Ivan Nova doesn't delvier in his sophomore effort, or Andrew Brackman isn't ready, they're going to look to the market for a replacement. These 11 names will likely come up in discussions if their teams make them available.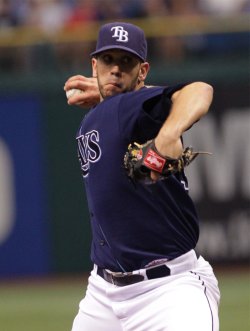 James Shields: In 2010 James Shields saw some of his stats spike. With his strikeout rate also went his home run rate and BABIP. That still amounted to peripherals that far outpaced his 5.18 ERA. We're undoubtedly going to see better from Shields in 2011, but that doesn't mean he's a fit for the Yankees. Not only will the Rays likely need him to remain in contention, but they probably won't be so willinng to trade him to the Yankees. He still has a team friendly contract: $4.25 million this year, followed by options for $7 million, $9 million, and $12 million.
Joe Blanton: We hear a lot about Blanton, mainly because of rumors that the Cliff Lee signing left the Phillies short on cash. Blanton has had his ups and downs throughout his career, and he has seen his home run rate jump, and his ground ball rate decrease, since moving to Philadelphia. He currently has two years and $17 million remaining on his contract, so he's affordable. But I'm not sure he's quite the answer the Yankees seek. It depends on how desperate they become.
Edwin Jackson: We talked about Jackson's case here. His availability will depend on Chris Sale's and Jake Peavy's statuses. But if the Sox are in contention, I can't see them trading a useful pitcher unless it fetches them a player who can immediately help the team. I'm not sure the Yanks have an expendable player who would fit the bill.
Paul Maholm: He's a groundball heavy lefty who doesn't strike out anyone, but that doesn't mean he's a good pitcher. His career FIP is 4.28 and xFIP is 4.31, so he's not a total disaster. But when he allowed a lot of hits on balls in play, which happens with such a contact-heavy pitcher, his ERA gets inflated. In the past two years it has been considerably higher than his peripherals indicate.
Shaun Marcum: The Brewers are all-in for 2011, but that doesn't mean they're guaranteed anything. A few bad breaks and they could be well behind the Reds and the Cardinals, and maybe even the Cubs, by the time July rolls around. They might want to hang onto Zack Greinke, but Shaun Marcum could fetch them a farm-replenishing return. He had a superb return from Tommy John surgery in 2010, and despite poor velocity he can still rack up strikeouts at a league average rate while keeping his walk rate low. His changeup is an especially effective weapon, which could help him fend off lefties salivating over the short porch.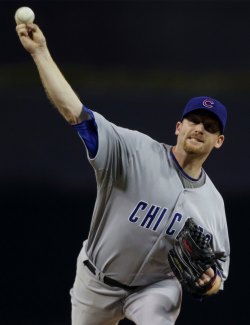 Ryan Dempster: If I were to make a list of underrated pitchers, Dempster would finish in the top three. Ever since moving back to the rotation in 2008, after four years in the bullpen, Dempster has shined. In fact, 2010 was his worst year of the three, and even then he had a 3.85 ERA and 3.99 FIP. He can strike out guys, and his walk rates are usually acceptable. His contract is a bit much, as he's owed $27.5 million over the next two seasons. But if the Yanks can get him for a decent price, I think they'd jump.
Carlos Zambrano: Mike has previously said everything I want to say, and more, The Mariners won't trade Felix Hernandez.
Jeremy Guthrie: His name has come up in many discussions this winter, but the hangup is always the prospect of trading him within the division. He has four years of service now, meaning he'll be arbitration eligible in 2012 before hitting free agency. That said, I'm not sure he's the best guy for the job. His home run rate is always fairly high, and he doesn't strike out many batters. Last year his ERA was ahead of his FIP and way ahead of his xFIP. That doesn't necessarily mean that he'll come back down to earth in 2011, but there is little indication that he possesses some skill, such as Matt Cain, that renders him exceptional.
Fausto Carmona: I wrote about Fausto Carmona in December. While I think he's a worthy risk, I don't see the Indians having any reason to trade him.
Justin Masterson: If they wouldn't trade Carmona, why would they trade Masterson? He won't turn 26 until March, and he has shown some decent peripherals during his short time in the bigs. Still, he might profile better as a middle reliever, since he lacks an out pitch against lefties.