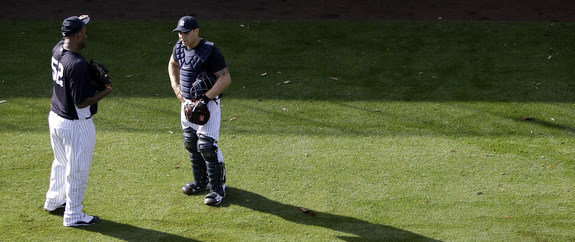 Dan Szymborski released the Yankees edition of his 2011 ZiPS projections this week, and Joe already used some of the data to explore a few potential bounce back performances from key players. Now it's time to take a look at what the system says about the rotation, since that's the part of the team with (by far) the most questions. Let's break the guys down into three categories…
The Locks
CC Sabathia: 33 GS, 230.1 IP, 8.3 K/9, 2.5 BB/9, 3.32 ERA, 3.24 FIP
A.J. Burnett: 30 GS, 182 IP, 7.7 K/9, 3.7 BB/9, 4.50 ERA, 4.14 FIP
Phil Hughes: 26 GS, 147.2 IP, 8.0 K/9, 2.8 BB/9, 4.08 ERA, 3.84 FIP
Is ZiPS taking into account the Larry Rothschild effect? It has all three guys increasing their strikeout rate by at least half-a-strikeout per nine, more in Burnett's case. I'm definitely digging the peripherals from Hughes, though 26 starts and 147.2 IP tells you the system sees him getting hurt at some point. Earlier this winter we saw that there's better than a one-in-three chance that he'll hit the disabled list at some point in 2011, not terribly surprising after such a huge innings jump from 2009 to 2010 (80.1 IP). As for A.J., that would be his best year as a Yankee. Not in terms of ERA of course (though it would be a 0.76 run improvement over last year), but in terms of FIP. I'd be pretty happy with that season out of him, wouldn't you?
The Back-End Candidates
Ivan Nova: 28 G, 26 GS, 149.2 IP, 5.3 K/9, 4.1 BB/9, 5.29 ERA, 4.94 FIP
Freddy Garcia: 15 G, 15 GS, 82 IP, 5.6 K/9, 2.5 BB/9, 4.96 ERA, 4.60 FIP
Sergio Mitre: 25 G, 14 GS, 91.2 IP, 5.1 K/9, 2.5 BB/9, 4.71 ERA, 4.34 FIP
Bartolo Colon: 8 G, 8 GS, 38.1 IP, 4.7 K/9, 3.3 BB/9, 5.86 ERA, 5.29 FIP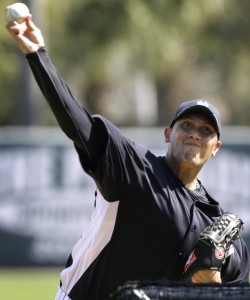 Here's where things kinda get messy. Nova seems to have firm grasp on a rotation spot, but other than a small sample of crappy Colon, ZiPS has him performing the worst of the back-of-the-rotation candidates. With peripherals like that, he'd need a ton, and I mean a ton of ground balls to be even league average. Garcia is nothing more than serviceable, a decent fifth starter for half-a-season until someone better is brought in via trade. Mitre has the best projection of the best, and that really doesn't surprise me, but we don't know what the system has him doing as a starter and what it has him doing in relief. He's younger than Garcia and Colon and more experienced that Nova, so with a little luck his ground ball heavy approach could yield solid results.
This foursome doesn't inspire much confidence, but you didn't ZiPS to tell you that. We've run through pretty much every pitching scenario this winter, and the more I think about it, the more I see the Yankees starting the year with Garcia and Colon in the rotation, Mitre as the long man in the bullpen, and Nova in Triple-A waiting for the first slip-up. Don't ask me why, just a hunch.
The Kids
D.J. Mitchell: 26 G, 25 GS, 132 IP, 5.0 K/9, 4.9 BB/9, 5.86 ERA, 5.29 FIP
David Phelps: 23 G, 23 GS, 122.1 IP, 5.2 K/9, 3.1 BB/9, 5.15 ERA, 4.67 FIP
Hector Noesi: 22 G, 20 GS, 106 IP, 6.1 K/9, 2.4 BB/9, 5.26 ERA, 4.74 FIP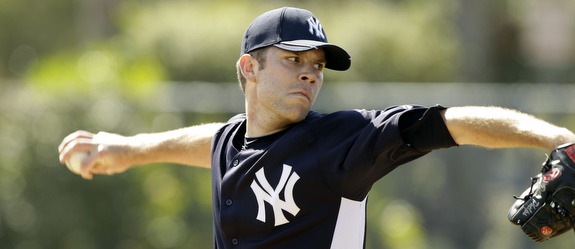 We can dream about Andrew Brackman or Adam Warren, but these three seem to be the next in line for a rotation spot. All three will start the season with Triple-A Scranton after finishing 2010 there, and Noesi has a leg up on the others because he's already on the 40-man roster. All three are capable of a lot of innings, but they won't necessarily be quality innings. Noesi has the best projected strikeout and walk rates of the bunch, but ZiPS also has him giving up the most homers (18) in the fewest innings of the trio.
Regardless, we're really splitting hairs here. The projections aren't fond of any of the guys, not terribly surprising for young pitchers. There's always a chance one surprises, and the even better news is that the Yankees have more depth behind those guys in the form of Brackman and Warren. Back in the mid-aughts, when the rotation was really getting ugly, they never had these kinds of kids waiting in the wings. They're going to help the big league team in some way this season, whether it be on the mound or in a trade.