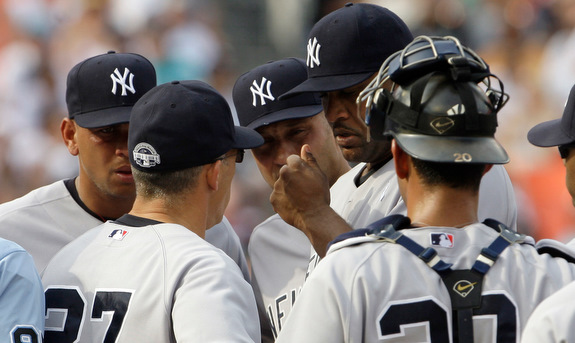 The Yankees starting rotation is quite the popular topic these days and for all the wrong reasons. After failing to sign Cliff Lee, who would have simultaneously filled three rotation spots all by himself, the Yanks are now stuck scraping the bottom of the barrel for some kind of innings eater. While they have a number of young and interesting prospects, I'm sure a team that strives to win the World Series every year would rather not trust two-fifths of it's rotation to untested kids. Performance is not the only uncertainty though, so is health.
Jeff Zimmerman recently completed a great two-part series at FanGraphs where he projected the odds of each starting pitcher in the game (min. 20 starts and 120 IP) hitting the disabled list in 2011. His methodology isn't terribly complex, so check out his two posts (part one, part two) for an explanation. He essentially based the projection on age and the pitcher's health history over the last three seasons. The average odds of a DL trip is something like 39.0%, which initially struck me as high but really isn't. For all intents and purposes, it means two members of an average five man rotation will hit the shelf at some point during the season, and that doesn't sound crazy at all.
The front of New York's rotation is anchored by one of the game's premier workhorses, but everyone beyond him has had injury concerns of varying significance in the not too distant past. Let's take a look at what might be in store in 2011…
CC Sabathia
Opening Day Age: 30 years, 8 months
DL Odds: 34.2%
Expected Number of DL Trips: Zero
Sabathia, who's thrown 1034 innings over the last four seasons (including playoffs), has the best odds of avoiding the disabled of any pitcher age 30 or older in Jeff's study. Dan Haren is next at 34.4%, and both Mark Buehrle and Jon Garland are a touch over 35%. Of course the study doesn't count for his recent knee surgery, but that's supposedly just a minor thing. CC's been on the disabled list just twice in his career, missing 23 days in 2005 and 29 days in 2006, both with a right oblique strain. There's no reason not to expect Sabathia to be a 33 start, 220 inning workhorse next year. Very few in the game can match this guy's durability.
A.J. Burnett
Opening Day Age: 34 years, 3 months
DL Odds: 38.0%
Expected Number of DL Trips: Zero
When the Yankees signed Burnett, many were skeptical about his ability to stay on the field and justifiably so. From 2001 through 2007, Burnett hit the 15-day disabled list six times and the 60-day disabled list three times. Aside from a foot fracture way back in 2001, every one of the DL trips were elbow or shoulder related as well. Aside from having a trio of starts pushed back a few days this past season because of a sore foot (hit by a comebacker), a lacerated hand (slammed a door), and sore lower back, Burnett has been perfectly healthy with the Yankees. His 615 regular season innings over the last three seasons are the 18th most in baseball. Of course they haven't always been quality innings, but staying on the field is extremely important and absolutely counts for something.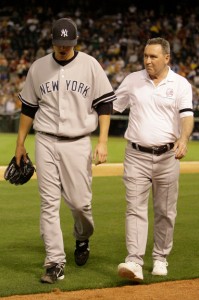 Phil Hughes
Opening Day Age: 24 years, 9 months
DL Odds: 37.7%
Expected Number of DL Trips: One
Of the 24 pitchers age 25 and under in Jeff's study, only six (Mike Leake, Brad Bergesen, Bud Norris, Wade Davis, Yovani Gallardo, and Jonathan Niese) are more likely to hit the disabled list in 2011 than Hughes. He missed considerable time in both the 2007 (hamstring, 94 days) and 2008 (stress fracture in his rib cage, 136 days) seasons, and his minor league career featured time missed due to a stubbed toe, shoulder fatigue, and shoulder tendinitis. In fact, 2009-2010 is the first time Hughes has not gotten hurt in two consecutive seasons in his career. He's also coming off a career high workload (191.2 IP, including postseason) that exceeds his previous career (146 IP in 2006) by more than 30%. I don't think we needed Jeff's study to tell us that Hughes is at risk of missing time next season.
Andy Pettitte
Opening Day Age: 38 years, 9 months
DL Odds: 56.5%
Expected Number of DL Trips: Two
No, he has not yet announced if he's going to return for 2011 or retire, but I figured I would include Andy in the post anyway. Of the 116 pitchers that qualified for the study, none are more likely to hit the disabled list next season than Pettitte. That's what happens when you're that age and have missed 102 totals days due to various injuries (groin strain, elbow inflammation, shoulder fatigue, back spasms) over the last three seasons. Pettitte was a physical mess at the end of the season, battling back and hamstring issues that hampered him throughout the playoffs. If he were to retire, he'd instantly go from an old and injury prone starter to the most physically fit 38 year old in Texas.
* * *
Don't take these DL projections to heart obviously, it's a relatively simply method based on age and recent injury history that Zimmerman admits is still a work in progress. What it does help emphasize is the Yankees' need for some kind of innings eater for the back of the rotation even if Pettitte does return. They'll be fine with Sabathia and should be okay with the surprisingly durable Burnett, but after that it's hit-or-miss, and I'm not just talking about DL potential.