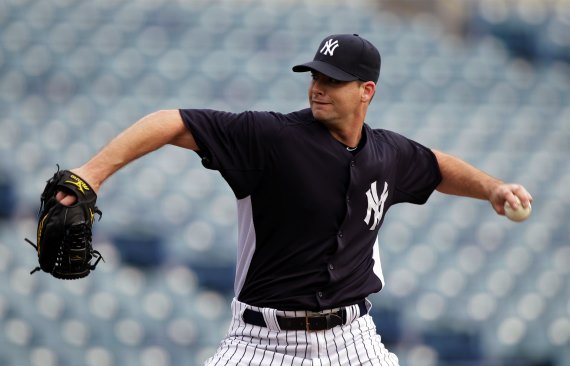 Throughout the 2000s the Yankees could not find a suitable lefty reliever. They went through such middling arms as Felix Heredia, Gabe White, C.J. Nitkowski, Buddy Groom, Wayne Franklin, Alan Embree, Ron Villone, and Mike Myers. It wasn't until they acquired Damaso Marte in 2008 that they had a quality lefty in the pen, but even that was short-lived. Assuming he misses the whole season, he'll have pitched just 53.1 innings for the Yankees, though that does include his masterful World Series innings. This year, for what feels like the first time in forever, the Yankees will open the season with two lefties in the pen, Boone Logan and Pedro Feliciano. Can they be better than the clown car of lefties the team has employed in the past eight years?
Best Case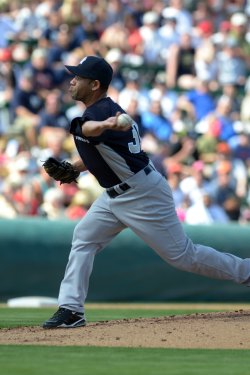 While neither Logan nor Feliciano screams lockdown lefty, each has considerable upside. We saw that in effect last year with Logan, at least following his mid-July recall. From that point on he pitched 21.2 innings while striking out 25 and walking eight, leading to a 2.08 ERA against a 3.16 FIP. It might have been the most successful stretch of baseball in his major league career.
In the best case scenario Logan becomes a lefty who can pitch a full inning. That is, he can take both the lefties and the righties in the lineup with aplomb. That necessarily means relying more on his changeup, since the slider carries a large platoon split. But best case, Logan feels more comfortable throwing the changeup to righties, which makes his 93 mph fastball a bit more effective.
Logan's ability to take on a setup role would allow Pedro Feliciano to match up against lefties only, which is likely his optimal role at this point. Even in his best years Feliciano hasn't handled righties particularly well. Now that he's 34 there's little chance that he suddenly develops the skill. He has, of course, thoroughly dominated lefties. Even in 2008, his worst season since returning from Japan, he struck out 34 of 119 lefties faced while walking only eight. He might be good for only a batter, or two with an intentionally walked righty in between, but if he can shut down the league's best lefty hitters the Yankees will have a quality return on their $8 million investment.
Worst Case
This is where things get ugly. While Logan impressed in the second half, his first half left plenty to be desired. At that point he looked like the Logan who had spend most of 2009 in AAA. He walked 12 in 18.1 IP while striking out just 13. Since the success we've seen from Logan comes in a very small sample, it's entirely possible that he reverts to his walk-happy, homer-happy ways. That would leave the Yanks in a bind, since he's out of options. Do they wait around for his stuff to return to second-half 2010 levels? Or do they cut bait and start the Scranton bullpen shuttle?
With Feliciano the worst case is a bit tougher. If he's healthy it's tough to see him performing poorly against lefties, since he has thoroughly dominated them. Instead, his worst case involves the Yankees paying the price for the Mets' heavy usage. Who leads the majors in appearances during the last three years? That's Feliciano, with 28 more innings than the next closest reliever, Carlos Marmol. In fact, there are only three other relievers within 50 appearances of Feliciano's three-year total. While he ranks 49th during that span in terms of batters faced, he still warmed up and got into all those games. That has to take a toll on the arm.
Feliciano has developed a reputation as a guy with a rubber arm, but we've seen some of those guys go down in recent years. Scot Shields provides the most prominent example. That is to say that arms of rubber do eventually break. Feliciano is getting to an age where that might become a concern. While injury is a legitimate risk for every pitcher, it seems to be a greater risk for a 34-year-old pitcher who has appeared in at least 86 games in each of the last three seasons.
What's Likely To Happen
If both Logan and Feliciano stay healthy they'll likely both provide options against the tough lefties in the lineup. Maybe the lesser of the two can take two lefties, separated by a righty, towards the bottom of the order, while the greater takes the Adrian Gonzalez or the Travis Snider (he's going to have a big year) of the lineup.
It's not likely that Logan figures out righties, both because of his fastball-slider repertoire and his history of abysmal performances against them. His fastball can make you dream about him mowing down Carl Crawford, Dustin Pedroia, and Adrian Gonzalez 1-2-3, but his history does not suggest it. Chances are he and Feliciano would go about it similarly: pitch to Crawford, pitch around Pedroia, and attack Gonzalez inside.
While the Yankees do have two quality lefties in the bullpen to open the season, they are still LOOGYs. That limits bullpen flexibility. The Yankees do have four solid righties behind them, which helps, but it still doesn't make Logan or Feliciano any more effective against righties. The Yankees figure to get plenty of use out of them, but don't expect them to pitch full shutdown innings. Nothing to see here: they're just here for the lefties.