As we count down the days and weeks leading up to the season, we're going to preview the 2011 Yankees by looking at each of their core players and many, many more. A new preview will go up every day, Monday through Friday, from now until Opening Day.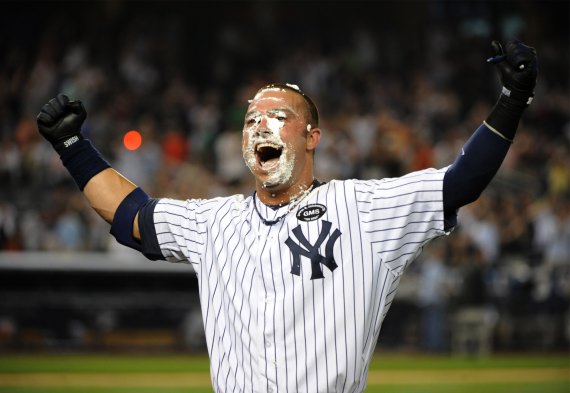 It remains one of Brian Cashman's finest trades. In early November, 2008, as a prelude to his big score in free agency, he traded Wilson Betemit, Jeff Marquez, and Jhonny Nunez for Kanekoa Texeira and Nick Swisher. Coming off a 2008 season in which he hit .219, Swisher must have been seen as a risk, since Ken Williams traded him for so little. That was an odd notion, considering Swisher's numbers from his previous two seasons. It all played into the Yankees' game, and they've benefitted greatly from the deal.
A year later Betemit left the White Sox while Marquez and Nunez had their shares of struggles. The Yankees, on the other hand, got a career year out of Swisher, who played a significant role on the 103-win regular season team. He did struggle in the playoffs, but his Game 3 RBI was certainly an important one. Swisher followed that up in 2010 with what was perhaps a better year. Hitting coach Kevin Long thinks that we can't expect Swisher to be even better in 2011, because he was that good in 2010. Unsurprisingly, Swisher himself does not agree with that assessment.
Best Case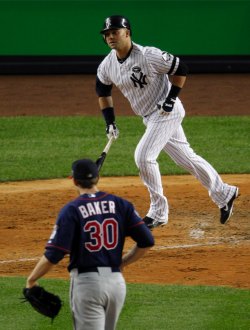 Prior to 2010, Swisher had always been a low-average, high-walk, high-strikeout guy. That worked well enough for him. He hit for power and got on base frequently, which more than made up for the low average. But last season he displayed a more aggressive approach at the plate. He swung far more often than he ever had in his career. This led to a remarkably lower walk rate — just 9 percent, down from 16 percent in 2009 — but it also led to more hits. Swisher's .288 batting average was a career high by a long shot. His OBP suffered a little bit, but the extra hits helped him provide more value at the plate — a 133 wRC+, which topped his 125 from 2009.
The best case, then, would have Swisher putting together the best of both worlds. That is, putting something like a .275 average on top of a 15 percent walk rate, while adding his 2009 power numbers to the mix. Working on a 650 PA scale, since it would represent a healthy season between the Nos. 2 and 6 spots in the lineup, that would mean a .275/.383/.525 line. That's better than Swisher has ever hit in a season, which would mean a third straight career best year while in pinstripes. It's also a realistic take on the best case. Considering what we've seen from Swisher, it's not all that unbelievable.
Worst Case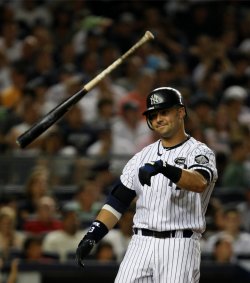 Chances are that Swisher has already seen his worst season. In Chicago he was moved both in the order and in the field. During his days in Oakland he was a corner outfielder who hit fifth or sixth in the order. The White Sox, noting his high OBP, put him in the leadoff spot. They also stuck him in center field, which, considering his speed and range, probably isn't the best position for him. Those factors, along with a reportedly tumultuous relationship with manager Ozzie Guillen, played into Swisher's only below-average offensive season.
Could he reach those depths again? It's possible, but while he's been in New York he has proved that 2008 was an outlier and nothing more. How low can Swisher sink, then? If we combine the low points for Swisher, 2009's BA with 2010's walk rate and ISO, we'd get .250/.317/.473. That would make him look fairly pedestrian. Injury is part of every player's worst case, but with Swisher it's not a big risk at all. He hasn't hit the DL since 2005, though he did miss a number of days in 2010 thanks to a series of nagging injuries.
What's Likely To Happen
The most likely case from Swisher is an approximation of his production from the past two years. He's in his prime and, by his own indications, more motivated than ever. While he might not quite hit his lofty best case scenario, he probably won't be a great deal worse. Think .265/.370/.500 or thereabouts. On most teams that would easily make him one of the three best hitters on the team, and on the bottom feeders he'd be the star. But on the Yankees he's at best fourth.
In the last two years Yankees fans have had the pleasure of knowing Nick Swisher. He rubs some people the wrong way with his lively, talkative nature, but that doesn't take away from his on-field production. He might be prone to the occasional bonehead play in the field or on the base paths, but day in and day out he's a solid contributor to a championship team.
To close, I'll leave you with a graph that we've seen plenty of in the past year or so. Click to make it larger.