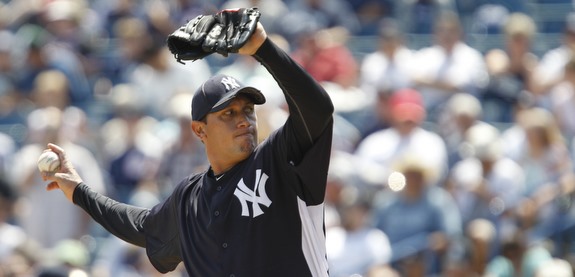 I'm not sure too many Yankees fans have much in faith in Freddy Garcia, but I think that pretty much every fan base can say that about their favorite team's fifth starter. So, naturally, you want to have every advantage possible whenever the last guy in your rotation takes the mound. You want the A+ lineup out there and a rested bullpen, but this is baseball and that's not always possible. No matter what the score is late in the game tonight, it's unlikely Garcia will be able to hand the ball off to Rafael Soriano or Mariano Rivera for help given their recent workloads. such is life.
Thankfully, Ron Gardenhire threw Garcia a little bit of a bone tonight. Here's the lineup he's sending out there this evening, courtesy of Kelsie Smith…
Denard Span, LHB
Tsuyoshi Nishioka, SHB
Delmon Young, RHB
Justin Morneau, LHB
Jason Kubel, LHB
Michael Cuddyer, RHB
Danny Valencia, RHB
Drew Butera, RHB
Alexi Casilla, SHB
It doesn't really matter who is playing where (Kubel's the DH), but the important thing is that neither Joe Mauer or Jim Thome is in the lineup. Mauer is a .419/.486/.774 career hitter against Garcia, the second highest* OPS against any pitcher in his career (min. 30 PA). Thome hasn't hit for much power (relative term) against Sweaty Freddy (just a .174 ISO vs. .281 career), but his .471 OBP is his highest against any pitcher ever (min. 30 PA again). Yeah, Mauer's a catcher and he needs to rest, but Gardenhire took his two best weapons against Garcia right out of the lineup.
Furthermore, four of the top five hitters in the lineup are left-handed (counting Nishioka, and it's five of six if you count Casilla when the lineup turns over), which plays right into Freddy's strength: the changeup. Joe broke the pitch down back in February, but the short version is that he pounds the outside corner with the pitch against lefties and generates a ton (more than 22% last year) of swings and misses with it. Whenever you're throwing just 87, 88, 89, changing speeds is that much more important, and Garcia has done a fine job of adapting to that approach later in his career. That said, the changeup is a feel pitch, and it's going to be cold in the Bronx tonight. It could get ugly if he hangs a few.
The Twins made life a little easier on Garcia tonight be removing what amounts to their two best hitters from the lineup, and also by stacking a bunch of lefties together. That certainly doesn't guarantee success for Freddy tonight, but he needs all the help he can get and Gardenhire did him a slight favor. If that's not enough, the Twinkies are 22-23 with Butera behind the plate since the beginning of last year. Hey, I'll take it.
* The first? How about .500/.567/.885 against Felix Hernandez. Mauer's good at this baseballing thing.