Ivan Nova made his first start for the 2011 Yankees last night, limiting the Twins to just three runs in six innings of work. He threw only 83 pitches (50 strikes, 60.2%), so I'm sure he had enough in the tank for another inning, but with there's no sense in pushing him this early in the season given the team's bullpen. Just like last September, Nova looked like a hero the first time through the order but had to fight his way through the lineup after that, a problem not uncommon for young pitchers.
Despite apparent claims of "four plus pitches" from Rick Sutcliffe on the ESPN broadcast, Nova actually threw three different pitches last night: a fastball (55), curveball (15), and changeup (13). The Twins loaded their lineup with left-handers – Delmon Young and Danny Valencia were the only non-lefties/switch hitters to start the game – so it's no surprise that he didn't use his new cutter/slider at all. It's just not a pitch designed to attack righties lefties. As you'd expect, Nova was pounding the ball to his arm side all night, or away from lefties in plain English. All he was trying to do was prevent those guys from getting around on a pitch and hooking it into the short porch in right:
Update: Apparently some sliders were misclassified as changeups by PitchFX, and he threw nine total on the night.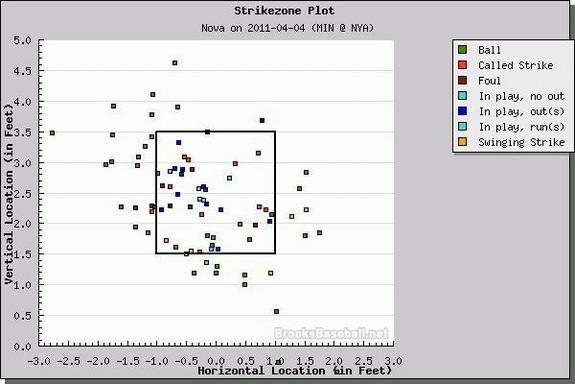 I was a bit surprised to look back and see that four of the six hits Nova allowed were doubles, and that they all came in just two innings (the fourth and fifth). Justin Morneau sent a 1-0 fastball into right-center for the two-bagger in the fourth, and two batters later Jim Thome doubled to almost the exact same spot on a 3-2 changeup to plate a pair of runs. It actually wasn't a bad pitch at all, Thome just went down and got it…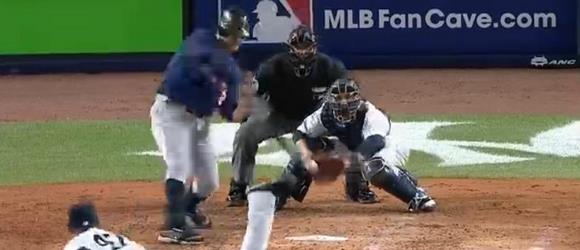 Sorry for the crappy quality, but you can see that the ball is well down in the zone. That's just straight up good hitting by a guy (that should be) headed to the Hall of Fame. Alex Casilla slashed a double past Mark Teixeira at first on a 1-1 fastball in the fourth, and Tsuyoshi Nishioka dunked a gapper to left-center on a 1-0 heater two batters later. The first time through the order, Nova allowed just one baserunner, a walk to Valencia (Thome also reached on a Derek Jeter error, which I'm not holding against the pitcher). After that though, he faced 15 batters and six of them picked up hits, including those four doubles.

As you'd expect, Nova was fastball heavy the first time through the lineup, throwing 22 of them out of the 28 pitches (78.6%) he needed against the first nine hitters. He scaled it down to 24 heaters out of 38 total pitches (63.2%) the second time through the order, and just nine of the final 17 pitches he threw were fastballs (52.9%). The third time he faced Joe Mauer and Morneau, each batter saw nothing but curveballs (only two pitches each, so SSS). The table on the right shows the distribution of pitches each time through the order, just so you can see the actually breakdown. Remember, Nova only faced six hitters the third time through the lineup.
Although he generated just six swings and misses (three on fastballs, three of curveballs), a dozen of the 18 outs Nova recorded last night were on ground balls (counting two double plays). He's never been much of a strikeout pitcher (just 6.3 K/9 in the minors), but grounders are the next best thing and he's always gotten plenty of those (53.5% grounders at High-A and above). If he keeps that up and finds a way to keep the opponent at bay after the third inning, he's going to be a quality starter in this league for quite some time. The lefty-heavy Red Sox are going to be one hell of a test next weekend, but the Twins were a fine tune-up on Monday.