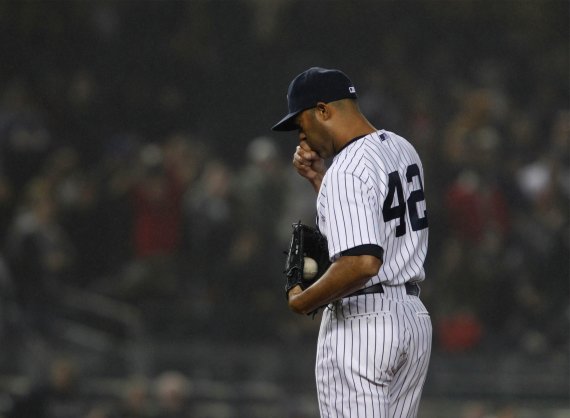 What do you do if you have one reliable starter and a bunch of question marks behind him? Build a better bullpen. Heading into the season, it appeared that the Yankees had assembled its best group of relief arms, at least to start a season, in many years. With a closer in the setup role, two setup men in lesser roles, two lefties, and a flexible long man spot, the Yankees had created a backup plan should some of their starters falter. Yet something did not seem right about it.
In his Expanded Horizons column last week, Baseball Prospectus's Tommy Bennett tackled the issue (subscriber only, sorry). Teams that hand a lot of innings to their bullpens, even good bullpens, don't have a long track record of success. This makes plenty of sense. Using the Yankees as an example, they have four reliable relievers: Rivera, Soriano, Robertson, Chamberlain. If their starters are going six or fewer innings most starts, that leaves them with three innings to cover. Eventually one of two things will happen. Either Girardi has to start using the other guys in the pen, or else those four get burned out. Last night we might have seen a bit of the latter.
The off-days early in the season have helped lessen the workloads on the Yanks relievers. Though they've played 15 games, that has covered 20 days, giving the bullpen some free rest. But that doesn't make them immune from overuse. In fact, it appears that overuse is just what is currently happening.
Mariano Rivera might seem superhuman at times, but behind the myth is a 41-year-old man. He has kept himself in pristine physical condition, and so can do things that other 41-year-olds cannot. But even he has limitations. WIth last night's appearance he has now thrown in five of the team's last six games, which is five of the last seven days. That's a heavy workload for any reliever, never mind one who is busy fending off the ravages of age. Yes, he has been in a position to get a save or a win in each of his 10 appearances — 10 in 15 games — but that doesn't excuse the overuse. Girardi simply cannot let something like that happen to such an important pitcher.
The overuse doesn't end with Rivera. Joba Chamberlain has also appeared in 10 of 15 games and has pitched in four of the last six. Soriano has appeared in just eight of 15 games, though even that seems like a lot. That's an 86-game pace, which would be nine more than Soriano's previous career high. David Robertson has seven appearances, but as Mike wrote yesterday, he has warmed up in just about every game. We can't be sure what kind of physical toll this takes on him, but it can't be good for him to be taking some to the mitt every single game.
Eventually this will have to change. The Yankees will not have the advantage of five days off in a 20-day span. They are, in fact, headed for a 17-game streak from late April into early May, and things don't get easier from there. The top four relievers will need to sit out sometimes when the team has a small lead late in a game. This could come into play as early as tonight. Maybe Girardi would go back to Soriano, and there's a chance he'd use Chamberlain. But can he really justify using Mo yet again — for the sixth time in eight days, for the 11th time in 16 games? That would be quite irresponsible.
Unless the starters can start pitching into the seventh inning, this is going to be a year-long issue. No bullpen is stocked with reliable relievers. Even the best in the league has its weak points. Eventually, the Yankees will have to use those weaker arms in relatively tight spots. If they don't, they're going to burn out the reliable ones — which, in turn, means they'll have to rely on those weaker arms in relatively tight spots. It's a tough spot for the team, but eventually something will have to change. This usage pattern simply cannot last all season.