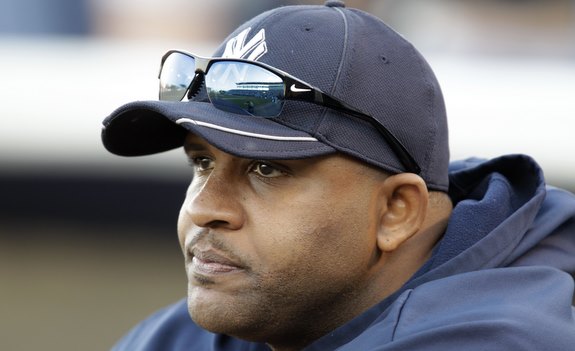 As the 2011 season marches along, there's one gigantic elephant in the room that everyone's trying to forget about for the time being: CC Sabathia's opt-out clause. The Yankees' ace can skip out on the final four years and $90-something million dollars left on his contract after the season and hit the free agent market in search of greener pastures. Sabathia will be the best freely available pitcher by a mile, and the Yankees desperately need him to stick around.
Brian Cashman said yesterday that the team will not discuss a new contract with Sabathia during the season despite some obvious reasons why they probably should. This is not news though. The Yankees have a long-standing policy of not talking contracts until the current one expires, regardless of the player's status or importance to the team. In fairness, Cashman also stuck to the rule three years ago, when his contract expired and he didn't pursue some kind of extension beforehand. Barring a complete catastrophe, Sabathia will opt out because it's the smartest move he could possible make.
On the open market, CC is going to have a lot of leverage against the Yankees, and I mean a lot. An unprecedented amount, even. But the Bombers won't be completely handcuffed because only a limited number of teams can afford to give Sabathia the monster contract he'll be seeking, and at the end of the day absolutely no one can offer him more than New York. Sabathia has also said "I'm not going anywhere" while noting that he lives in the area year-round and that his kids go to school here. That's just a clever way of not saying he won't use the opt out though. So if/when he does bail on the rest of his contract, CC's choices will be a) come back to the Yankees on a new deal that will pay him handsomely, or b) take less money elsewhere and uproot his family for the second time in three or so years. And be hated by Yankees fans for basically the rest of eternity.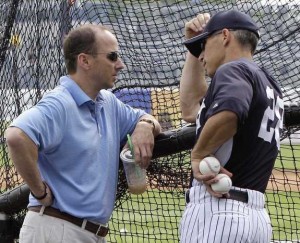 In other contract non-news, Hal Steinbrenner refused to commit to Cashman beyond this season, simply saying that the higher-ups will base the decision on more than just the team's performance this year. Cashman responded by saying nothing, almost literally: "Nothing to respond to." His latest three-year contract is up, and although he was more candid than expected this past winter, he and the Steinbrenners still have a strong working relationship.
The Sabathia opt out situation is sure to be messy, but I think Cashman's will be messier. I figure CC will return after using Cliff Lee's contract with Philadelphia (six years, $150M) as a starting point in negotiations (he's got a much longer track record and will still be younger this winter than Lee was this past offseason). Maybe he'll make all our hopes and dreams come true and decide not to use the opt out, but I would be stunned if that happened. Cashman has some leverage over ownership given the way they went over his head for Rafael Soriano and with Derek Jeter's contract, plus the fact that there's no ready-made, in-house replacement available. These decisions won't have to made for a few months, but ever so often reminders like this will pop up.