As a unit they're one of the elite infields in the league, but when we examined how the Yankees infield compared to their peers only Alex Rodriguez stood out. Today we'll see if any of the outfielders jump out ahead of the competition. Again, we're using the WAR offensive and defensive components, with Baseball Prospectus's Fielding Runs Above Average for some further defensive context.
LF, Brett Gardner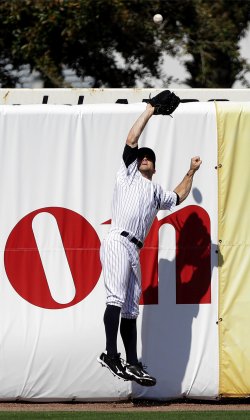 Gardner has had a down, then up, and then down again season at the plate. He started off so slowly at the plate that he got dropped from the leadoff spot against righties. While hitting ninth he picked up the pace, leading us to clamor for his return to the top of the lineup. Once he did return there he started to slip a bit.
Offense: 4.1, 8th. This might actually be seventh, since Emilio Bonifacio is on the list and he's not the Marlins' starting left fielder. In any case, we knew this was Gardner's deal. He produces value in many different ways, and his bat is just one aspect of the game. Hey, he's still well ahead of Carlos Lee on this, so that's something.
Defense: 15.2, 1st. Not only is Gardner first among left fielders, but he is first by more than a full win — and the second place guy, Carlos Lee, is not a +5-run defender. When discussing Gardner's value I hear a lot of people say that he can't be a true talent +25-run fielder, and that he'll even out as he logs more innings in the field. But I think they're missing an important point here. The state of left field defense is, to be kind, not good. Gardner is head and shoulders better than his peers. And, since the competition is generally poor, it's no wonder that he stands out so far from the pack. If he were in center he'd be competing with other very good fielders. But in LF he's clearly better than the rest. And that's where much of his value lies: in saving runs that other left fielders do not. FRAA is a bit less generous, giving him 8.7 runs above average. I'm sure he still stands out from the pack, though.
WAR: 3.0, 3rd. Added up, Gardner matches up very well with his peers. Just two players are ahead of him: Ryan Braun, who hits the cover off the ball and has nearly double the batting runs of his next closest competitor, and Alex Gordon, who is that next closest competitor. Gardner is closer to second than fourth, too.
CF, Curtis Granderson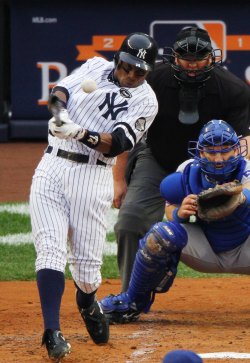 It's tough to say anything original about Granderson's season, because it's all been said. Even then, we've all seen his accomplishments. His power stroke has really come around this year, and the power he's displayed doesn't appear to be a fluke. he has a sweet swing, and balance that affords him quicker reactions to off-speed pitches.
Offense: 25.2, 2nd. If you thought Granderson was having a crazy season, Matt Kemp is nearly a win better on offense alone. He stands out from the pack, but Granderson leads the second group of center fielders, which also includes Andrew McCutchen, Jacoby Ellsbury, and Shane Victorino. Everyone else is at least 7 runs behind this pack. All things considered, Granderson is putting together his finest season as a big leaguer, which says a lot when you see his 2007 season.
Defense: 1.6, 8th. This is where Granderson slips a little. He's not like Kemp, who is -7.6 runs. UZR has him as slightly above average, which seems about right. We might rate him as a bit better, because it does seem like he makes all the plays. But remember, he's being compared to his peers, and the guys ahead of him are all superb fielders as well. FRAA actually has him at 3.2 runs below average.
WAR: 4.7, 3rd. He's just 0.1 behind Ellsbury, and 0.4 behind McCutchen for the league lead. Again, the group listed above stands far above the pack. Kemp and Victorino both have 4.4 WAR, and the next closest is 3.2. So even if you think WAR paints a broad stroke — which it does — it's clear that Granderson is an elite CFer.
RF, Nick Swisher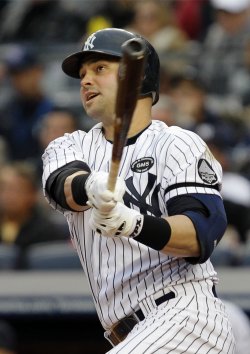 Oh, the things that Swisher's slow start made people say. They're not going to pick up his option. He should ditch what he's done his entire career and react to a long slump by batting righty all the time. Really, it got bad. But Swisher recovered well and then some. He ended the first half a bit banged up, but he was a big part of the team's surge through Jeter's stay on the DL.
Offense: 7.8, 15th. Yep, that early-season slump certainly hurts. Some of the names above Swisher are expected: Jose Bautista, Lance Berkman, Carlos Beltran, Justin Upton. etc. But there are some names that he should certainly be able to pass. For instance, I can see him passing Michael Cuddyer and Brennan Boesch by season's end, due to them coming down and Swisher rising up. But, as it stands, he's been behind the pack offensively.
Defense: 5.3, 4th. Now here's something. Swisher has been quite average most of his days in the outfield, ranging towards the below average side. This year, though, he has been better, both in terms of UZR and the eye test. He has seemingly gotten better at running down fly balls, and it shows in his numbers. The guys ahead of him — Ben Zobrist, Shin-Soo Choo, and Jeff Francoeur — are all known to be quality defenders in one way or another. It's nice to see Swisher make his way up there. FRAA has been kinder to him in the past, but still has him at 1 run above average this year.
WAR: 1.9, 14th. Without an absolutely standout UZR like Gardner's, Swisher was bound to be defined by his offensive numbers. Again, they're on the rise, and while they probably won't match his previous numbers with the Yankees he still has an opportunity to climb the ranks here — especially if he continues playing quality defense. He is, after all, just 0.2 wins away from 11th place.
Overall the Yankees' outfielders have produced 9.6 WAR, which ranks third in baseball behind the Cardinals and Rays. They're 0.7 wins ahead of the fourth place team, the Pirates, and just 0.2 wins behind the Rays for second. The Cardinals are just insane, but an outfield of Matt Holliday, Colby Rasmus, and the huge season that has been Lance Berkman is tough to stop. In terms of defense the Yanks are way ahead of the pack, at 21.9 runs above average, which helps explain their quality pitching performances. Chase down more balls, allow fewer hits. On offense they're a bit further behind, but even with Gardner's bat and Swisher's slump the rank 5th in batting runs. This truly is an elite unit, perhaps the best Yankees outfield we've seen since the days of Bernie and O'Neill.