The procedure to repair the torn meniscus in Alex Rodriguez's knee might have gone just fine, but he's still going to miss at least a month while he recovers. Maybe he'll come back relatively quickly, as he did from his hip surgery in 2009, but that will make only a small dent. The Yanks will still need to fill plenty of at-bats in his absence. The smart money is on them using Eduardo Nunez, Ramiro Pena, and maybe even Brandon Laird, but there's a chance they could look outside the organization for help.
As I said in yesterday's first half review post, third base is a rough position currently (and it's even worse in the NL). That's going to dampen the market considerably. Since the Yankees only need a replacement for a month, and since they have a few in-house guys, chances are they won't swing a deal. But if they did, it would likely be for a player who can help them in areas after A-Rod returns. Here are four specifically.
Wilson Betemit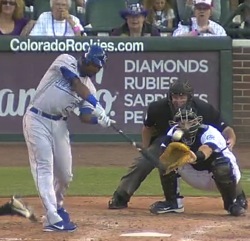 Pros: He's completely useless to the Royals, as they sit in last place and have a promising rookie, Mike Moustakas, manning the hot corner. Betemit is currently hitting .285.345/.415, good for a .327 wOBA, which ranks 12th among third basemen with at least 220 PA. He's a free agent after this year, and so requires no future commitment. He can also play second in a pinch, and has played the outfield as recently as 2010.
Cons: After a hot start he's dropped off a bit since the start of June, hitting .220/.238/.325. Of course, that's also when the Royals yanked him from his starting gig in favor of Moustakas; he has gotten just 42 PA since June 1. He's also not a very good defender at third. Having seen Betemit for parts of two seasons, we know that he works in fits and starts. If he continues slumping after the Yanks acquire him, it will be a complete waste.
Omar Infante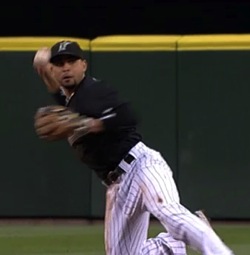 Pros: He's a free agent following this season, and since Florida is out of the race they'll probably be very open to dealing him. While he has played second base exclusively this year, he can play all around the diamond; he has played SS, LF, 3B, and RF as recently as 2010, and CF as recently as 2009. He's a qualify infielder by most measures, making him a viable utility candidate once A-Rod returns.
Cons: After a torrid 2010 season, he's crashed considerably in 2011, a .269 wOBA. He does have a .274 BABIP, though, which is considerably below his .308 career mark. He might not be great, but he can probably be around a league average hitter with a BABIP in line with his career mark.
Jeff Baker
Pros: For the past three-plus seasons Baker has established himself as a league-average hitter. His wRC+ has been between 96 and 102 since 2008. He also has an above-average BABIP, which suggests, but does not conclude, that he can spray line drives and dunk in singles. He has played every position except center field and catcher this year, making him a good fit for the team even after A-Rod returns. At just $1.175 million this year, and with one year left before free agency, he could be a decent, if slightly expensive, utility option in 2012. The Yankees can afford that.
Cons: While he's currently enjoying a typically average year, he's doing it with a much higher BABIP, .379, and much lower walk rate, 2.9 percent, than previously in his career. This could easily be a fluke, since he has just 138 PA this year. Give the results from his 800-plus PA from 2008-2010, he could even out even as his BABIP drops. He appears to be a merely average fielder, which does not exactly befit a utility player.
Jeff Keppinger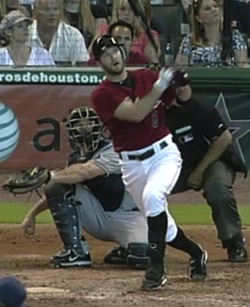 Pros: Like Baker, Keppinger is a pretty much average hitter. Even as a full-time player in 2010 he produced a 105 wRC+. While he's a second baseman by necessity for the Astros this year, he can play all around the infield, though he has just 22.2 career innings in the outfield. He has just four years of service time, and could be back in 2012 as the utility man.
Cons: He makes $2.3 million this year, which is already a bit step for a utility player. A raise will make it tougher to justify him as a backup, even on the Yankees. He hasn't hit for much power in his career, a .108 ISO, and that includes .105 in 2010 and .081 in 2008, which are his only years with 120-plus games played. Defensive metrics rate him as below average at all positions, which, again, doesn't bode well for a utility player.
Again, I don't expect the Yankees to make a move for one of these players, or any other third base replacement. But if any of them is available at a reasonable price in the next two weeks we could see a move. Any of these players could serve a utility role after A-Rod returns, and would be a better fit than a straight third baseman. Given the options I'd have to go with Baker. He seems to be the best combination glove and bat on the list.