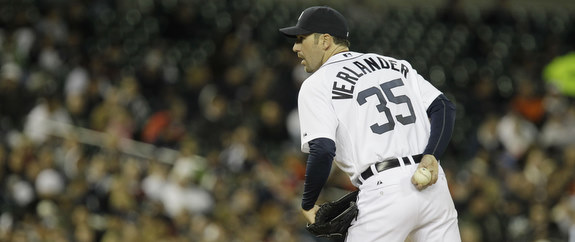 Barring something completely unexpected, Justin Verlander will win the AL Cy Young Award this season. He might even win it unanimously, but part of me hopes the two New York voters vote for CC Sabathia just to troll like the two Detroit writers who voted for Magglio Ordonez as the AL MVP in 2007 despite Alex Rodriguez's otherworldliness. The Yankees are going to have their hands full in Game One tonight, so let's take a look at just how full…
Performance
You're not going to run away with the Cy Young without being dominant, and Verlander obviously is. His flashy 24-5 record distracts from a brilliant underlying performance, one that includes almost a strikeout per inning (8.96 K/9) and just over two walks per nine innings (2.04 BB/9). Verlander is a fly ball pitcher (40.2% ground balls this year, 40.0% career), so that helped keep his batting average on balls in play down a bit (.236 vs. .285 career). He has a bit of a platoon split, but nothing crazy. All told, the 28-year-old from Virginia pitched to a 2.40 ERA with a 2.99 FIP, contributing 7.0 wins to his team according to FanGraphs (8.6 according to Baseball-Reference).
Pitch Selection

(via Texas Leaguers and FanGraphs)
You can make a pretty strong argument that Verlander has the best stuff in the world. He uses four pitches regularly, and according to linear weights, all four are at least 1.36 runs better than average for every 100 thrown (that's the wR/100 column). Based on those values, Verlander had the sixth best fastball, the sixth best curveball, the 12th best changeup, and the 20th best slider in baseball this season (min. 150 IP). That's pretty insane.
The breakdown is pretty basic, more sliders to righties and more changeups to lefties. Because his velocity is so elite, hitters almost have no choice but to start their bats early, which will lead to some ugly swings on the slow stuff. Verlander has a quick and deceptive delivery, and he really sells the changeup with his arm action.
Pitching Pattern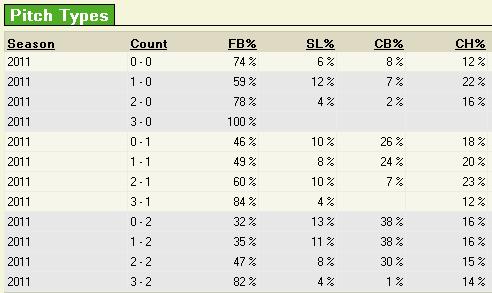 (via FanGraphs)
Verlander is a very simple man. He uses that high-octane fastball to get ahead in the count, then he goes to town with all those swing-and-miss offspeed offerings. Because his stuff is so good, Verlander can throw fastballs in fastball counts (0-0, 2-0, 3-1) and still dominate.
How To Attack Him
There's no easy answer here. The simplest thing to do would be to wait him out and attack either him with a high pitch count or the bullpen, but that's much easier said that done. He's a strike-thrower, and being passive will mean a lot of quick strike ones and strike twos. You'd almost be better off gearing up for the fastball early in the count rather than try to hit the stuff that breaks later in the at-bat.
Verlander averaged 7.38 innings and 115.9 pitches per start this year, so he's a workhorse of the first order. He famously holds his velocity deep into games; it's not uncommon to see 98+ with his pitch count over the century mark. The Yankees could work the count and elevate his pitch count early, and he still might be out there in the seventh.