Trying to pick a favorable playoff opponent is a fool's errand. Prefer Detroit? Then prepare to face Justin Verlander, Miguel Cabrera and a bullpen that has led the team to a 72-0 record when leading after 7 innings. Prefer Los Angeles? They have perhaps the best starting pitching troika in the American League in Weaver, Haren and Santana. If Texas is your cup of tea, then you'll have to contend with groundball artist C.J. Wilson and the potent Rangers' offense. There's no easy first round opponent for the Yankees this year. The Twins will be sitting at home.
Despite all that, one has to imagine that the Yankees would represent the worst-case scenario in the ALDS for the Texas Rangers. Not only will the Rangers likely be facing the Yankees in New York for the first two games, instead of hosting the Red Sox or Rays, but the Yankees would also be able to blunt one of the Rangers' biggest advantages: their two strong left-handed starters. As it stands, the likely ALDS starters for the Rangers are C.J. Wilson, Colby Lewis, Derek Holland and Matt Harrison. Wilson and Holland have been tough this year, but there's reason to think that the Yankees can handle left-handed starting pitching with ease this October. After all, they've dominated left-handed pitching all year.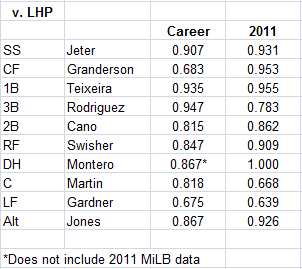 Should the Yankees choose to start Andruw Jones over Brett Gardner against a left-handed starter in the ALDS, seven of their nine hitters will have compiled an OPS of over .850 against left-handed pitchers this season. The two that miss the cut are Russell Martin and Alex Rodriguez. Rodriguez is currently in the middle of a curious slump against left-handed pitching. Despite a career average of .947 OPS against left-handers, he's currently batting .783 against them this year after a .755 mark in 2010. If he's even a modicum of his former self in the playoffs, then the Yankees attack on left-handed starters will be potent.
The reason for this strength against lefties is comprised of several factors. For one, the left-handed batters have shown the ability to hit lefties consistently well. Curtis Granderson in particular stands out. Once nearly a platoon player, Granderson punishes lefties and righties with nearly equal pleasure. Robinson Cano does the same. There's also Jesus Montero, perhaps the greatest source of offensive upside in the Yankees' lineup. Projecting his performance is nearly impossible, but he has a minor league track record and a small major league performance to drool over. Finally there's Andruw Jones, long the abuser of left-handed starters. Should the Yankees choose to sacrifice Gardner's speed and defense for Jones' offense then they'll truly be formidable at the plate. Their two main focal points of weakness would be Russell Martin, a defensive stalwart, and Alex Rodriguez, possibly the greatest hitter of all time. Everything else is gravy.
This isn't to guarantee a win against Wilson or Holland; they're still very tough pitchers. But it does show that facing Wilson and Holland twice in the first three games of the American League Division Series would give give the Yankees a nice platoon advantage. At the end of the day, it's hard to know who to cheer for as a first-round opponent. In 2006 I wanted the Tigers in the first-round, and we all remember how that turned out. Yet, should the Yankees draw Texas I won't fear them like before. This time there's no Cliff Lee, and this time the team will field an offense capable of bludgeoning starting pitchers, righties and lefties alike. This team may have a few questions about the rotation, but the offense couldn't be much better.