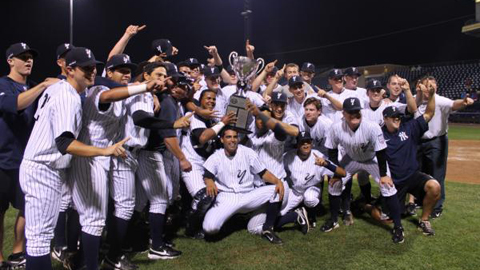 Baseball America's look at the top 20 prospects in each minor league continued with the Short Season NY-Penn League today, and the Yankees are very well represented. Mason Williams unsurprisingly topped the list, and in the subsciber-only scouting report, they say he "stays through the ball well with a simple lefthanded swing." His "quick hands generate surprising bat speed," which should allow for average power down the road. "Williams has plus to plus-plus speed that plays on the bases and in center field, though he's still refining his basestealing ability and his outfield routes," they added. "He has a solid-average arm and projects as a plus defender in center fielder."
Cito Culver, the team's first round pick last year, placed sixth. "He stood out most with his defense, showing smooth actions, average range and a well above-average arm at shortstop," said the write-up, which also backed up previous reports that he's a switch-hitter but better from the right side. Tyler Austin was two spots behind Culver at number eight, and is lauded for his plate discipline and ability to handle offspeed stuff. "He has above-average raw power and is capable of hitting balls out of the park to all fields," said BA. The move to third base (from behind the plate) has been successful so far, but they note that Austin has to improve his footwork and become more aggressive.
Ranking 14th is Angelo Gumbs, last year's second rounder. "[An] athletic, high-energy player with electric bat speed and a quality all-around toolset," Gumbs has the bat speed and strength to hit for good power. A former shortstop and centerfielder, he's working on learning second base, though some think he'd be better off in the outfield because his strong arm is a waste on the right side of the infield. The fifth and final Yankee farmhand on the list is Branden Pinder, a 16th rounder this year that ranked 19th on the list. "He streamlined his repertoire in a relief role, attacking hitters with a lively 93-94 mph fastball that topped out at 96." Pinder is also said to have a sharp slider and a long delivery with good deception.
Very nice showing for the Baby Bombers, who won their league title this year. The next top 20 list of interest to the Yankees is the Low-A South Atlantic League, which will be  revealed on Wednesday. I'm not sure if Slade Heathcott, Rob Segedin, and J.R. Murphy spend enough time with Charleston to qualify for the list, but Gary Sanchez, Ramon Flores, Nik Turley, and Tommy Kahnle all have a chance to make an appearance.