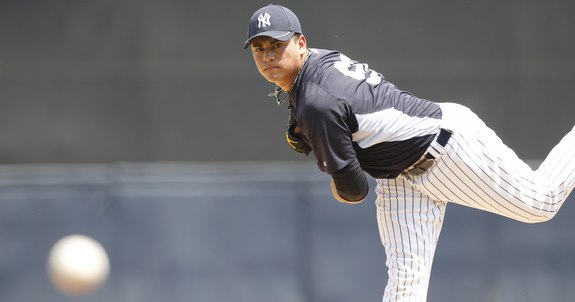 Baseball America's look at the top 20 prospects in each minor league continued with the Double-A Eastern League today, and three Yankees farmhands made the cut. Manny Banuelos ranked sixth, Dellin Betances was three spots behind him at number nine, and Austin Romine was a little further down at number 17. Bryce Harper and (personal fave) Travis d'Arnaud topped the list.
In the subscriber-only scouting reports, John Manuel says Banuelos has "excellent velocity for a lefthander, with his fastball sitting at 90-94 mph and touching 95 with regularity." His changeup has "sinking, screwball action when it's on and was often his best secondary pitches." He can also get whiffs with a power curve. Some managers in the league noted that Banuelos' fastball command suffered because he overthrew, but others think it was a release point issue. "[Several] observers believed that his delivery will allow him to throw more strikes as he matures," added Manuel.
Betances is referred to as a "physical beast who uses his size to sit at 91-95 mph and reach 97 with his fastball." The report cites three secondary pitches: a power curve, a high-80's cutter/slider, and a changeup that has "improved and is an above-average pitch at times." The problem continues to be command, obviously. Romine is said to have a strong arm and "the hands, athletic ability and agility needed to be a sound receiver." He's a streaky hitter, and his batting practice power has yet to consistently show up in games.
The next and last top 20 list of interest to Yankees fans is the Triple-A International League, which will be posted Friday. Jesus Montero will certainly make an appearance somewhere high on the list, and a few of the arms (David Phelps and Adam Warren in particular) could get some love as well. Brandon Laird might even make an appearance.