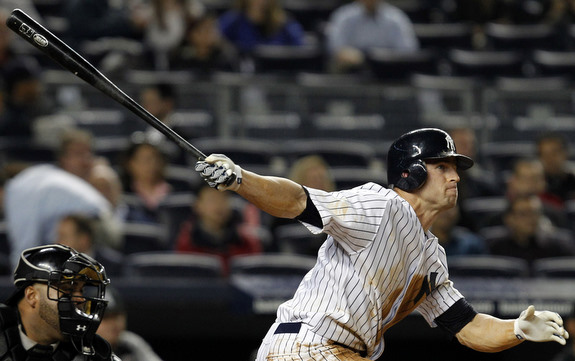 Two years ago, Brett Gardner started the season as the everyday center fielder but quickly lost the job to Melky Cabrera. Last year, he was handed the every day left field job out of Spring Training and ran with it, posting a .383 OBP and a .358 wOBA that was about 20% better than the league average. Add in his brilliant defense, and the Yankees had themselves a cheap young outfielder that brought the element of speed to the Bronx.
Fresh off offseason wrist surgery (thank a Clayton Kershaw fastball for that), Gardner started the season with a new responsibility. Instead of toiling away at the bottom of the lineup, the Yankees decided to take advantage of his on-base skills and penciled Brett into the leadoff spot on Opening Day. He went 0-for-2 with a pair of sac bunts (grrr) that day, but had a pair of hits in the second game of the season. Although he went 2-for-3 with a double, a triple, and a pair of walks against the Red Sox on April 8th, the Yankees dropped Gardner back down to ninth after his batting line sat at .146/.222/.220 through the first 13 games of the season.
Hitting coach Kevin Long detected a mechanic flaw with Gardner's lower half, and after some adjustments, the left fielder went on a prolonged tear. It all started with a double and a homer against the Orioles on April 23rd, then three days later came another long ball. Two days after that, another homer. Brett just didn't stop hitting for three months after that. From that April 23rd game through July 25th, a span of 83 team games and exactly 300 plate appearances, he hit .317/.397/.452 with 28 steals in 35 attempts. That raised his season batting line to .288/.367/.407.
A season-ending slump (.175/.281/.246 in his final 146 plate appearances) dragged Gardner's overall batting line down to .259/.345/.369, a .330 wOBA that was just north of the .316 big league average. He led the American League with 49 steals, a dozen behind Michael Bourn for the MLB lead. From June 19th through August 10th, he went a perfect 22-for-22 in stolen base attempts. Gardner made up for a crappy finish to the season by being one of the team's very best hitters in the playoffs, reaching base eight times (seven hits and a walk) in the five games against the Tigers. His two-out, two-strike, two-run double off Justin Verlander in the seventh inning of Game Three tied the game at four and was one of the Yankees' biggest hits of the postseason.
Between slightly better than league average offense and all-world defense, Gardner was worth 5.1 fWAR and 4.4 bWAR this year. Depending on your choice of metric, he was either the 10th or 15th best outfielder in baseball and either the 26th or 35th best player in baseball overall, respectively. I don't think anyone was expecting Gardner to be a dynamic offensive player this season, all he had to do was to get on-base, swipe some bags, and catch everything hit in his time zone. He delivered just that, even if he's proving to be one streaky player.