Over the next few weeks, we're going to look back at what went right, what went wrong, and what went as expected during the 2011 campaign.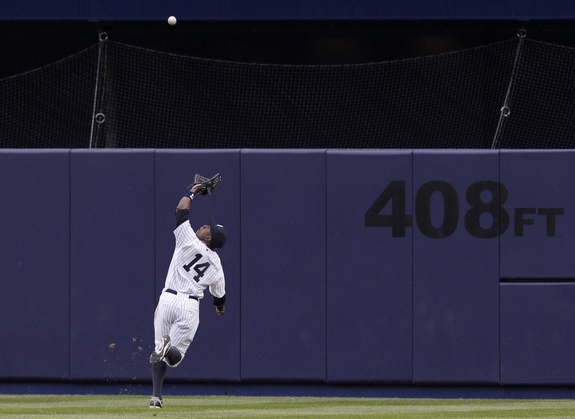 Like Spring Training, a surge at the end of a season can be deceiving. September rosters feature a lot of players that wouldn't be in the big leagues without expanded rosters, so a big time performance might just be an illusion. Curtis Granderson's late-season dominance in 2010 proved to be very real in 2011, and the best part is that we actually have some tangible evidence for his improvement. That mid-August 2010 pow-wow with hitting coach Kevin Long is world famous by now. Okay, maybe not, but you get my drift.
Granderson's season started much like the same way last season ended, with him getting big hits and helping the Yankees win games. His Opening Day solo homer off former Yankee (and lefty) Phil Coke to leadoff the seventh inning broke a 3-3 tie and helped the Yanks win their first game of the season. He homered again in the team's only first half win over the Red Sox about a week later, and a few days after that he homered yet again. Following a five homers in seven days binge in mid-April, Curtis was hitting .292/.343/.708 with seven dingers in the team's first 18 games.
A short-lived slump followed that (8-for-45 across eleven games), but Granderson got right back on the horse and started raking again. He went deep twice against the Rangers on May 6th, then hit another six homers in his next 15 games. By June 1st, the Yankees center fielder was hitting a .284/.355/.627 with 17 homers, more than anyone in the game not named Jose Bautista. From that two-homer game against Texas to another two-homer game against the Orioles on August 28th, a span of 100 games and 463 plate appearances, Granderson hit .282/.389/.601 with 30 homers and 103 runs scored. Opponents started to pitch him more carefully, and rather than chase stuff out of the zone, Curtis simply took his walks and beefed up his OBP…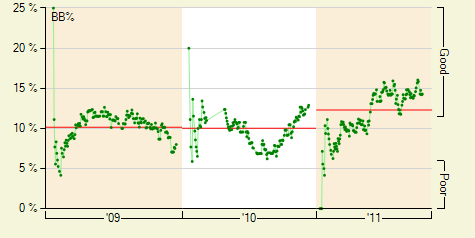 That performance earned him a starting outfield spot on the AL All-Star Team and Player of the Month honors for August. Although the month of September was not kind to the Grandyman (.186/.301/.340 during the team's final 32 games), Curtis was again one of the team's very best hitters in the playoffs, reaching base nine times in the five games, including a double, a triple, and a homer. He finished the season with a .262/.364/.552 batting line, a .394 wOBA that was dragged down by September but still managed to be the 11th highest in all of baseball. At 7.0 fWAR and 5.2 bWAR, he was either the eighth or 20th most valuable position player in the game in 2011, respectively, and either of those is pretty awesome.
Granderson finished the season with some rather gaudy old school counting stats, including 136 runs scored (15 more than anyone else), 119 RBI (most in the AL, seven behind Matt Kemp for the MLB lead), and 41 homers (two behind Joey Bats for the MLB lead). He was five steals short of becoming just the third 30-30 player in Yankees history (joining Alfonso Soriano and Bobby Bonds), but he did manage to become the first 40-25 player in team history and just the 15th all-time. Curtis also became the tenth player in history with 25+ homers, 25+ doubles, 25+ steals, and 10+ triples in a single season. He's the only member of that group to go deep 40+ times.
As much fun as the raw numbers are, perhaps the most impressive thing about Granderson's season is the way he demolished left-handed pitching. He'd hit just .212/.271/.336 against southpaws from 2006-2010, but Curtis actually hit them better (.272/.347/.597) than he did right-handers (.258/.372/.531) in 2011. That's a .400 wOBA against lefties and a .388 wOBA against righties. His 16 homers off left-handers were the most in the majors, and that includes right-handed hitters. Jay Bruce was second on the left vs. left list with 11 dingers. Granderson didn't just feast on soft-tossers either, he took Gio Gonzalez, Matt Harrison (twice), David Price (twice), and Jon Lester deep, among others. Those three combined to give up just 18 homers to lefties all season, and Curtis accounted for a third of them.
From Opening Day through Game Five of the ALDS, Granderson was the Yankees best player in 2011. He's been one of the very best players in all of baseball since revamping his swing with Kevin Long last August, but don't ask them about, they insist it was just a minor tweak or two. They're probably right, but there's nothing minor about the results. Granderson was a legitimate MVP candidate this year thanks to one of the best performances by a Yankee in recent memory.