Over the next few weeks, we're going to look back at what went right, what went wrong, and what went as expected during the 2011 campaign.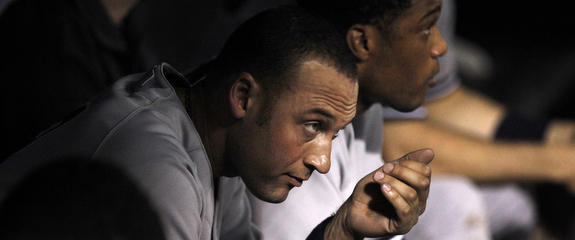 There's no denying that 2010 was a down season for Derek Jeter. Just one year removed from a .334/.406/.465 batting line (.390 wOBA) during the Yankees run to the World Series, the Cap'n hit a punchless .270/.340/.370 (.320 wOBA) last season. His ground ball rate (65.7%) was the highest by a non-Luis Castillo hitter since the data started being recorded in 2002, and most of those grounders were weak, as you know. At 36-years-old, it was fair to wonder if this was the beginning of the end of one of the greatest Yankees ever, and early this season, it certainly looked like it was.
Jeter picked up just two hits through the team's first four games, and just two extra-base hits (both doubles) through the season's first month. His ground ball rate sat at a sky high 72.3% though April, explaining the utter lack of power. And yet, because he's Derek Jeter, he remained atop the lineup despite a paltry .303 OBP in his first 211 plate appearances, essentially the first third of the season.
Every once in a while there would be a flash of the old Jeter, like the four-hit game against the Orioles on April 24th or the two-homer game against the Rangers on May 8th, but he was never able to build on it. That two-homer game in Texas was followed by a .247/.321/.301 batting line through the end of the month, and yet he continued to lead off. Joe Girardi stood by the Captain through it all, saying they would wait 150 at-bats, 250 at-bats, 350 at-bats, whatever it took until Jeter was right. Problem was, those arbitrary at-bat milestones kept passing by without improvement.
On the morning of June 13th, Derek was hitting .259/.324/.324 through 64 team games. The Yankees had one of the best offenses in baseball and were scoring boatloads of runs in spite of his presence as leadoff hitter, not because of it. That night, Jeter tapped a harmless fly ball to right to lead off the fifth inning in a game against the Indians, and appeared to have a little hitch in his step as he ran down to first. Eduardo Nunez took over at shortstop in the next half inning, indicating that the Cap'n did have some kind of physical problem.
The injury was announced as a sore right calf after the game, and an MRI confirmed a Grade I calf strain. The Yankees waited a day before placing Jeter on the disabled list, a move he strongly opposed. It's not a big deal for the team to play a man short he said, but the team couldn't afford to play short-handed with the NL leg of interleague play coming up. An injury that was supposed to take ten days to heal wound up taking three weeks.
At the time of the injury, Jeter was hitting a lowly .260/.324/.324, a well-below-average .295 wOBA. For a defensive whiz, that would be tolerable production at short. Derek is no defensive whiz though, and his age made his already shaky defense play even worse. The Yankees had one of the worst regulars in baseball not just suiting up for them every night, but also getting more plate appearances than everyone else on the team while playing a key position. In a way, the injury was a relief, almost like it put him (and us) out of his (and our) misery, at least temporarily. A little later today we'll look at the other side of the Jeter coin, his resurgence following his return from the disabled list, but for now there's no way around admitting that pre-injury Jeter went very, very wrong.