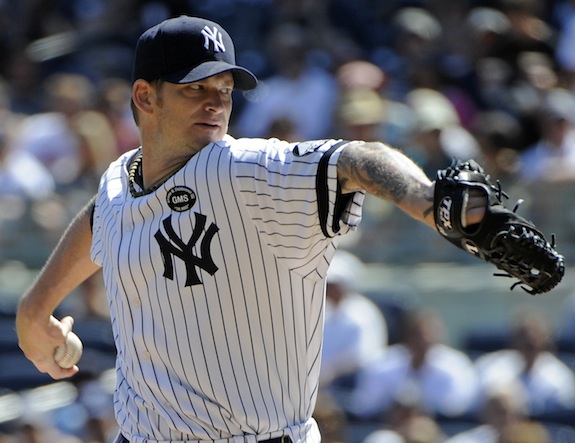 I'm not ready to give up on A.J. Burnett.
I know, it's stupid. I know the numbers. I know the depressing reality. I am quite sure he is going to be in the rotation next season (at least for the majority of the year), and while in the rotation he will give up a lot of dingers and a lot of walks and make Russell Martin earn whatever he's paid. He will also make the collective fanbase want to strangle him on multiple occasions. I'm ready for it.
I know the blogosphere is going to roll their collective eyes at this, but I think Burnett could be looking at year where he brings his numbers down again. He'll probably never live up to that $16.5M that being paid, but the continued starter crunch means that if the guy you're paying like a starting pitcher can at least put up mediocre innings (and not outright bad ones like Burnett has a tendency to do), that would be pretty nice.
Aside from a misplaced surplus of hope, the real reason I think Burnett can improve is that many of his peripherals did increase last year. He trended upwards in ground balls for the third year in a row, dragged himself back to his normal k/9 rate of around 8, and just managed to keep his walk rate under 4/9ip. In hindsight, he was better than he was in 2010, but that wasn't exactly a difficult thing to do. There is one number that sticks out to me, though. Maybe, like many players, Burnett was a victim of random, year-long fluctuations that make him seem worse than he actually was. I'm not saying that a little luck is going to turn him a Cy Young winner, just that there's a possibility of a slightly less depressing year.
That is this: in 2011, 17% of all fly balls A.J. Burnett gave up turned into home runs, which lead major league baseball. That's absurd, and obviously much higher than the MLB average of 10%. It lead to his 1.47 HR/9 ratio (third-highest in baseball behind Colby Lewis and Bronson Arroyo), and combined with his usual walk rate, had a pretty horrible effect on his numbers. Burnett gave up 109 ER this year, and 49 of them – almost half! – came from the longball. Even with his vastly improved ground ball rate, he gave up the exact same amount of earned runs as he did in 2010, and actually fewer runs if you count the unearned ones. In this trend, his infield fly ball percentage also dropped below his career average this year, which could also be part of the problem.
In 2010, Burnett gave up 215 fly balls and 25 home runs, which is a fairly average 11.6% HR/FB. In 2011, Burnett gave up 185 fly balls and 31 home runs, causing this massive spike. Curiously enough, Burnett has been trending downwards in fly balls for all three years of his Yankees contract, while his homer rate is going up for the past four years, starting back in Toronto in 2008. Some of that massive 17% is coming from depressing A.J. Burnett statistics: dropping fastball velocity, missed location, age-related decline, that sort of depressing junk. Perhaps ballplayers are simply sizing him better. Some of it might come from the fact he spends plenty of time in the homer-happy AL East. But the enormous uptick makes me want to believe that some of it is simply part of year-to-year randomness, and that while A.J. is far from an ace, a few less dingers would go a long way to helping him and the team. Even if we keep his HR/FB rate above average at 14%, that means he gives up five fewer homers, which could do a lot for the man – especially if people were on-base at those particular times.
Like I said, I don't think that a few less dingers is going to turn A.J. Burnett into an immensely valuable asset. But considering that the Yankees are probably not going to be able to find someone to take Burnett and Brian Cashman insists that the man is going to spend most of the year – if not all of it – in the rotation, it's these small quirks that we have to try and rely on to improve his performance. In this case, the Yankees could use a little luck when it comes to Burnett, or even just the scales tipping even again.