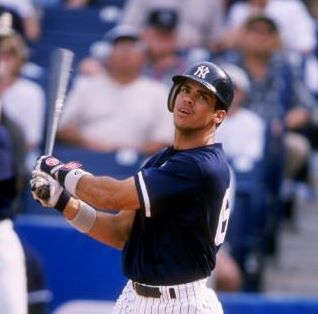 Ricky Ledee is little more than a footnote in Yankees history, but he's a great story of perseverance in a game that requires so much of it. The Yankees drafted him out of Puerto Rico in 1990 (16th round), but it wasn't until nine years later that he finally saw the bright lights of the big leagues. In between, the organization had him spend three seasons in rookie ball, one season in short season ball, two seasons in Low-A, two months in Double-A, and parts of two seasons in Triple-A. Baseball America didn't put him on their top 100 prospects list until 1998, when they considered him the 46th best prospect in the game.
Still just 24-years-old when he was finally called up in June of 1998, Ledee homered off Scott Erickson in his second career start. He played left field pretty regularly while Chad Curtis was on the DL, then was sent back to the minors in July before coming back up in September. The 114-win Yankees carried him on their playoff roster as an extra left handed bat, and Ledee rewarded them by reaching base in eight consecutive plate appearances to open the World Series against the Padres.
The Yankees used Ledee as part of a left field platoon with Curtis in 1999, though he ended up back in the minors after a slow start before resurfacing in late-June. He hit .293/.368/.537 with 13 doubles and nine homers in 231 plate appearances the rest of the way, eventually taking over the left field job on an everyday basis. The Yankees won their second straight World Series with some help from Ledee's second straight strong postseason showing. He opened the 2000 season as the regular left fielder, but his batting line sitting at .241/.332/.419 in late-June, the Yankees traded Ledee to the Indians as part of a package for David Justice, who rode into the Bronx on a white horse to save the offense and guide the team to its third straight World Championship.
Ledee's time in Cleveland was short-lived; they traded him to the Rangers for David Segui just a month later. In the span of five weeks, he'd played for all three of the previous year's division winners. Ledee bounced around a bit after that, spending time with Phillies, Giants, Dodgers, and Mets before retiring in August of 2007 as a .243/.325/.412 career hitter. He's one of only three players to play for the four original New York teams, joining Darryl Strawberry and Jose Vizcaino. Ledee turns 38 years old today, and based on the always reliable Wikipedia, he teaches salsa dancing class in his spare time. I hope he does so while wearing those World Series rings.
* * *
Here is your open thread for the night. There's nothing going on in the local sports scene, so you're stuck finding your own ways to entertain yourself. Talk about anything you like here, the thread is open for business.