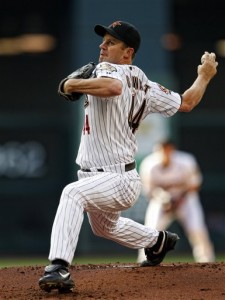 Years ago he might have topped the list of Yankee targets. Today he's having trouble getting a multiyear offer from any team. Roy Oswalt's first foray into the free agent market couldn't have come at a worse time. The market for pitching is relatively thin, yet he's coming off a season during which he missed 53 team games with lower back injuries. Making matters worse, two years ago he was diagnosed with two degenerative discs in his back. That makes it difficult for any team to justify a multiyear offer. Now it appears that Oswalt is ready to face reality.
This morning ESPN.com's Jerry Crasnick reported that Oswalt wants only a one-year deal. The idea: show his back is healthy so that he can reenter the market next year and hopefully score the multiyear deal he sought this off-season. Apparently six teams are in conversation with him, and while we don't know the Yankees level of interest it's difficult to see them standing on the sidelines. In some ways Oswalt fits their needs.
Despite his recent history of lower back issues — he has missed almost 100 games since 2008 with lower back injuries — Oswalt has rarely suffered in terms of performance. In 2009, when the issues really started to crop up, he produced a career worst ERA, but even then it was 4.12. He then bounced back in 2010 to start 32 games, pitch 211 innings, and finish the season with a 2.76 ERA, his best in any season since a 2.73 ERA in 141 innings in 2001. Of course, he followed that with only 139 innings in 23 starts last season, though he did still manage a 3.69 ERA and 3.44 FIP. In 2012, his age-34 season, we can still expect a certain level of effectiveness when he's on the mound.
Even on a one-year deal, Oswalt's back issues present a problem. We heard earlier in the off-season that the Yankees were concerned about Oswalt's back. That matters more in terms of a multi-year deal, but it also plays a part in a one-year arrangement. The Yankees would still rely on Oswalt to make 30 starts, so if he comes up short due to the same back issues they'll have to rely more heavily on Plan B — and then Plan C, and Plan D, and so on. That is, if the Yankees are truly concerned about the state of Oswalt's back, they should probably stay away regardless of contract term.
Still, of all the remaining pitchers on the market Oswalt has the highest ceiling. He might be a career National Leaguer, but he's passed through a number of tests along the way. He pitched in the hitters' park known as Minute Maid Park, and then graduated to another hitters' park, Citizen Bank Ballpark. He's appeared in the postseason four times, pitching to a 3.73 ERA in 72.1 innings. He also has about a season's worth of interleague starts, pitching to a 3.70 ERA in 199.1 innings (30 starts). His impeccable control, 2.09 BB/9 for his career, could also help him manage the transition between leagues.
One major question regarding Oswalt: why would he want to rebuild his value in New York? This isn't an end-of-career deal, where he's just looking to catch on with a strong contender for one last hurrah. This is a player seeking to rebuild his value and get a multiyear contract next off-season, at age 35. While it might not behoove him to hide out in a known pitchers' haven, such as San Diego, facing the AL East offenses frequently might not be the best idea, either. He wouldn't have to face the Yanks offense, a major plus, but he'd have a number of starts against other above-average offenses. He might prefer to remain in the NL for this reason — or, if he'd like to prove he's not just an NL guy, he could seek a rotation spot in the much less vicious AL Central.
At the same time, Oswalt could view New York as the perfect place to rebuild his value. Remember, he did talk about retirement last year while his back ailed him. Perhaps he wants to go all-in with this last attempt. If he succeeds, he extends his career by a few years. If he fails, he rides into retirement. In that case, the Yankees could be a good fit. He'd have a chance to be the No. 2 on a sure contender. Furthermore, a solid performance on the Yankees could turn a lot of heads. It could even entice the Yankees themselves to offer him a contract after the season. Even a slightly above average performance for the Yankees could be more attractive next off-season than a well above average performance elsewhere.
Oswalt's newfound availability puts him in the same league as Hiroki Kuroda: risky, but with plenty of upside. Oswalt has a higher ceiling, but also has the greater risk of giving you nothing. Kuroda is the better bet to give you 30 starts, but his ceiling is lower than Oswalt's. His age is also a concern; any decline will greatly affect his performance for the Yankees. The Yankees might not end up with either, but they'd do just fine by signing either to a one-year deal.