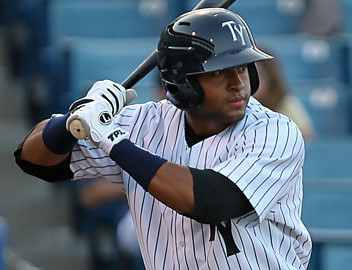 The Yankees are still dealing with their pitching questions this offseason, but as fans we can't help but look ahead to future roster problems and wonder how they'll be addressed. The outfield figures to be a hot topic next winter, when Nick Swisher becomes a free agent and the rest of the open market is pretty unappealing. If the Yankees intend to get under the $189M luxury tax threshold by 2014, a homegrown Swisher replacement would be the best way to go.
Unfortunately, the Yankees don't have any high-end outfield prospects close to the big leagues capable of replacing their current right fielder. Mason Williams is a potential star but is also four levels away from the show. Slade Heathcott hasn't had a full, healthy season since turning pro, and Kelvin DeLeon inches closer to being a $1.1M bust with each swing and miss. Of course the Yankees don't need to replace Swisher with a star prospect; they've shown you can win the World Series with guys like Ricky Ledee and Chad Curtis and Gerald Williams roaming an outfield corner.
Perhaps the best hope for a homegrown outfielder in 2013 is a prospect that gets little hype, at least compared to Williams and Heathcott. The Yankees added Zoilo Almonte to the 40-man roster after the season, protecting him from the Rule 5 Draft but also showing confidence in his ability to contribute in some capacity down the line. He posted a .402 wOBA with High-A Tampa during the first half of 2011 before producing a .308 wOBA with Double-A Trenton in the second half. Like Brett Gardner in his prospect days, Almonte has struggled at a new level each time he's been promoted at midseason before hitting his stride the next time around.
A switch-hitter, Almonte is almost a poor man's version of Swisher at the plate. He draws a decent number of walks (9.1% at High-A and above) and hits for okay power (.155 ISO at High-A and above), though most of his pop is into the gaps rather than over the fence at age 22. He performed better against left-handed pitchers both last year and throughout his career, but that's not terribly surprising for the natural right-handed hitter. Add in solid but unspectacular defense and 15+ stolen base ability, you've got someone with the potential to develop into a big league regular down the line. The Yankees obviously believe he can do it sooner rather than later, otherwise they wouldn't have protected him from the Rule 5 Draft.
The last two times the Yankees worked a homegrown outfielder into the regular lineup, they went about it in very different ways. Injuries to Hideki Matsui and Gary Sheffield pressed Melky Cabrera into everyday duty whether the team liked it or not, but Gardner got broken in slowly during the 2008 and 2009 seasons before getting a full-time job in 2010. The latter is obviously preferred if you're talking about someone less than a star prospect (a Mike Trout or Desmond Jennings), so the Yankees would still need to invest in a solid fourth outfielder or platoon partner if they decide Swisher is too rich for their taste and intend to see what they have in Almonte.