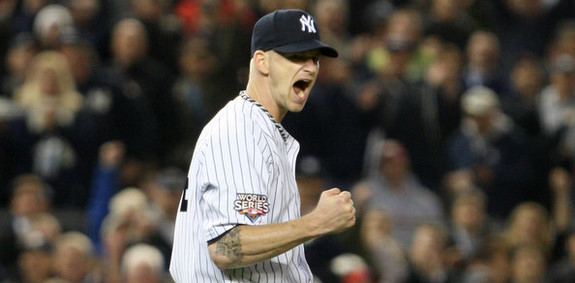 The Yankees said goodbye to A.J. Burnett over the weekend, eating a big chunk of the $33M left on his contract in order to send him to the Pirates. He seemed like a nice enough guy but was one of the most frustrating pitchers to watch that I've ever seen, and while we appreciate his contributions to the 2009 World Championship, none of us are going to lose sleep over his departure. It's just the way it is.
A.J. did have some fine moments as a Yankee, though over the last two seasons the team had a knack for giving him zero run support whenever he did throw a gem. Of the 12 times he threw at least seven innings and gave up no more than two runs since the start of 2010, the Yankees lost four times. That's just not supposed to happen with this offense and bullpen. Anyway, we're going to look back at Burnett's five greatest starts as a Yankee using a simple metric called Game Score. Wikipedia has the nuts and bolts, if you're interested. Fifty is an average Game Score, and the highest ever recorded was Kerry Wood's 20-strikeout game (105). Anything above 75 or so is pretty stellar.
Game Two of the 2009 World Series does not make this list; it was the eighth best start of Burnett's three years in the Bronx with a Game Score of 72. That said, it was easily his biggest moment as a Yankee given the pressure and everything riding on that game. As you'll notice, four of Burnett's five best games came back in 2009, which isn't surprising given how awful he's been over the last two years.
5. July 27th, 2009 @ Rays (box) (video) (RAB recap)
Pitching Line: 7 IP, 2 H, 1 R, 0 ER, 2 BB, 5 K, 114 pitches
Game Score: 74
The Yankees were in cruise control by this point of the season, already well on their way to clinching the AL East title in late-July. The lineup gave Burnett an early three-run cushion by starting the second inning with a single, a double, and a triple off Jamie Shields, allowing their right-hander to pitch around baserunners in the first (walk), second (walk), and third (single) innings. A.J. was perfect in the fourth and fifth before allowing a run to score on an Evan Longoria ground ball double play in the sixth.
The Phils – Coke and Hughes – were both unavailable that night, so the bullpen was pretty thin. Joe Girardi sent Burnett back out for seventh with his pitch count already over the century mark, but he got three outs on just ten pitches. He gave up only two ground ball singles (one towards third and the other between first and second), though he did allow one other baserunner when B.J. Upton reached base on a wild pitch following a strikeout. The offense blew things open late and the Yanks sailed to an easy win.
4. April 14th, 2009 @ Rays (box) (video) (RAB recap)
Pitching Line: 8 IP, 3 H, 2 R, 2 ER, 1 BB, 9 K, 103 pitches
Game Score: 76
If you remember, the rotation was a bit of a mess early in 2009. CC Sabathia's career in New York was off to a slow start, Chien-Ming Wang was both dreadful and injured, and Joba Chamberlain was still figuring things out as a starter. Burnett and Andy Pettitte were the only reliable arms Girardi had at the time. In his second ever start as a Yankee, Burnett was tasked with going deep into the game because the bullpen had taken the pounding the previous two days. Things got so bad that Nick Swisher had to throw an inning the night before.
A.J. was simply unhittable, at least for the first six innings. He retired 18 of the first 19 men he faced, the lone exception being a one out walk to Pat Burrell in the second. Four of his seven strikeouts up to that point were called on fastballs, a pitch he had working on night. When he was spotting the heat on the corners, it was a thing of beauty. The Rays opened the seventh with three straight singles, but Burnett stopped the bleeding with a fly ball, a strikeout, and by picking Carlos Pena off first. He started the eighth at just 93 pitches, then sat the Rays down in order on ten pitches to end his night. Only seven of the 27 men he faced managed to hit the ball out of the infield.
3. August 7th, 2009 vs. Red Sox (box) (video) (RAB recaps)
Pitching Line: 7.2 IP, 1 H, 0 R, 0 ER, 6 BB, 6 K, 118 pitches
Game Score: 77
You all remember this game, this was the 15-inning walk-off win against the Sox. The very first batter of the game — Jacoby Ellsbury — lined a single to center, and that was all Boston got against Burnett. Four of the six walks were "strategic" walks as Joe likes to say, meaning A.J. pitched around guys (Dustin Pedroia and Kevin Youkilis specifically) at times when they could have done some serious damage. I like to call it the worst great game as ever, as both Burnett and Josh Beckett always seemed to be on the edge of disaster but never caved.
After a hectic first inning (the single and a pair of walks), only five of the final 22 batters Burnett faced managed to hit the ball out of the infield. He exited the game with two outs in the eighth after walking Ellsbury on four pitches, clearly fatigued after seven stressful innings. The game was barely more than halfway over by then, but for the first time as a Yankee, Burnett did exactly what the team was paying him to do: beat the Red Sox.
2. April 29th, 2010 @ Orioles (box) (video) (RAB recap)
Pitching Line: 8 IP, 3 H, 0 R, 0 ER, 1 BB, 4 K, 116 pitches
Game Score: 79
This game was all about Robinson Cano, who was in the middle of his coming out party as an MVP-caliber player. He went 3-for-4 with a double and two homers, raising his early-season batting line to .407/.444/.790. Burnett made Robbie's production stand up on the run prevention side of things, throwing strikes (77 of 116 pitches were strikes, 66.4%) and getting both grounders and lazy fly balls with his fastball and curve. Only two batters made it as far as second base in his eight innings, and A.J. retired the last eight men he faced.
The key to the game was strike one. Burnett threw a first pitch strike to 21 of the 28 men he faced (75%), well above his career average (57.6%) and the league average (58.8%). After starting the first two batters of the game off with a 1-0 count, he went 0-1 on 19 of the final 26 batters. Once behind in the count, the O's couldn't sit fastball and had no chance against the hook. The strikeout total isn't sexy, but Burnett was overwhelming that night.
1. June 27th, 2009 @ Mets (box) (RAB recap)
Pitching Line: 7 IP, 1 H, 0 R, 0 ER, 3 BB, 10 K, 108 pitches
Game Score: 82
The amazing thing about this game is that I don't remember it at all. Not one tiny bit. I remember the following game — that's when Francisco Rodriguez walked Mariano Rivera with the bases loaded to force in the go-ahead run in the ninth — but this game? Forget it, nothing.
At the time, the Mets were completely ravaged by injury. The only three current big leaguers in their starting lineup were David Wright, Daniel Murphy, and Brian Schneider, and Wright's protection was Ryan Church and Gary Sheffield. That's not to take away from what Burnett did, because it was a dominating performance, but my goodness. The Mets never had a chance.
A.J. carried a no-hitter through five before Alex Cora led off the sixth with a single, and two of his three walks came in the span of three batters in the second inning. Of the 25 batters he faced, five hit the ball out of the infield. Five. Burnett was in the middle of his best run as a Yankee, an eleven start stretch from late-May to late-July in which he held hitters to a .209/.316/.308 batting line with a 2.08 ERA in 69.1 IP. We would see glimpses of that A.J. from time to time, but never a sustained period of dominance like that again.