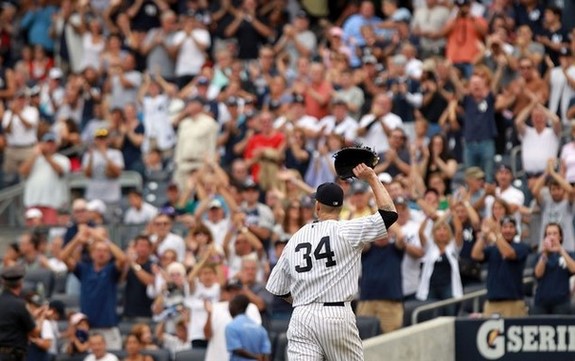 After three years, A.J. Burnett's time in pinstripes is coming to an end. The Yankees have agreed to trade the right-hander to the Pirates for prospects Exicardo Cayones and Diego Moreno. Pittsburgh will pay $13M of the $31.9M left on his contract, broken down into $5M in 2012 and $8M in 2013. The deal is pending physicals and MLB's approval because of the amount of money changing hands. Ken Rosenthal, Joel Sherman, Dejan Kovacevic, Buster Olney, and Jonathan Mayo all had a hand in breaking the news.
Burnett made 98 starts in three years for the Yankees, pitching to a 4.79 ERA and a 4.63 FIP. Kinda hard to believe that his greatest attribute was his durability when that was the biggest question at the time of his signing. Burnett helped the club to the 2009 World Championship but was a total dud in the two following years. At age 35, he is unlikely to improve in a meaningful way going forward. Moving out of Yankee Stadium and the AL East and into pitcher friendly PNC Park and the NL Central should certainly help his performance.
Moreno, 25, is a hard-throwing right-handed reliever. Pirates Prospects says he routinely runs his fastball up to 97 with a mid-80s slider. He struck out 45 (9.1 K/9 and 23.4 K%) and walked 18 (3.6 BB/9 and 9.4 BB%) in 44.2 relief innings split between High-A and Double-A last season. No team took a shot on him in December's Rule 5 Draft. The Pirates suspended Moreno in 2010 after he got caught kissing a fan in the bullpen, believe it or not.
Cayones, 20, hit .228/.333/.325 in 135 plate appearances split between the Rookie Level Gulf Coast League and Short Season NY-Penn League last season. Pirates Prospects says he has an advanced approach to hitting (career 9.5 BB%) but apparently not much power (.108 ISO), which is a problem because he's a left fielder. His best tool is his name, which is a straight 80 on the 20-80 scouting scale. Neither Cayones or Moreno were among Pittsburgh's top 30 prospects in Baseball America's Prospect Handbook, and neither would have cracked my Top 30 Prospects List.
The Michael Pineda and Hiroki Kuroda acquisitions crowded the pitching staff, leaving Burnett to fight for the fifth starter's spot with Freddy Garcia and Phil Hughes. The Yankees obviously decided that getting some salary relief was the best way to go. Rumor has it they'll soon sign Eric Chavez and Raul Ibanez to fill out their bench and DH spots, respectively. Burnett was incredibly frustrating to watch, especially the last two years, but he came across as a stand-up guys in interviews and was generally regarded as a positive force in the clubhouse. I'll miss A.J. the person, but not the pitcher.