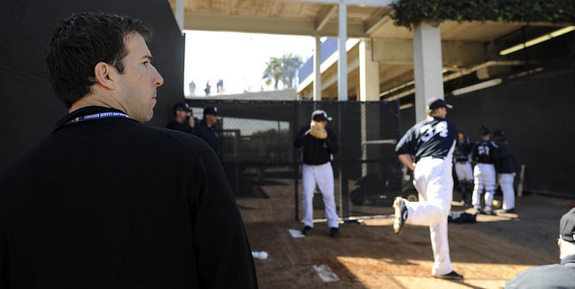 It barely registered as more than a blip on the radar, but the Yankees made a rather significant move yesterday. The club added former Cubs GM Jim Hendry as a special assignment scout, but that's not what I'm talking about. Pro scouting director Billy Eppler was promoted to assistant GM, a move with some pretty significant long-term implications. Rather than explain why all over again, I'll point you to what I wrote last June…
When I look at the Yankees front office, one thing really stands out to me: there's no obvious, in-house candidate to replace [GM Brian Cashman]. I'm guessing that's by design, because why would Cashman want competition from the inside? He's made himself that much more valuable to the franchise by making sure no one emerges as a potential replacement. From a business perspective, it's brilliant. Assistant GM Jean Afterman reportedly specializes in contracts and negotiations, not necessarily baseball operations. Scouting directors Billy Eppler (pro) and Damon Oppenheimer (amateur) don't have any kind of GM'ing experience, even at the assistant level. The closest thing the Yankees have had to a potential in-house GM alternative during Cashman's tenure (at least recently) was Kevin Towers, who served as a special advisor in 2010 before taking the Diamondbacks GM job over the winter.

Anyway, the reason I bring this up is because when you look around the league, this is something pretty unique to the Yankees. Just to use the Red Sox as an example (since apparently they're the measuring stick for everything the Yankees do), their official site lists something like eight assistants (with various titles) to GM Theo Epstein, including one former GM in Allard Baird (Royals). If Epstein leaves for whatever reason, AGM Ben Cherington could step in and the team wouldn't miss a beat. In fact, he and current Padres GM Jed Hoyer served as co-GMs when Epstein briefly left the club in December of 2005, and the duo actually brokered the Hanley Ramirez-Josh Beckett trade in Epstein's short absence. I just don't see how that kind of seamless transition would occur with the Yankees.
Eppler has run the pro scouting department since Cashman created it in 2005, and prior to that he worked as a scout for the Yankees, Padres, and Rockies. He pitched at UConn once upon a time, but a shoulder injury ended his playing career before he had a chance to go pro. Joe Torre (and Tom Verducci) referred to him as a "stats guru" in The Yankee Years, but Eppler says that's not the case.
"Is Billy a stats guy? No, and I joke with him about it," said Bill Schmidt — the Rockies' VP of Scouting — to Tyler Kepner in 2009. "But does he use it as a tool? We all do. Billy is a well-rounded scout, and any well-rounded scout is going to look at stats."
Eppler's promotion to assistant GM appears to be step one of creating the seamless transition that I talked about in June. He's been in the mix for both the Padres' and Angels' GM positions in recent years, and reportedly was the runner-up to Jerry Dipoto for the job in Anaheim earlier this offseason. I'm sure other clubs have expressed interest in him in other capacities as well, we just don't know about it. Cashman and former Yankees GM Gene Michael (currently an advisor to Cashman) have touted Eppler as a future GM in the past, and right now it's clear that it's only a matter of time before some team hires him for that role. Yesterday's promotion is an indication that that team may end up being the Yankees.
Cashman is about to enter his 14th year as GM of the Yankees, and tenures of that length are pretty unheard of when it comes to baseball executives. He signed his fourth straight three-year contract back in November, so he'll be around for a 15th and 16th season as well. What happens after that? We really don't know. Cashman is still relatively young (45 in July), so he has plenty of GM years left ahead of him, at least in theory. The Steinbrenners love him and the team continues to win, so that side of it doesn't figure to be an issue. Maybe another three-year contract is in the cards, but I get the sense that the next three years will be spent grooming Eppler to take over following the 2014 season.
Now, I don't think Cashman will be fired or shown the door at that time, though it's certainly possible, of course. It does come with the territory. I think it's more likely that he'll be promoted, however, perhaps to some kind of chairperson/team president capacity with Eppler stepping in as GM. It's pretty much the same thing the Indians did a year or two ago, when long-time GM Mark Shapiro became team president and long-time assistant GM Chris Antonetti replaced him. That was the plan for years, and the Yankees could be setting themselves up for a similar kind of transition. Nice and easy, we'll barely even notice.
I don't have any kind of hard evidence to back this up obviously, it's just a thought more than anything. Cashman's been doing this GM thing for a long time now, and a promotion to a higher position is the natural order of things. Eppler is a valuable asset that other teams clearly have interest in, and that interest only figures to increase over the next few years. Rather than lose him to another club (which could still happen), they Yankees have put him in a position to potentially succeed Cashman and become the next GM. For the first time in Cashman's tenure, there's something resembling a line of succession in place.