The new Collective Bargaining Agreement has taken a bite out of the draft, but a few weeks ago I outlined two ways to sort of massage the system and maximize spending ability. One way is to embrace college seniors, taking some of these relatively cheap players towards the back end of the top ten rounds and reallocating the draft pool money elsewhere. The lack of leverage hurts the player but benefits the team, though the two sides could work together so everyone wins.
One of the most intriguing senior prospects in this year's draft is a guy the Yankees drafted last year but did not sign: Texas left-hander Sam Stafford. They didn't like something they found in medicals and passed on signing him as their second round pick, and sure enough Stafford is now out for a while due to shoulder surgery. The Yankees did get a compensation draft pick this year (#89 overall) as a result. The college senior talent pool took a bit of a hit with Stafford's injury, but there are still plenty of interesting guys out there that would make fine draft-pool-saving picks in the eighth, ninth, or tenth rounds.
Taylor Dugas, OF, Alabama
An eighth round pick of the Cubs last summer, Dugas is leadoff type in center fielder. He's very patient at the plate and regularly puts the ball in play (53 strikeouts and 113 walks in 150 games since the start of 2010), but he has little power (just ten homers during that time) and not enough speed (31-for-46 in stolen base attempts, 67.4%) to be a real offensive weapon. Dugas figures to be able to play center in the long-term, though his arm isn't anything great.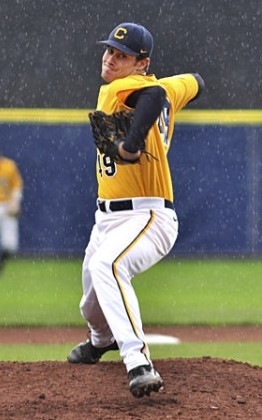 Matt Flemer, RHP, Cal (video)
The Royals were unable to sign Flemer as a 19th round pick last year, and now the 6-foot-2, 215 lb. right-hander has moved into the Bears rotation after pitching out of the bullpen his first three years on campus. He's an extreme strike-thrower, walking just 31 batters in 158 career innings (1.77 BB/9) and only 16 batters in 107 IP (1.35 BB/9) since the start of 2010. Flemer is just a two-pitch pitcher at the moment (low-90's heat with a slider), so he profiles best as a reliever in pro ball. He's aggressive and misses bats out of the bullpen, making him a prime candidate to fit right into the Yankees' relief pipeline.
R.J. Hively, RHP, Mississippi
The Yankees drafted but did not sign Hively back in 2010, when they grabbed him in the 26th round out of Santa Ana Junior College. The right-hander transferred to Ole Miss, worked primarily out of the bullpen last year, and now holds down a weekend rotation spot for the Rebels. He's extremely athletic with a very loose arm, throwing strikes with a high-80's fastball that should tick up a notch once some pro instructors get a hold of him. Hively is another guy that profiles best as a reliever long-term. The Yankees have a bit of a history with him, so if nothing else, they've already seen something they like.
Matt Reckling, RHP, Rice (video)
It's not often that a Rice pitcher comes out of school with relatively few miles on his arm, but Reckling did not start pitching until his senior year of high school and has only thrown 165 IP during his four years with the Owls. A big (6-foot-4, 215 lbs.) right-hander with power stuff, he sits in the low-90s with a power curve as a starter but figures to offer a bit more in relief. Command is an issue because he has limited pitching experience (and because of a funky arm action), but there is still some untapped potential here. The Indians rolled the dice on Reckling in the 22nd round last year but came up empty.
Jacob Stallings, C, North Carolina
A 42nd round pick of the Reds last year, Stallings figures to go a bit higher this year because he can hit a little and is expected to remain behind the plate long-term. He doesn't offer much pop (just seven homers in 140 games over the last three years) but he draws walks (84 BB in those 140 games) and makes enough contact (94 strikeouts) to be more than a zero at the dish. Stallings is fantastic defensively, with a great arm that shuts down the running game and good mobility behind the dish. He's cut from the P.J. Pilittere cloth, though he's more athletic and has a better chance at a career as a big league backup than the former Yankees farmhand.

Ross Stripling, RHP, Texas A&M
Like Reckling, Stripling didn't start pitching until his senior year of high school. He broke his leg playing football, and out of boredom he started throwing off a mound with the cast on his leg. Five years later, he's one of the most successful pitchers in Aggies history and a legitimate pro prospect with three pitches: low-90s fastball, curveball, and changeup. Stripling is a big kid (6-foot-3, 190 lbs.) who's thrown quite a few innings since the start of 2010 (250.1 IP), but he has control (1.94 BB/9) and can miss bats (8.63 K/9). The equipment is there to start, though he might wind up in the bullpen long-term like everyone else in this post. The Rockies took Stripling in the ninth round last year, and he could go just as high again this summer.
* * *
An important thing to remember when it comes to college seniors is that they generally stink. The best amateur players tend to sign either out of high school or as college juniors, so the senior talent pool is very diluted. Someone like Adam Warren — who is the on verge of being a back-end big league starter — is basically the best case college senior scenario. Getting a bench player or bullpen guy might not sound sexy, but when you're talking about a minimal investment both financially and in terms of draft slot, it's a quality return.