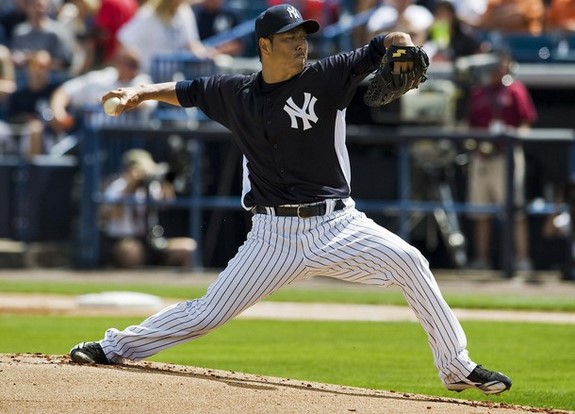 There are few things in baseball more frustrating than watching a pitcher with no control. Even when he's ahead in the count, it's a struggle to finish off hitters. Thankfully, the Yankees have put something of an emphasis on control. They've acquired some guys who throw strikes and keep a game moving. They also shed one of their most notorious base on balls issuers, A.J. Burnett. That should help boost the staff by itself. Here are some of the other guys who avoid issuing the free pass.
CC Sabathia
Like many pitchers, Sabathia developed control as he matured. It's easy to forget that he debuted as a 20-year-old, pitching a full season for the Indians in 2001. Unsurprisingly, he walked 4.74 per nine, which was about one and a half more than the league average. It took him a few years to harness his arsenal, but once he did his career took off.
In 2007, when he won the American League Cy Young Award, Sabathia walked just 1.38 batters per nine innings. Only two pitchers, one of whom was Greg Maddux, walked fewer batters per nine innings. Sabathia's control continued into his landmark 2008 season, as he walked just 2.10 per nine — and just 1.72 per nine once with the Brewers.
In the last three seasons it might appear as though Sabathia hasn't displayed quite the same level of control. Yes, his walk rates are still low — usually around 2.5 per nine — but they're not otherworldly low as they were in 2007 and 2008. Yet those raw numbers don't take into account his move from the AL Central to the AL East. He's facing some of the toughest hitters in the game, and he's faring as well as one could expect. That low walk rate has perhaps allowed him to succeed where a similar pitcher with less control might fail.
Hiroki Kuroda
In the last three seasons, only seven qualified pitchers have walked batters less frequently than Kuroda. That's great news for the Yankees. Their pitchers ranked right in the middle of the pack in terms of walk rate, and they lost one of their best control pitchers, Bartolo Colon. Kuroda steps right into that role, and it wouldn't be surprising to see him replicate Colon's 2011 — while pitching a few more innings, of course.
Yet as we saw with Sabathia, the change of divisions could have an effect on Kuroda's walk rate. From 2006 through 2008 Sabathia was right around, or below, 2.00 walks per nine, and dipped well below that during his short stint in the NL. With the Yankees he's averaged 2.58 walks per nine. Last year Kuroda's primary opponents in the NL West had walk rates of 8.8, 8.7, 8.2, and 7.4 per nine. The non-Yanks AL East went 9.3, 9.0, 8.5, and 7.3 percent. That might make it tougher on Kuroda, but it underscores the importance of having control guys in this division.
Cory Wade
In the middle relievers preview I couldn't help but marvel at Wade's walk rate. He might not have much major league experience — just 138.2 innings spread over three seasons — but he's still managed to keep his walks low. Despite a 2009 season in which his control struggled, likely due to a shoulder injury that eventually required surgery, he still has walked only 2.14 per nine in his career. Last year he got it below 2 per nine, as he did in 2008. That's a breath of fresh air for a reliever these days; it seems that the great majority of them have trouble consistently throwing strikes.
Mariano Rivera
Need we say much about Rivera's pristine control? The man hasn't walked more than two batters per nine since 2005, and even then he was just a hair over that mark. For his career he has walked 2.04 per nine, and in the last five seasons he has walked 1.3 per nine. One. Point. Three. In the last three seasons he has walked the second fewest batters per nine, just 0.02 behind Edward Mujica.
Since 1950, only four relievers have walked fewer batters than Rivera. Surprisingly, one is the Twins' Matt Capps. The others: Dennis Eckersley, Dan Quisenberry, and Dick Hall. Of them, only Quisenberry is within 300 of Rivera's relief innings pitched.
* * *
Finding pitchers who can retain control while facing AL East hitters is no easy task. Last year the Yankees walked the fewest batters in the division, at 3.13 per nine. (Though the Rays were right there, just fractions of a point behind.) The Orioles, Red Sox, and Blue Jays were all in the bottom third of the league in walk rate. Thankfully, the Yankees do have some proven control artists to help prevent issuing free passes.