Following the conclusion of the chapter about the Yankees in the 2012 Baseball Prospectus Annual — a tome edited by The Pinstriped Bible's (and now Bleacher Report's) Steven Goldman, and, given his expertise, presumably also featuring his contributions to the chapter devoted to the Bombers — I was inspired to do some research in response to the seemingly endless number of accusations leveled at the team regarding its supposed reluctance to deploy its young pitchers in favor of established veterans.
Now, anyone who reads Steve over at the Pinstriped Bible with any regularity — and lest this post come across as derisive, I've long been a big fan of Steve's work, and have enjoyed his intellectual, verbose and witty take on the state of the Yankees at the Pinstriped Bible ever since I discovered the wonderful world of Yankee blogs back in 2004 — is no doubt familiar with this particular war cry, which seemed to come to a boiling point in the aftermath of Brian Cashman signing journeyman Brian Gordon to spot start against the Rangers on Thursday, June 16, instead of letting one of Hector Noesi, Adam Warren, David Phelps or D.J. Mitchell make their first career Major-League start (and in the case of the latter three, first Major-League appearance). Brien Jackson of IIATMS wrote an eloquent rebuttal at the time (and as also noted by our own Moshe, the Gordon decision was likely entirely driven by not wanting to add a player to the 40-man roster just to make  two starts), but in light of this favored Goldman criticism littering not only the team overview in the Annual, but basically the capsule for every pitcher in the Yankees' system, I was curious to see just how much water it actually carried.
The below chart lists the number of starters Age 25 or below by team that made their Major League debuts in the last decade. This data was compiled utilizing Baseball-Reference's Play Index.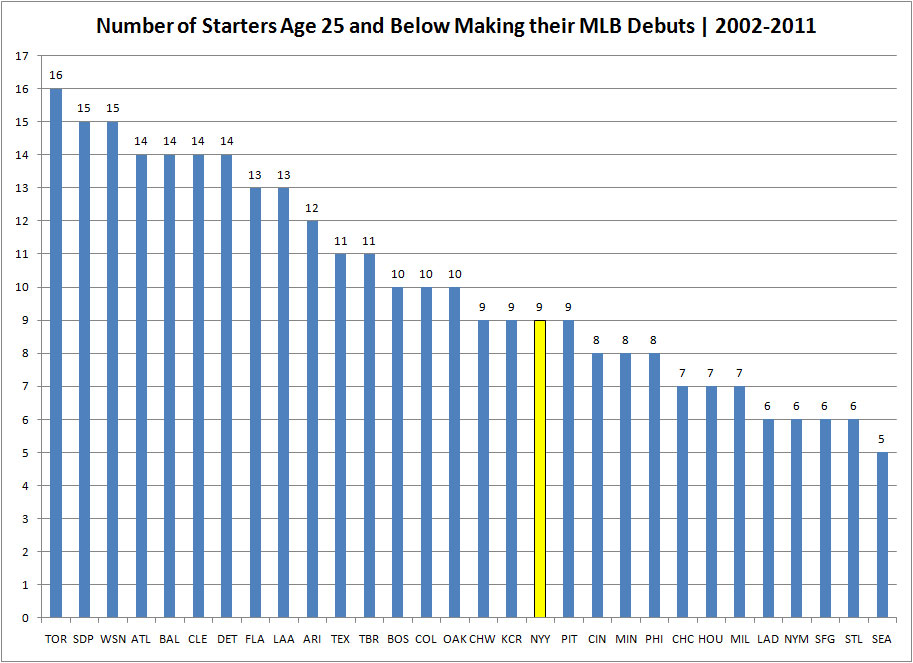 As you can see, the Yankees, with nine hurlers, ostensibly fall in the middle of the pack when it comes to letting youngsters make their MLB debuts as starting pitchers. Toronto has debuted the most starting pitchers under 25 during this time frame, with 16, and Seattle the least, with five. The MLB average? 10, or just one more than the Yankees have. This means that, on average, an MLB team will debut one starter under age 25 per year.
There were also cries of despair a little over a month after the Gordon incident, when it looked like Adam Warren might get a shot to start the second game of a doubleheader against the Orioles, but that plan was ultimately scuttled when Ivan Nova — who to that point had already somewhat established himself as a viable, under-25-year-old pitcher — was deemed fit to start. Now I'm not trying to argue that Warren, Phelps, et. al. shouldn't have been given the opportunity to start one of these games, but rather, in a historical context, Goldman was twice looking for the Yankees to do something — let an under-25 pitcher make his MLB debut as a starter — that many teams let happen maybe once a season.
Further expanding on that point, it seems to me that if the Yankees truly believed that if one of Phelps, Warren or Mitchell were indeed ready to toe the MLB rubber last June, then they would have had that happen. Not that I don't want to see a young kid be given a chance to succeed, but on the flip side, no one knows these players better than the Yankees. There's an assumption being made here that just because the AAA pitchers have youth on their side they are going to automatically perform as well or better than hypothetical alternatives.
As much as everyone's been talking about the starting pitching depth the Yankees have, both at the Major League level and at AAA, it's being conveniently overlooked that the Warrens, Phelps and Mitchells of the world have all continually been scouted and described as #4/#5-type starters at best. For all the hand-wringing the Brian Gordon decision seemed to result in last year, clearly Cash felt that particular move gave the Yankees a better chance to win at that moment in time than bringing up a kid with back-end starter potential. Gordon gave the Yankees two starts, and they went 1-1 in those contests. Could one of the kids done the same thing? Perhaps, but what happens to, say, Warren's development if he comes up and pulls a Chase Wright, whose career essentially ended after he gave up four consecutive home runs to the Red Sox? The only reason they went to guys like Wright and Matt DeSalvo that season to begin with was because they had no choice, not because they were stud prospects lighting the world on fire at AAA and forcing their way into the MLB picture.
For all the talk about stalling development, it seems like Warren, Phelps and/or Mitchell would've been given a chance in the Majors by now if the team deemed them ready or felt like any of them had an opportunity to be a legitimate part of the future. Ivan Nova — who the team apparently thought so little of that he was actually left unprotected in the 2008 Rule 5 draft — turned his career around and impressed Yankee brass enough to deservedly get his shot. Even Hector Noesi — though many would have liked to have seen him start earlier in the season last year — got his shot in relief. There was a fair amount of statistical evidence that supported these promotions.
The Yankees have also given Phil Hughes and Joba Chamberlain every chance in the world to prove themselves at the MLB level — Joba for one has never been back to the minors — even if I haven't always been a massive fan of the way the team has handled each pitcher's development — underscoring that when the team believes it has elite, young, sub-25 talent on its hands that need to be in the Majors now, they will get their opportunities.
While there's certainly value in back-of-the-rotation starters, that type of pitcher is less valuable to a team like the Yankees that typically requires frontline starters to compete in the gauntlet that is the American League East. I don't think it would surprise anyone if any or all of the members of that triumvirate found success in the National League.
Here are the nine under-25 starters that have made their MLB debuts as a Yankee during the last decade:
Outside of Ian Kennedy and Chien-Ming Wang, none of these players went on to anything approaching sustained success as a Major League starter.
The list unsurprisingly expands if you change the input to relievers under 25 making their MLB debuts, and if you take the list and add the pitchers who have since spent their careers starting or are expected to primarily start — Ross Ohlendorf, Nova, Noesi and Dellin Betances — the Yankees' total rises from nine to 12. And I realize we can play that game with every other team, but the overarching point is that it's simply not true that the Yankees are afraid to give their young pitchers a shot.
Whether or not they merit that shot is clearly a different story. In the cases of Warren, Mitchell and Phelps, simply being young doesn't necessarily mean "better," especially if the Yankees ultimately don't see these players fitting into their long-term plans.
There have also been some rumblings about how the return of the 40-year-old Andy Pettitte to the rotation will further impact the development of the AAA contingent (my pal Brad Vietrogoski has a typically well-thought-out response to that development), to which I say, great — hopefully the rotation crunch will motivate Warren, Phelps and Mitchell to pitch their butts off, throw to mid-2.00 ERAs in the International League, and absolutely force the Yankees to have no choice but to give them a chance. I'd love to see them make it to the Show, but make it because they absolutely deserved/earned it, not just because they're young. We've seen the Yankees bring young guys up when they weren't ready and after a couple of turns, the results were less-than-pretty and derailed careers. Maybe, just maybe, the team is learning from its mistakes.