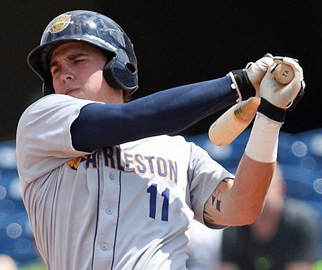 Earlier today I wrote about the importance of having Nick Swisher in the lineup, and that got me thinking about the future of right field in general. Obviously Swisher will become a free agent after the season and with the 2014 payroll plan looming, he might not fit into the team's plans going forward. He's going to make it very hard for the team to let him walk given his early-season performance, but parting ways with a soon-to-be 32-year-old corner outfielder isn't the craziest thing in the world.
The problem is that the Yankees don't have an obvious in-house candidate to step into the outfield. Zoilo Almonte had an outside chance at being that guy, but that looks unlikely at this point. Melky Mesa is another Greg Golson/up-and-down type, ditto Colin Curtis to a certain extent. I don't think it's a coincidence that the Yankees moved prospects Rob Segedin and Tyler Austin (pictured) to right field on a full-time basis this season, but those two are still in Single-A and are years away from the bigs. Hopefully they become factors down the line, but they certainly won't help next year or even the year after that.
If the Yankees do let Swisher walk, the best way to replace him probably involved a platoon of some sort until Segedin and/or Austin pan out, if they do at all. Andruw Jones seems like a logical candidate for the right half of that platoon assuming he doesn't completely fall off a cliff this summer, but finding a lefty to go with him will be easier said than done. I'm partial to Kelly Johnson, who played the corner outfield earlier in his career and has everything the Yankees look for offensively: left-handed power, the willingness to take a walk, and the ability to steal double-digit bases. Would he take a one or even two-year deal to change positions for the Yankees at age 30? I highly doubt it. Heck, he might require a bigger contract than Swisher, but I digress.
The 2014 payroll plan is really going to throw a wrench into the team's roster plans going forward, but frankly I think there's a pretty good case to be made for keeping Swisher at say, something a little north Michael Cuddyer money (three years, $31M) and skimping elsewhere (coughsecondbasecough). He already has the "old player skills" that tend to age well and has been very durable throughout his career, which sounds kinda funny after he just sat out a week with a hamstring issue. There's value in reliability, and it's hard to find a more reliable and consistent Yankee over the last three years than Swisher. The best bridge from Swisher to the theoretical Segedin/Austin era just might be Swisher himself.