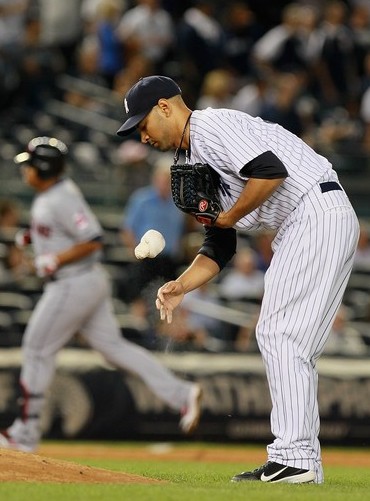 The Yankees were one inning away from shutting out the Indians last night, but Cory Wade let things get out of hand in the ninth and surrendered four runs in his latest dud outing in a month full of them. The 29-year-old right-hander has now allowed nine runs in his last 6.2 innings, spanning ten appearances. He's walked four, struck out three, and given up three homers during that time. It's been an ugly stretch, no doubt about it.
Wade has been betrayed primarily by his changeup during this rough patch, the pitch that is usually his go-to weapon. Two of the three homers he's allowed came on nearly identical mistake changeups, pitches that were supposed to be down and away to right-handed batters — Miguel Cabrera and Jose Lopez — but leaked inside and belt high. That's a batting practice fastball. The other homer (by Ian Desmond) was an inside fastball that just caught too much of the plate.
"Couple of balls over the middle and they hit them well … kind of sucks," said catcher Chris Stewart after last night's game. "His velocity is the same," added Joe Girardi. "If I saw a real drop in velocity, I'd be concerned. I just think he's struggling right now."
Wade isn't a guy that's going to blow hitters away with the fastball anyway, but here's his day-by-day fastball velocity plot if you're interested. As Girardi said, there's no drop. Wade did work quite a bit when David Robertson was on the shelf last month, at one point pitching eight times in 16 days. That includes three days in a row and four times in five days to end that 16-day stretch, which coincides exactly with the start of this rough patch. Remember, this is a guy that is two years removed from major shoulder surgery, so maybe he's just worn out a bit and his all-important command is suffering. Who knows? It's just a theory.
It's very easy to write a guy like Wade off because he doesn't fit the profile. We all like to see some hard-throwers march out of the bullpen and throw gas by hitters, but Cory is a pure finesse guy who mixes his pitches and changes arm slots to keep the batters off balance. It's unorthodox so we're skeptical. It worked brilliantly last season and for the first eight or ten weeks of this season, but the last month or so has been rough. Perhaps the other shoe has dropped, perhaps it's just a slump. I would greatly prefer the latter.
With David Aardsma about three weeks away, Wade still has some time to sort himself out before his roster spot is really in danger. He obviously shouldn't see any important late-inning situations anytime soon, but he should be given time to work through this. I do believe he has a minor league option left so it's not like they would release him anyway, plus the current alternatives are Ryota Igarashi, Justin Thomas, and I suppose the recently claimed Danny Farquhar. No thanks. Wade's awful recent performance could be just a bump in the road or it could be an indication that the end is near, but the Yankees can afford to be patient and give him some time to right the ship — in a reduced role, of course — before making a change.