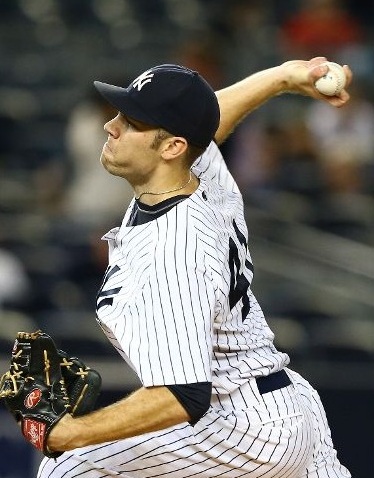 Earlier this season when the Yankees went on the big midseason run that gave them that once-comfortable ten-game lead in the AL East, they were winning consistently because of their pitching. Every night their starter was pitching not just well, but also going deep into the game. From May 22nd through July 18th, when they went on that 36-13 run, the rotation pitched to a 3.19 ERA (3.55 FIP) while averaging 6.5 innings per start. The starters were dynamite, day after day.
That hasn't been the case of late. Andy Pettitte got hurt, CC Sabathia got hurt (twice), Ivan Nova cratered before getting hurt, and the Yankees lost their big division lead. From July 19th — the start of the four game series in Oakland — through today, the rotation has pitched to a 4.22 ERA (4.15 FIP) with an average of 6.25 innings per start. I don't think it was reasonable to expect to the starting staff to continue pitching that well all season, but the drop-off has been quite drastic.
The Yankees have won six of their last seven games and nine of 13 overall, though the rotation as a whole hasn't stood out during that stretch. They've pitch to a 4.06 ERA (3.81 FIP) during those 13 games, which is fine but not great. Better than they had been, I guess is the best way to put it. Maybe serviceable, I don't know. The offense has scored just enough runs and the bullpen has protected just enough leads to turn those performances into wins, and frankly that's all that matters at this point. Every win is important, no matter how ugly it is.
Anyway, what does stand out during that 13-game stretch is the performance of the club's three non-Pettitte homegrown starters, meaning Phil Hughes, David Phelps, and Ivan Nova. They've started six of those 13 games and have pitched to a combined 2.70 ERA (3.40 FIP) in 36.2 innings, with the Yankees winning five of the six games. The one loss was when Phelps got rocked in Baltimore, a game the offense actually battled back to tie before the bullpen blew it in the late innings. That one stung.
The club's veteran starters (Sabathia, Pettitte, Hiroki Kuroda, Freddy Garcia) have pitched to a 5.35 ERA (4.20 FIP) in 38.2 innings in their seven starts during this 13-game stretch. It's not all on Freddy either, he only made one of those seven starts (three runs in 3.1 innings). Pettitte was superb yesterday, but Kuroda and Sabathia allowed at least four earned runs in four of their five total starts. The vets have combined to throw just two more innings than the kids in one more start, so they haven't been as effective nor gone as deep into the game.
The Yankees catch a lot of grief for their inability to develop starting pitching and deservedly so, but the team's three young homegrown starters have picked up the pitching slack in a big way these last two weeks. The veteran guys did most of the heavy lifting earlier in the season and now Hughes, Nova, and Phelps are carrying the torch. That's usually how these things go, not everyone clicks at once, but not many times in the last few seasons have the young pitchers carried New York. Hughes has allowed more than two earned runs just once in his last six outings, and tonight he'll look to continue this recent stretch of strong performances from the homegrown arms against the Blue Jays in the series finale.