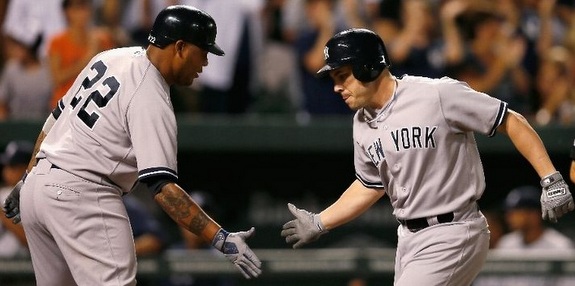 Mark asks: Given how the last four weeks of the season tend to warp perception of player value, would you want to preemptively take a crack at which offseason moves need to be made this winter?
Sure, this kinda sounds fun. I'll start with what I think is the most pressing offseason issue, Nick Swisher's free agency. I've said a number of times already that I'd like to see the Yankees re-sign him, but there is a limit. Ideally he'd re-up for a pricier version of Michael Cuddyer's contract (three years, $31.5M) but I can't imagine going any higher than the four-year, $52M deal the club gave to Johnny Damon, Hideki Matsui, and Jorge Posada way back when. That's my absolute limit right there.
If Swisher comes back, then great, the outfield is already addressed — exercising Curtis Granderson's $15M player option is a no-brainer despite his extended slump. If he doesn't come back, then I'd look to sign a one-year free agent stopgap or trade for Justin Upton. The latter seems unlikely — even if he becomes available, the Yankees just don't match-up well for a trade with the Diamondbacks — so I'd dig through the Torii Hunter/Ryan Ludwick free agent bin. It'll be a significant drop-off from Swisher, but I'd prefer that to giving up prospects for player who probably won't perform any better.
The other pressing issue is the pitching staff as a whole. The Yankees should make a strong effort to retain both Hiroki Kuroda and Andy Pettitte for next year, assuming they want to keep pitching. Getting one back would be fine but losing both would be real tough. They'd have to look at a guy like (yuck) Francisco Liriano as a stop-gap starter or spend big on someone like Edwin Jackson. I love Carlos Villanueva and think he'd be a perfect fit for the team, but someone is going to give that guy multiple years and guarantee him a rotation spot. Plus expected 200 innings out of him next year is unrealistic. Either way, adding another veteran arm behind CC Sabathia and ahead of Phil Hughes and Ivan Nova will be imperative. Don't count on Michael Pineda being that guy at all next year. Anything they get out of him is a bonus.
The bullpen needs a bit of an overhaul, especially if Rafael Soriano opts out of his contract and tries to parlay his big season into a larger guaranteed deal. Even if he sticks around and Mariano Rivera returns, the Yankees should still look into adding one or really two one-year arms to fill out the middle innings. No offense to Cody Eppley, but they need to do better. Jason Grilli, Brandon Lyon, Shawn Camp, even Luis Ayala again. Just guys to soak up some middle innings without the need to matchup all the damn time. Adding bullpen depth before handing things off to the Mark Montgomerys and Chase Whitleys of the world seems obvious. The middle relief has completely collapsed in the second half.
I suppose that leaves the catching situation as the other major issue. The free agent options aren't great, as Russell Martin joins Mike Napoli, Kelly Shoppach, and A.J. Pierzynski as the headliners. I'd prefer to bring Martin back or replace him with Shoppach, both on short-term deals. That's kind of the motto of the offseason for me, short-term deals. There are no standout free agents that fit the Yankees' needs — other than Zack Greinke, who they'll never sign — so don't force it. Add the stopgap guys rather than try to shoehorn a bigger-named player into a role that doesn't fit. As I said in the mailbag yesterday, the catching situation is a total mystery to me.
Adding bench players is always tough for the Yankees, and I figure they'll let Andruw Jones and Raul Ibanez walk. They should, anyway. Eric Chavez might stick around but that's far from certain. There's nothing wrong with low-average guys who hit for power, but I'd like to see the Yankees add some players who can make more contact and hit for average when plugging the bench holes. As we saw when A-Rod went down and Robinson Cano started slumping, the offense becomes one-dimensional in a hurry. Derek Jeter can't be your only contact guy at his age. At the same time, you can't go too far in the other direction and be powerless when some of the big bats go down. There's a balance they have to maintain, and right now they lean a little too far to the power side.
This is sort of the Cliff Notes version of the upcoming offseason, and it's not even a plan really. Just some general ideas. Swisher's free agency and figuring out the catching situation will be of paramount importance, and as always there is the pitching staff to reinforce. The class of free agents isn't deep in players who would fill needs for the Yankees, so perhaps they end up going out on the trade market again. We're going to discuss this from every angle ad nauseum after the season ends (whenever that happens), but I think the important thing is that the Yankees don't sucker themselves into any unwanted contracts just to plug a hole for 2013 with the 2014 payroll plan looming. If they're going to stick to it, they have to be smart about it.