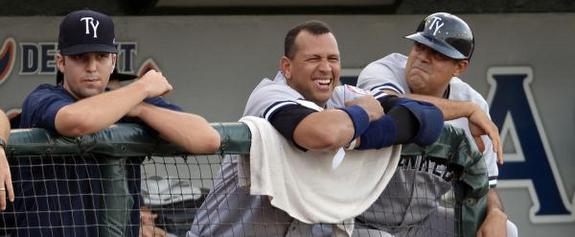 The Yankees have an awful lot of players due to come back from injury this month, so here's the latest on their rehab work courtesy of Marc Carig and Meredith Marakovits…
Alex Rodriguez (hand) will not play for High-A Tampa today after playing in two straight games, and will instead do a lot of work on the side. Joe Girardi indicated that it is very possible A-Rod will rejoin the team when they arrive in town to play the Rays tomorrow.
Andy Pettitte (leg) threw 35 pitches in the bullpen and felt good. The next step for him would be facing hitters in live batting practice, which I suppose could happen within a day or two. A simulated game and then a minor league rehab stint wouldn't be too far behind if all goes well.
Ivan Nova (shoulder) threw a bullpen session as well, his first time since going on the DL about a week ago. Right now they're just going to wait and see how his arm responds before determining the next step.
David Aardsma (elbow) will continue his rehab stint with Short Season Staten Island based on his Twitter feed. The High-A Tampa season ends today, but the SI Yanks play until Wednesday. After that, he could play in postseason games for the Triple-A or Double-A squads.
No update on Pedro Feliciano (shoulder), but he threw an inning for Staten Island on Friday and I suppose could do so again in the coming days. His 30-day rehab window expires on September 9th, so they have a week to determine if he's big league ready.