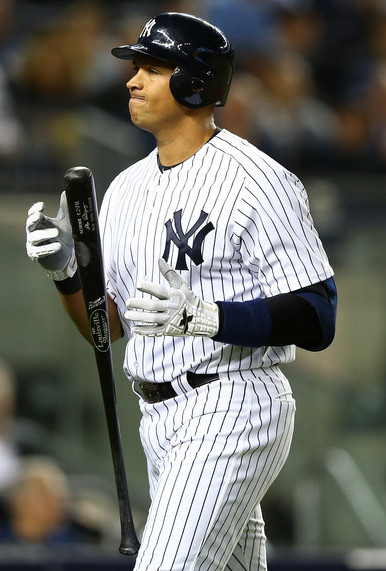 There was more to last night's Game Three win than just a win. Joe Girardi's decision to lift Alex Rodriguez for a pinch-hitter in the ninth inning of a one-run game was almost like a turning of the page in A-Rod's career, one of the greatest playing careers the game will ever see. Forget about Raul Ibanez and what happened afterwards, it was an acknowledgement on the part of the Yankees that in that situation, they were better off with Alex on the bench. This isn't some role player on a one-year deal who will be gone after the season, like it or not A-Rod is here to stay for a very long time.
The move was absolutely 100% justifiable, there's zero doubt about that. Rodriguez has been struggling not just in this series but for the last few weeks overall after he came back from the broken bone in his left hand, and he looks especially feeble against right-handed pitchers. When Joe Torre dropped A-Rod to eighth in the lineup in the 2006 ALDS, I thought then (and still do now) that it was out of spite more than anything. The relationship between those two always seemed strained, but I've never gotten that vibe with Girardi. That's why the pinch-hitting move took some major guts on the manager's part.
"Of course you do (think about the magnitude of lifting A-Rod)," said Girardi after the game. "And you know you're going to be asked a lot of questions if it doesn't work … I mean, it's a tough move. Sometimes you've got to do what your gut tells you, and my gut told me to make the move. I still have the utmost respect for Al, and I still think he's a great player. He's just going through a little tough time right now.
"I just went to (A-Rod) and I said, 'You're scuffling a little bit right now … We have got a low-ball hitter (against sinker-baller Jim Johnson), and we've got a shorter porch in right field, then left field obviously. Raul has been a good pinch hitter for us, and I'm just going to take a shot.'"
Rodriguez, as you'd expect, faced a swarm of reporters after the game and was drilled pretty hard about being lifted for a pinch-hitter in the late innings of a close playoff game. He joked that it was the first time he was pinch-hit for in a meaningful situation since "maybe high school," but otherwise defended Girardi and his decision, preaching team over individual. Here's the video of his post-game media scrum…
I thought he looked very sincere there and don't think this was a case of a guy putting on an act like he did with Torre back in 2006. A-Rod really seemed to change back in 2009 after his hip surgery and PED revelations, as he shifted from a "this is what I did and need to do" angle to a "we're a team and this what we did and need to do" approach. Everything has been about the Yankees and not Alex since then. "We preach about team, team, team," he said. "That's all we care about."
Who knows what this means going forward for A-Rod both this postseason and for the final five years of his contract. Maybe he moves down in the lineup or sits against righties, who knows. Being lifted for a pinch-hitter last night was a bit of a statement though, and I don't mean a harsh one like a message was being sent or anything. It was the beginning of an era with a de-emphasized Rodriguez, and era that may be slow to develop but has begun nonetheless.