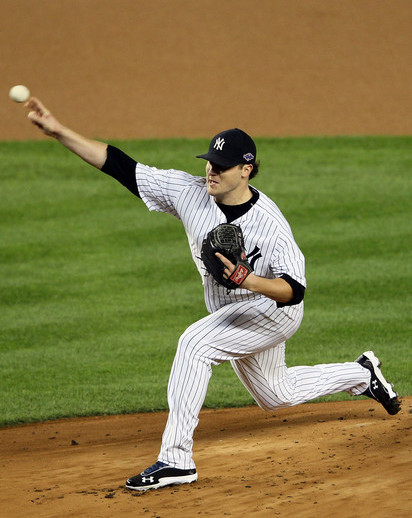 The season is not on the line tonight, but it might as well be. The Yankees are down two games to none in the best-of-seven ALCS, so a loss in Game Three tonight might as well be the final nail in the coffin. Yeah, a comeback is always possible, the Yankees and their fans know that first hand, but it would extremely unlikely. A baseball miracle if there ever was one.
The Yankees opted not to bring CC Sabathia back on short rest for the start tonight, meaning Phil Hughes will get the ball against Justin Verlander. It's a matchup so lopsided that you hope the theory of "reverse lock" comes into play, and in fact the Yankees did win a Hughes-Verlander meeting in Comerica Park earlier this season. That was Phil's complete game in early-June, his best start of the season. Unfortunately that doesn't mean anything now as much as I wish it did.
"I don't really feel like I can feel any added pressure just because of the circumstances," said Hughes yesterday. "I just have to go out there and pitch, that's all it boils down to, not really worry about being down 0-2; that Verlander is on the mound; that we don't have our captain. Those sort of things are going to be wasted energy, and all I really want to focus on is the Detroit Tigers lineup and doing the absolute best job I can do … Obviously we don't want to go into the series over there down 0-2, but there's nothing we can do about that now. I just have to go into Detroit, put together a good start and trust our guys are going to score some runs. I do enjoy that pressure and the opportunity, and I'm looking forward to it."
Hughes turned in a rock solid start against the Orioles in the ALDS last week, allowing just one run while striking out eight in 6.2 innings. He was on nearly two weeks rest though, which may have put some life back into this right arm after throwing 191.1 innings in the regular season. If he turns in another performance like that against the Tigers tonight, the Yankees might lose. Their offense has been struggling that much and Verlander is that good. Hughes is really going to have to come up huge in what amounts to the second biggest start of his career behind Game Six of the 2010 ALCS.
One way or another, the Yankees have to win four of their next five games to advance to the World Series, and at least one of those four wins will have to come in a game started by Verlander. There's no way around it. If they want to have a realistic chance at making this a competitive series, Hughes has to steal tonight's game against Verlander and hand the ball off to Sabathia with a chance to tie things up tomorrow. The odds are against it and everyone is (really) down on the club right now, but stealing Game Three behind Phil would be a major lift going forward. Some much-needed faith would be restored.