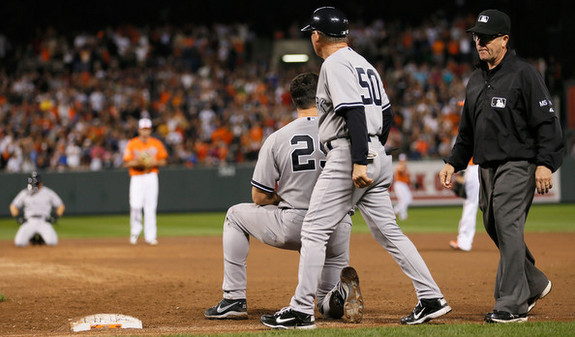 We've already looked at the five biggest hits as well as the five biggest outs of the season, so now let's look at the five biggest blown scoring opportunities of the Yankees' 2012 campaign. We're going to again use WPA just because it's simple enough, but RISPFAIL is a strange phenomenon. It usually applies to the team (or the lineup, anyway) as a whole rather than one specific player, but the definition is ambiguous. It's like "clutch," we only use it when we want to.
New York's biggest single-game RISPFAIL this year (nine-inning games only) came against the Tigers on April 29th, when they left 15 (!) men on-base. They went 3-for-13 with runners in scoring position and guess what? They still won the game because Curtis Granderson and Andruw Jones hit solo homers, Max Scherzer walked in a run, Alex Rodriguez had a run-scoring ground out, and Robinson Cano had a sacrifice fly. The Yankees left at least ten men on-base 24 times this year and they went 14-10 in those games. When you lead the league in OBP like the Bombers did this year, you're going to leave a ton of men on-base. It's inevitable.
Anyway, let's look at individual instances of RISPFAIL this year, or more accurately the plate appearances with the most negative WPA. These are the at-bats from the offense that most hurt New York's chances of winning the game. I suppose the best way to identify the biggest blown scoring opportunities would be to compared expected runs (based on the game situation) to the actual runs (zero), but that would be quite labor-intensive. I think we all know that the Yankees turned several bases loaded, no outs situations into zero runs this year. It happens to every team.
May 19th: Curtis Granderson vs. Jose Arredondo (WPA graph & box score) (video)
The Yankees and Reds went back and forth all afternoon long, with Cincinnati taking a 2-0 lead before New York took a 3-2 before Cincinnati took a 6-3 lead. Aroldis Chapman, still just Sean Marshall's setup man on the time, blew the Yankees away in the eighth inning before Marshall came in for the save in the ninth. Raul Ibanez greeted him with a leadoff double — one of his two extra-base hits against lefties during the regular season — and Nick Swisher following a run-scoring single. Marshall struck out Russell Martin but allowed a single to Andruw Jones, putting men on the corners. Jayson Nix plated Swisher with a single, and a Derek Jeter ground out forced Nix out at second after Arredondo took over on the mound.. There were runners on the corners with two outs and the tying run was at third, but Curtis Granderson grounded out to first to end the game after working the count full. The Yankees were 90-feet away from completing the three-run comeback. WPA: -0.24
July 30th: Russell Martin vs. Jim Johnson (WPA graph & box score) (video)
The Yankees had lost two in a row and seven of their last ten games, so they were reeling when Baltimore came to town for three games in late-July. Miguel Gonzalez stymied the home team for six innings before letting things get out of hand in the seventh, but the Orioles were still able to hand their closer a one-run lead in the ninth. Swisher opened the inning with a leadoff ground rule double off Johnson and was immediately lifted for a pinch-runner (Ramiro Pena). Ibanez struck out for the first out, Eric Chavez drew a walk to put men on first and second, then Ichiro Suzuki grounded out to third (force out made at second). He stole second to put the go-ahead run in scoring position. Martin worked the count even at 2-2, but Johnson got him with a down-and-in sinker for the swing and miss to end the game. Again, 90-feet from completing the comeback. WPA: -0.24
June 20th: Alex Rodriguez vs. Chad Durbin (WPA graph & box score)
Unlike the other four at-bats in this post, this one didn't happen in the ninth inning. The Braves were visiting Yankee Stadium and jumped out to a 6-4 lead thanks to four homers off Phil Hughes. Tommy Hanson gave up four of his own, so the ball was really flying that day. Durbin took over with a two-run lead in the seventh, and he immediately walked Martin to put the pressure on. Nix flew out to center for the first out but Jeter drew another walk to put the tying run on-base. Granderson made it a one-run game with a single to right, putting men on the corners with one out for A-Rod. Durbin jumped ahead in the count 0-1, but Rodriguez chopped the second pitch of the at-bat to short for a routine inning-ending 6-4-3 double play. Atlanta blew things open late so the final score was lopsided, but that was a huge blown opportunity that could have changed the game. MLB.com doesn't have video of the double play, but there's a .gif. WPA: -0.25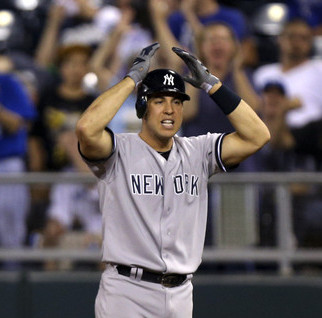 May 3rd: Mark Teixeira vs. Jonathan Broxton (WPA graph & box score) (video)
This was an especially rough day for the Yankees, who lost Mariano Rivera to what would prove to be a season-ending knee injury a few hours before first pitch. The game still had to be played though, and they were playing catch-up with the Royals all night. Jonathan Broxton inherited a one-run lead in the ninth and surrendered a leadoff single to Jeter in an 0-2 count. Granderson followed with a six-pitch walk and the comeback was on … at least temporarily. Teixeira hit a sharp ground ball up the middle that Chris Getz nabbed with a diving stop before flipping over to second to start the 4-6-3 double play. It was a really great turn on the part of Kansas City, no doubt about that. A-Rod grounded out to third one batter later to end the game, another great defensive play on the Royals' part. Here's video. This wasn't so much RISPFAIL as it was flat out bad luck, but it still stung. Considering Rivera's injury, it stung even more than usual. WPA: -0.31
September 8th: Teixeira vs. Jerry Meals (WPA graph & box score) (video)
Here's another one that doesn't really feel like RISPFAIL, it feels more like the game was ripped out of New York's hands by the first base ump. The Yankees and Orioles played a tight late-season game with playoff implications, and the O's carried a two-run lead into the ninth inning. Ichiro, Chavez, and Jeter led off the inning with back-to-back-to-back singles to load the bases with no outs, putting the Yankees in prime scoring position. Swisher grounded out weakly to third base, allowing a run to score but also cutting down the man on second. With men on the corners and one out, Teixeira fought Johnson for six pitches before hitting a weak ground ball to second. Robert Andino and J.J. Hardy made the turn at second but Tex slid and beat the return throw to first, avoiding the double play and allowing the tying run to score from third … except he didn't. At least not according to Meals, who ruled him out at first. Replays showed that the call was incorrect and frankly it wasn't all that close either, but it stood and the Yankees lost the game. Thankfully it didn't change anything in the final standings, though it did make life a little more stressful down the stretch. Pretty ridiculous that the team's biggest RISPFAIL of the season was nothing more than MealsFAIL. Maybe the Yankees go on to lose in extra innings anyway, but that game felt like it was stolen. WPA: -0.38