Over the next few weeks we're going to spend some time reviewing the entire 2012 season, which featured another division title and unfortunately another disappointing playoff exit.

A year ago, Rafael Soriano was the world's most overqualified and overpaid seventh inning reliever. The right-hander battled injury and early-season ineffectiveness after signing a three-year, $35M pact with the Yankees that included a pair of team unfriendly opt-out clauses after years one and two. Twelve months later, he was their bullpen MVP and Mariano Rivera's ninth inning replacement.
Soriano, 32, opened this past season as Joe Girardi's seventh inning reliever again, and two weeks into the schedule he had twice as many walks (six) as strikeouts (three) in his first four appearances (four innings). He settled down and managed to curb the walks, and on the day of Rivera's injury he owned a 2.25 ERA in eight appearances and innings. David Robertson initially stepped in as the closer, but a little more than a week later he went down with an oblique injury. The Yankees had lost their two best relievers in the span of eight days, bumping everyone up the totem pole two notches.
Luckily for the Yankees, Soriano was an accomplished closer who drew Cy Young votes for his effort with the Rays in 2010, the All-Star season that landed him the big contract in New York. He saved his first game on May 10th, his second on May 14th, and soon after the shutout appearances and dominant ninth innings piled up. Soriano pitched so well that he kept the closer's gig even after Robertson came off the DL in early-June, and there wasn't even a hint of controversy. He landed the job almost by default but kept it based on merit. He was that good.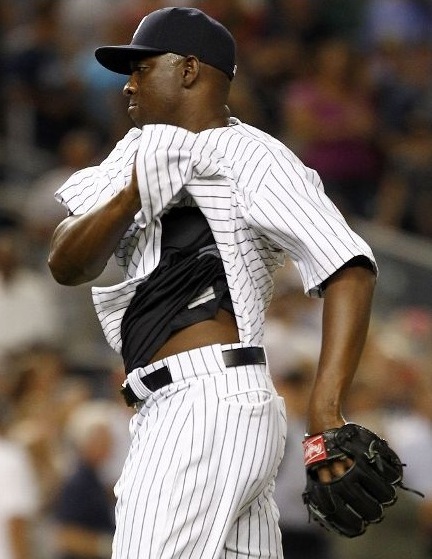 At one point down the stretch, Soriano appeared in eleven of 21 team games as they were fending off the Orioles. He did run into some homer problems late in the season (five homers in his last 16 innings), but nothing that would derailed him or the team. Faced with the daunting task of replacing Rivera in October, Soriano threw 4.1 shutout innings in three postseason appearances. Two of those three appearances were multi-inning outings against the Orioles in the ALDS that kept the game tied into extra innings.
All told, Soriano pitched to a 2.26 ERA with 57 strikeouts and just 16 walks in 57 appearances and 55.2 innings after taking over as the team's closer. He saved 42 games in 46 chances and led baseball with five saves of more than one inning. Four of those five saves came down the stretch in August and September, when the Yankees started to slide and Baltimore crept closer in the standings. Soriano joined Rivera, John Wetteland, and Dave Righetti as the only members of the 40-save club in franchise history, and only Fernando Rodney and Jim Johnson nailed down more games this season. They had a 30-something game head start, remember.
There is no replacing Mariano Rivera — by bWAR, Soriano had Mo's 13th best season in 2013 — but Soriano made life after the injury as painless as possible. This was a situation that could have easily (and nearly did when Robertson blew a save a few days after Rivera's injury) spiraled out of control and become a disaster, though that didn't happen. The Silent One stepped in, stepped up, and served as the backbone of the team's bullpen after the greatest relief pitcher in human history went down with a fluke injury a month in the season.