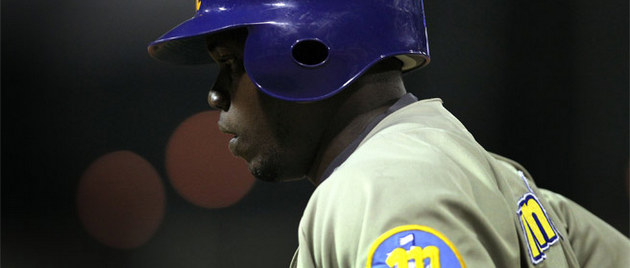 The Yankees have passed on big money Cuban players like Yoenis Cespedes and Aroldis Chapman in recent years, but they have signed several lower profile players from the island as well. The most notable is Ronnie Mustelier, the 28-year-old outfielder/utility man who's hit .324/.378/.497 in 150minor league games since signing with New York. He's expected to get a long look in camp and has an outside chance of winning a bench spot.
The team's most recent low-profile Cuban addition is 27-year-old right-handed hitting outfielder Adonis Garcia, who received a $400k bonus last year and hit .263/.311/.424 in 57 games after signing. Reliable information about these players is usually scarce, but Ben Badler of Baseball America (subs. req'd) recently listed Garcia as one of ten players who improved their stock in winter ball. Here's the important stuff…
… there's a good chance he's going to reach the big leagues. Garcia played center field and hit .292/.319/.481 playing for Mayaguez in Puerto Rico, where he outshined his teammate, $42 million Cuban outfielder Yasiel Puig. Garcia is a better fit on a corner outfield spot and doesn't have an impact bat, but he's shown a knack for hitting and surprising pop for his 5-foot-9 stature, as his six home runs were tied for second in the league.
Garcia ranked third on the ten-player list behind Cardinals mega-prospect Oscar Taveras and infielder Eddie Rosario of the Twins. Bigger name prospects like Jean Segura (Brewers) and Starling Marte (Pirates are further down the list.
Thirty-nine winter ball games isn't definitive proof of anything, but it is worth nothing Garcia drew just four unintentional walks (2.4 BB%) against 24 strikeouts (14.5 K%) in 39 games down in Puerto Rico. His walk rate (5.8%) in the minors last year wasn't anything special, but like Mustelier he was able to avoid strikeouts (14.9%). It's good that he has shown the ability to make contact, but I always worry about guys with low walk rates because it could mean they're a hacker or just unable to work deep counts. The number of talented hitters who flamed out because they couldn't control the strike zone is very, very high.
The bigger concern for Garcia next year will be playing time, because the Yankees do have a bunch of outfield prospects at the Double-A and Triple-A levels. Barring injury, the everyday outfield in Trenton is expected to feature Ramon Flores, Slade Heathcott, and Tyler Austin, and those guys have to play everyday. That is non-negotiable. Scranton will have guys like Mustelier, Melky Mesa, Zoilo Almonte, and Abe Almonte vying for playing time, and it's possible either Matt Diaz or Juan Rivera (maybe even Russ Canzler if he clears waivers) will be in Triple-A as well depending how the bench shakes out in camp. With all due respect, Garcia is the odd man out for me right now. No question.