Every year around this time I try to figure out who will be playing where for Triple-A Scranton during the upcoming season. Most years it's pretty straight forward with the caveat that minor league rosters can change in a hurry, but this season is a little different. The Yankees still have a number of spots open on the big league bench, and the way the team fills those spots will impact the Triple-A roster. Here's a look at how things are lining up for the club's top minor league affiliate two months from Opening Day…
Catchers: Austin Romine, Bobby Wilson
This is probably the most straight forward position. Romine will have a chance to make the big league team in Spring Training, but the smart money is on him going back to Triple-A for some much needed playing time. He's missed an awful lot of development time these last two years due to the persistent back problems. Wilson, who signed a minor league contract earlier this winter, has an even smaller chance of making the big league team and is the obvious choice to backup Romine with Scranton.
Infielders: 3B David Adams, 1B Dan Johnson, 2B Corban Joseph, SS Addison Maruszak, IF Gil Velazquez
Depending on what the Yankees do with their utility infield position at the big league level, Jayson Nix and/or Eduardo Nunez could factor in here as well. I would expect either of those guys to play everyday in Triple-A if they don't make the team, presumably relegating Maruszak to the bench.
Adams will inevitably get some time at second base just to remain familiar with the position, but he'll be the club's everyday third baseman and likely three-hole hitter. Johnson, who does have a small chance of making the Yankees as a lefty bat off the bench, is a former International League MVP. He'll probably mix in a handful of games at third base just to stay sharp there as well. Maruszak had a nice year in Double-A last summer and will probably play shortstop everyday, but he's rough at the position and fits best in a utility role. It's Triple-A though and he's more of a prospect than Velazquez.
Outfielders: Abe Almonte, Zoilo Almonte, Melky Mesa, Ronnie Mustelier, Thomas Neal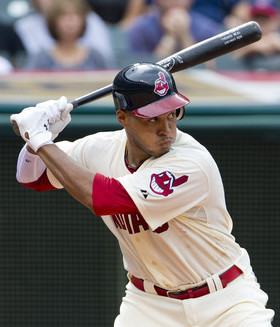 As I wrote over the weekend, the outfield picture at the Double-A and Triple-A levels is very crowded and someone is going to lose out on playing time. The DH spot means four of these guys can play everyday — I'm sure they would rotate rather than have a set DH — and I'm guessing Neal is the on the short-end of the playing time stick.
Two catchers, five infielders, and five outfielders gives us a dozen position players total, but remember, they only have 24-man rosters in Triple-A and apparently they carry 25-man rosters these days. Luke Murton, who hit 24 homers for Trenton last season, will likely get squeezed out in the numbers game and have to suit up for the Thunder again could make the team as well. If Nunez or Nix has to spend time in Triple-A, I'm guessing Neal would either get bumped down to Double-A (he played there all of last season) or flat-out released to make room there would be room for just one of Murton and Neal..
Rotation: LHP Shaeffer Hall, RHP Brett Marshall, LHP Vidal Nuno, RHP Adam Warren
This will be Warren's third year at the Triple-A level while the other three will be getting bumped up from Double-A for the first time. The open spot figures to go to a veteran on a minor league contract, and I listed a handful of potential targets yesterday. Only one of those guys seems like a realistic option though.
Bullpen: RHP Dellin Betances, LHP Juan Cedeno, RHP Jim Miller, LHP Francisco Rondon, LHP Josh Spence, RHP Chase Whitley
That's six relievers for what was a nine-man bullpen at times last year. I'm assuming they'll start the year with the usual seven. RHP Matt Daley did not pitch last year after having shoulder surgery in August 2011, but I don't know where he is in his rehab. He's been invited to Spring Training and if he's healthy, he'll definitely join these guys in the Triple-A bullpen. RHP David Herndon had Tommy John surgery last June and figures to join the Scranton bullpen at midseason.
There are plenty of other candidates for the Triple-A bullpen, including righties Preston Claiborne, Craig Heyer, Kelvin Perez, Ryan Pope, and Graham Stoneburner. RHP Mark Montgomery made just 15 appearances with the Thunder last summer, so expect him to open the year back in Trenton. He'll be with Scranton before long, however. If the Yankees don't sign a scrap heap veteran to fill out the rotation, I suppose Betances could try starting again. That would leave two unoccupied bullpen spots and plenty of spare relievers to choose from.