Our season preview series wraps up this week with a look at the bullpen, the bench, and miscellaneous leftovers. Opening Day is one week from today.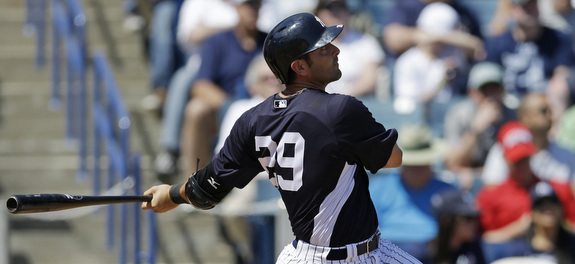 Previewing the bench will not be easy because we still — four days before Opening Day — have basically no idea who will fill these four spots. Sure, either Frankie Cervelli or Chris Stewart will be the backup catcher, but we don't know which one yet. I'm guessing Joe Girardi has some kind of convoluted personal catcher situation planned; I feel like having two backup catchers on the roster is his managerial dream.
As for the backup outfield and infield spots … who knows right now? There are a lot of candidates for a few spots and the Yankees continue to look outside the organization for help. Given their massive 40-man roster logjam, a multi-player trade shouldn't be ruled out at this point either.
Catcher
It'll be either Stewart or Cervelli and the Yankees have indicated a pretty even playing time split (maybe more like 60/40), I think it'll only be a matter of time before Frankie grabs the job outright. His throwing has been greatly improved and he's a far better hitter (but still nothing special), the two things that stand out most about a catcher. If they start the year with a 55/45 or 60/40 split, I think sometime in mid-May it'll be slanted about 75/25 in favor of Cervelli. The Yankees love Stewart but they love winning more, and playing a guy with a legit chance to post a .200s across the board slash line will only last so long given how much offense they lost elsewhere.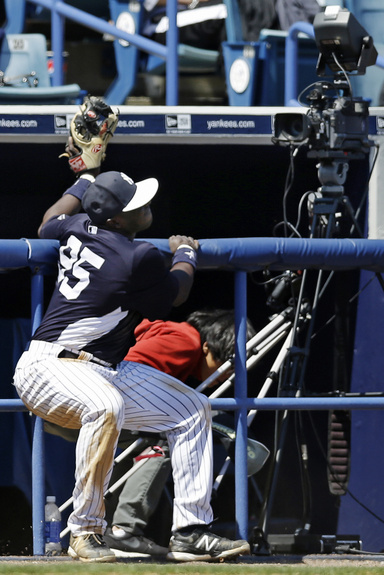 Backup Infielder
Derek Jeter's nagging ankle issues cleared up the backup infield situation quite a bit. Eduardo Nunez will open the season as the starter and that paves the way for Jayson Nix to make the team as his backup. There really isn't much competition for this spot — veteran Gil Velazquez is the only other guy in camp who could play a passable shortstop at the big league level. Again, we shouldn't rule out a trade, but Nix seems like a lock for a bench spot right now.
The real question is whether the Yankees want to carry two backup infielders like they have the last two years, Nix and a corner infield guy like Eric Chavez. The only real candidates for that Chavez role are Dan Johnson — who seems to have little chance of making the team at this point — and Ronnie Mustelier. The 28-year-old Cuban defector has had a good spring — mostly against Triple-A caliber pitching according to B-Ref's OppQual stat — and has seen a bunch of time at third base lately, so he's at least earning consideration from the team. I guess we shouldn't rule about a two-headed first base platoon with Juan Rivera and Lyle Overbay, which would soak up that second infielder's spot.
Backup Outfielder
Assuming Vernon Wells is penciled in as the everyday left fielder, the fourth outfielder's spot is down to Brennan Boesch, Ben Francisco, Melky Mesa, Thomas Neal, and I guess Mustelier. Depending on whether they take a second backup infielder, it's possible two of these guys will make the team. Mustelier makes the most sense really, since he could backup both the corner infield and corner outfield spots.
Boesch and Francisco presumably have a leg up on Mesa and Neal given their big league experience, and again, both could make the team. The Yankees were planning to open the season with three left-handed outfielders and a right-handed backup, and Boesch would give them that third lefty. He also has minor league options remaining and could be stashed in Triple-A. I'm not sure if Francisco has an out clause in his contract before the end of Spring Training, so sending him to the minors might not be an option. The Yankees will want to retain as much depth as possible given their rash of injuries.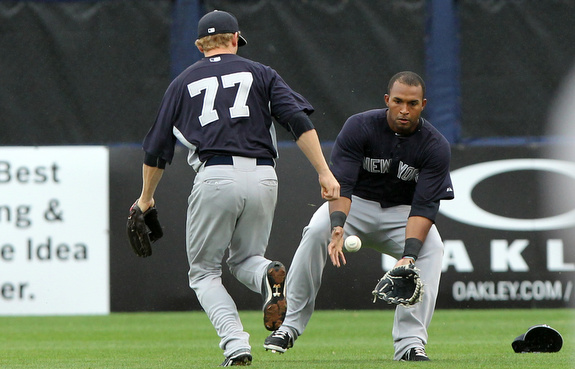 Knocking on the Door
In addition to the guys mentioned above — Velazquez, Johnson, Mesa, Neal, etc. — the Yankees will have a handful of other bench options waiting in Triple-A Scranton. That is what the level is there for, after all. Austin Romine is the clear third catcher but would probably need an injury to earn a shot in the big leagues. He's missed a lot of time these last two years with back problems and needs to play everyday.
Corban Joseph gives the team depth at second and third bases, though they had more before releasing David Adams yesterday. Zoilo Almonte is another warm body for the outfield mix, but he has never played above Double-A and will need some Triple-A time before coming to the show. He's pretty much at the bottom of the outfield depth chart at the moment. Pretty much anyone who doesn't win a bench spot will open the year in Triple-A as a backup plan. That's who's knocking on the door.
* * *
My opinion changes by the day/hour, but if the season started today I believe the Yankees would go with a four-man bench of Stewvelli, Nix, Mustelier, and Boesch with Francisco & Co. heading to Triple-A for the time being. The club could play finagle Phil Hughes' expected DL stint into a fifth bench player — Francisco would be the guy for that one, I assume — for the first few games of the season, but I don't see that happening.
That four-man bench pretty much stinks. There is no speed to pinch-run — that would have been Nunez's job before he forced into playing short everyday — and basically no versatility outside of Nix. Carrying Mesa over Boesch would address the speed issue while Mustelier is the only one who could offer real versatility. Barring an unexpected trade(s) these next few days, the bench figures to be a work in progress pretty much all season.