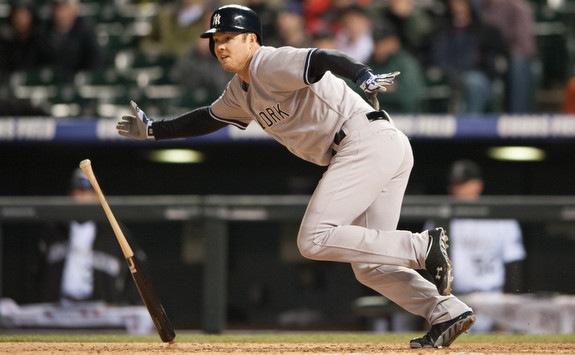 Fresh off three offensively inept losses to the Athletics last week, the Yankees called up outfielder Thomas Neal from Triple-A and inserted him right into their lineup during the first two games of the Angels series. The move wasn't just a response to the 18-inning marathon game either — Neal told Chad Jennings he received the call at 2:15pm ET on Thursday, more than an hour before the marathon game started. The team made the move as a direct response to their struggling offense.
It was just one very small move, and the Yankees shouldn't stop there. Despite yesterday's six-run outburst, this is still a club that struggles to put more than four runs on the board on any given night, and lately scoring more than two runs has been a chore. With so many high-profile injuries and scrap heap replacements, the Bombers actually have some roster flexibility and can replace players without having to worry about salaries or contract statuses or egos.
In no particular order, here are four moves the Yankees can make to potentially improve the position player side of their roster. None of these moves are going to transform the offense into a juggernaut, not even close, but even slight upgrades are worth making at this point.
Bring back Brennan Boesch
Boesch, 28, hit .283/.341/.458 (117 wRC+) with 16 homers as recently as 2011. He had surgery to repair the UCL in his right thumb (so the thumb on his front/power hand) following that season, and the lingering effects contributed to his .240/.286/.372 (77 wRC+) line in 2012. The Yankees picked him during Spring Training and outside of a one-week stint with Triple-A Scranton last month, Boesch has not played regularly or been able to get into a groove this season. He managed a .275/.302/.529 (123 wRC+) line during his sporadic appearances with the big league team, and now's the time to see what he can contribute with regular at-bats. The club's corner outfielders have been just awful overall this year.
Now, there's a small problem: Boesch is currently on the Triple-A DL with a shoulder injury. Ken Davidoff said it was a minor issue in multiple articles last week and indicated he could return relatively soon, however. As soon as Boesch is healthy and ready to be activated, the Yankees should call him up and stick him in the lineup everyday. Against righties, against lefties, at home, on the road, whatever. Let him sink or swim. There's a non-zero chance he can contribute to the team both this year and in the future — Boesch is under control as an arbitration-eligible player through at least 2015 — and this is the time to see what he has.
Swap David Adams for Ronnie Mustelier
It feels like an eternity since the 26-year-old Adams burst onto the scene and went 10-for-31 (.323) with two doubles and two homers in his first eight big league games. Since then, he's gone 6-for-44 (.136) with one double to drag his season batting line down to .213/.234/.333 (49 wRC+). He also has yet to draw a walk in 77 plate appearances. Adams has gone from everyday third baseman to seldom-used platoon infielder.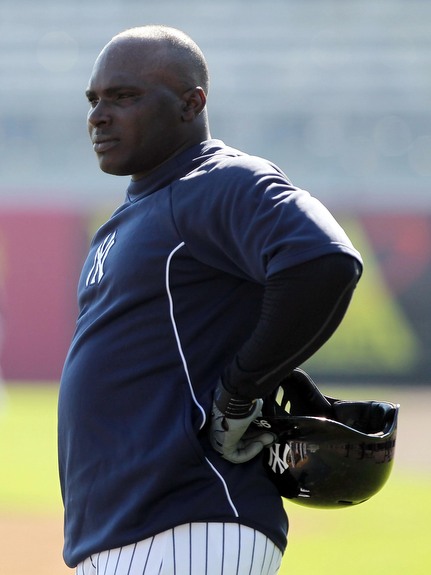 Mustelier, on the other hand, has put up an unimpressive .280/.319/.408 (96 wRC+) line in 166 plate appearances for Triple-A Scranton this year, at least unimpressive compared to the .314/.371/.488 (~140 wRC+) line he managed between Double-A and Triple-A last summer. The 28-year-old Cuban defector has picked it up of late following a slow start, hitting .324/.359/.468 over the last month. He plays third, he plays left, he plays right, he's hit ever since signing two years ago. The defense is not great (or even good), but if not now, then when?
Of course, we run into another problem: like Boesch, Mustelier is hurt at the moment. He is currently sidelined — not on the DL, just day-to-day — with what amounts to a minor grain strain. I don't know what the timetable is for his return, but I assume it will be relatively soon since they've yet to put him on the 7-day minor league DL. By swapping the two, Adams can go back to Triple-A to get regular playing time and rebuild his confidence while Mustelier gets the opportunity to play third everyday.
Drop Reid Brignac for Alberto Gonzalez
Brignac, 27, is the best defensive shortstop in the entire Yankees organization. He is also hitting .182/.217/.261 (18 wRC+) in 94 plate appearances overall this year, including a .100/.122/.125 mark since joining New York. Big league pitchers are hitting .138/.165/.186 (-9 wRC+) this year, for comparison. There is a minimum standard of acceptable offense and Brignac does not meet it, even at the low standards of shortstop.
The Yankees actually dumped the 30-year-old Gonzalez for Brignac last month, opting for better defense and the left-handed bat. Gonzalez has gone 8-for-35 (67 wRC+) in limited big league time this year, and at Triple-A Scranton he currently owns a .269/.355/.312 (85 wRC+) line. Neither of these guys can hit, but Gonzalez can't hit slightly less. He's no slouch with the glove either, in fact he's probably the second best defensive shortstop in the organization. There isn't much sense in keeping Brignac around for platoon reasons when he can't hit at all. Gonzalez could provide a slight upgrade overall, and even if he doesn't, no big deal. The Yankees really wouldn't be any worse off.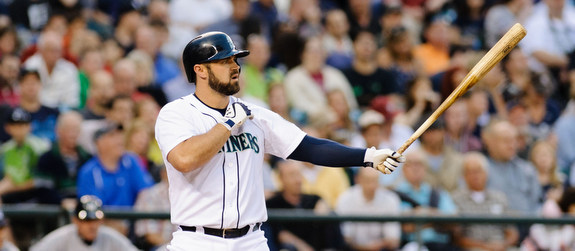 Swap Austin Romine for … someone
Three (three!) competent big league backup catchers were designated for assignment last week, meaning they are freely available to the other 29 teams. One of those catchers (John Baker) has since been claimed by the Dodgers, but the other two (Ramon Hernandez and Kelly Shoppach) are still out there for the taking. Hernandez has hit .208/.291/.438 (103 wRC+) in 55 plate appearances for the Rockies and Dodgers this season while Shoppach put up a .196/.293/.346 (82 wRC+) line in 125 plate appearances for the Mariners.
Romine, 24, has been an absolute disaster even by backup catcher standards, going 7-for-53 (-24 wRC+) with two doubles. Both the 37-year-old Hernandez and 33-year-old Shoppach represent upgrades, allowing Romine to get the regular playing time he desperately needs in Triple-A. Shoppach is particularly appealing because he a) has  hit .239/.333/.428 (112 wRC+) against left-handers since 2010, and b) is familiar with CC Sabathia from their years together with the Indians. As we saw with Romine, the Yankees are obviously concerned about the pitcher-catcher relationship. Shoppach and Sabathia already have a bit of a rapport, which should ease the transition. The backup catcher is pretty much the 25th man on the roster, but an upgrade is an upgrade.
* * *
Obviously these moves aren't as simple as swapping one guy out for another. Each requires a 40-man roster move and that can get complicated, especially when making multiple moves at the same time. The 40-man is full right now, but guys like Chris Bootcheck, Melky Mesa, Neal, and Brignac are easily cuttable. Remember though, the team is expecting five (!) players to return from 60-day DL at some point this summer barring setbacks. Clogging up the roster with someone like Mustelier might not be ideal. Then again, neither is struggling to score four runs a night.