Starting this week and continuing through the end of the Spring Training, we're going to preview the Yankees position-by-position and on a couple of different levels.
The Yankees have only had four regular first baseman over the last 20 years, so the position has become pretty low-maintenance in the Bronx. That doesn't make it any less important though, and this summer the club will have to rely on the most recent of those four first baseman to anchor their offense and be a steadying presence in the lineup. Robinson Cano is clearly the team's best hitter, but he can't do it all himself.
The Starter
There's no doubt Mark Teixeira is one of the most important Yankees heading into the 2013 season. The club lost quite a bit of offense this winter and will be without Curtis Granderson for the month of April, meaning they can't afford another one of Teixeira's customary slow starts — during his four years in the Bronx, Tex has hit .209/.336/.386 in April and .271/.361/.525 in the other five months of the season. Perhaps playing in the World Baseball Classic this spring will break that trend, but I'm not counting on it.
Teixeira, who will turn 33 a few days into the season, has all but abandoned any hope of getting back to being the all-fields hitter he was prior to the 2010 season. The short porch in right field was too enticing and he completely changed his approach as a left-handed hitter, opting to pull the ball in the air rather than just drive it wherever it was pitched. That approach is great for power but lousy for everything else, as the shift and routine fly balls have sapped his batting average and by extension, his on-base percentage. Teixeira tried to get back to hitting to all-fields last year and the result was a lot of weak fly balls the other way, so the damage to his left-handed swing is been done. He remains an above-average hitter (116 wRC+ in 2012) but is now just a one-dimensional one.
On the other side of the ball, Teixeira has few peers in the field and is one of baseball's best defensive first baseman. His range actually kinda stinks thanks to his thick lower half and utter lack of foot speed, but he sucks up every ball he can reach and is as good a thrower as you'll find at the position. The total package is an above-average player but not an elite one despite his salary, and Teixeira is aware of that. The Yankees desperately need him to stay healthy and be productive this summer.
The Backup
With the bench still unsettled, Teixeira's backup right now is third baseman Kevin Youkilis. Given the team's lack of hot corner alternatives, I'm guessing the bench will feature a more clearly defined backup first baseman such as 33-year-old Dan Johnson or even 34-year-old Juan Rivera, who played more games at first (54) than in the outfield last year (46). Either way, Teixeira has been a lock for 155+ games played for most of his career and will be counted on for that many in 2013. There will be no platoons or experiments here, Teixeira is the guy. If he gets hurt and misses a few weeks, the drop-off between him and his replacement — or the replacement third baseman with Youkilis sliding over to first — is considerable.
Knocking on the Door
Johnson could either make the team or open the season in Triple-A — I don't think either would be much of a surprise. If he does open the year on the bench in New York, 26-year-old Luke Murton would get the call as the regular first baseman for Triple-A Scranton. Matt's little brother hit .249/.327/.464 (117 wRC+) with 25 homers in 526 plate appearances for Double-A Trenton last year, though he isn't much of a prospect because he struggles against breaking balls and isn't much of a defender. The righty hitting/righty throwing first baseman is one of baseball's weakest historical profiles, so Murton is at an even greater disadvantage. He is technically knocking on the door of the big leagues since he'll be with the Triple-A squad, but I wouldn't expect to see him wearing pinstripes this year or any other year for that matter.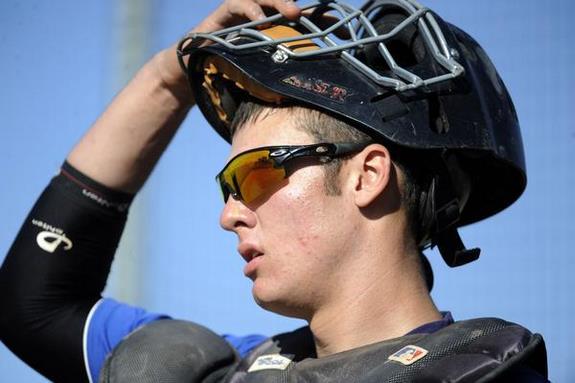 The Top Prospect
I didn't rank a single first base prospect in my preseason top 30 list and that's no accident. It's a low priority position and very few players are actually drafted and developed as first baseman. Most move there from other more high-profile positions as a last resort. Prince Fielder is the most notable exception.
Anyway, New York's best first base prospect — 20-year-old Greg Bird — has indeed moved to the position because he couldn't handle catching full-time due to a back injury. The left-handed hitter owns a .307/.418/.446 (~159 wRC+) career batting line since signing for $1.1M as the team's fifth round pick in 2011, but unfortunately that performance has come in only 122 plate appearances. Bird offers power and patience and he can really hit, but he's going to have to keep producing since he's already relegated to the lowest priority position before his 21st birthday.
The Deep Sleeper
As I said, there aren't many first base prospects worth knowing throughout the game in general, nevermind in Yankees' system. Bird is their best prospect at the position by a big margin, but last summer's tenth round pick Matt Snyder could be a breakout candidate this summer. The 22-year-old hit .299/.397/.428 (147 wRC+) with more walks (26) than strikeouts (19) in 219 plate appearances for Short Season Staten Island last year, but therein lies the rub: his season ended prematurely because of a broke wrist. Wrist injuries tend to linger and impact power output for a year or so, meaning Snyder's breakout potential is limited.
* * *
The Yankees are setup well at first base with Teixeira, though his production has slipped and he's no longer the two-way force he was earlier in his career. He's more of a great complementary player than a cornerstone, which kinda sucks because there is still four years left on his contract. The team lacks first base prospects — specifically at the upper levels of the minor leagues — but that's not really a big deal at this point. They are going to live and die with Teixeira for the foreseeable future thanks to his contract anyway.
Other Previews: Catchers