No, it's not the literal midway point of the season, but we're going to use the four-day All-Star break to review the Yankees' performance to date. We're handing out letter grades this year, A through F. Yesterday we tackled the A's, today we continue with the B's.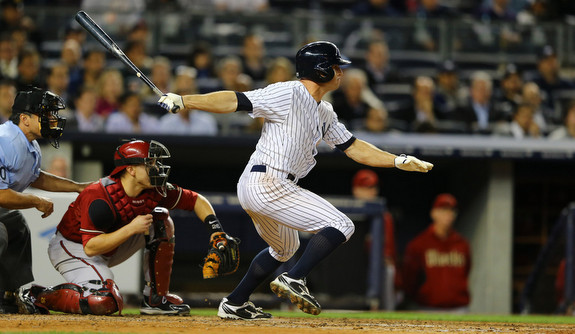 The Yankees remain just three games out of a playoff spot despite their plethora of injuries, and the reason they remain so relatively close is a number of unexpectedly strong performances. Some new faces — I mean really new faces, as in guys acquired during Spring Training — have stepped up and assumed larger than expected roles, taking pressure off stalwarts like Robinson Cano in the lineup and David Robertson in the bullpen.
The Grade B's are not the team's elite players. They are the guys who have performed well, better than average really, and served as consistent complimentary pieces. One of these guys is actually a disappointment relative to his typical production, but his standard is so high that a disappointing year is actually pretty good. Without further ado, here are the Grade B's.
Brett Gardner
Outside of Cano, Gardner has been the team's only other consistently above-average offensive player. He missed basically all of last season with an elbow injury and has emerged as a legitimate leadoff hitter, putting up a .272/.338/422 (107 wRC+) line with a career-high tying seven homers. Gardner has only stolen 13 bases (in 19 attempts), which is surprising and a letdown, but he has made up for the lack of speed by hitting for power. He has also continued to play his typically elite defense while replacing Curtis Granderson in center field — Gardner was slated to play center even before Granderson's injury. He can be streaky, but Gardner has been very good for the Yankees this year.
Shawn Kelley
Acquired from the Mariners early in Spring Training, Kelley shook off a horrid April to emerge as Joe Girardi's trusted seventh inning guy. His 3.67 ERA and 3.12 FIP are built on a dynamite strikeout rate (13.37 K/9 and 36.2 K%), which has allowed him to strand 21 of 22 inherited runners. Kelley has essentially been a second Robertson with the way he can come out of the bullpen and snuff out rallies without the ball being put in play. What looked like a depth pickup in camp has turned into something much more. Kelley is a key part of the bullpen.
Boone Logan
The theme of New York's bullpen is strikeouts, and none of their relievers — not even Mariano Rivera — can match Logan's ability to miss bats (12.60 K/9 and 34.7 K%) and limit walks (1.80 BB/9 and 5.0 BB%). His 7.00 K/BB is the eighth best in baseball among relievers who have thrown at least 20 innings. Logan has excellent strikeout (42.4%) and walk (3.4%) rates against lefties, but he's run into a little bad luck (.429 BABIP) and they've put up a decent .246/.271/.404 line against him. That's not good for a primary lefty specialist, but it has improved of late and Logan remains an effective cog in Girardi's bullpen. He's been the team's best left-handed reliever since Mike Stanton way back in the day and it's not all that close either.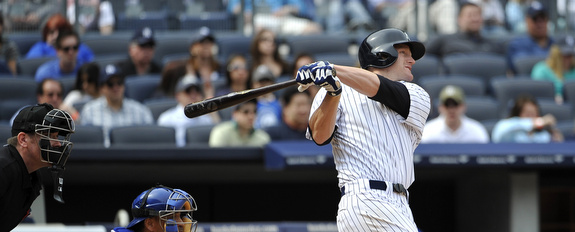 Lyle Overbay
The Yankees signed Overbay with just three days left in camp and he was only supposed to hang around until Mark Teixeira returned, but Teixeira's season-ending wrist surgery has made him the everyday first baseman. Overbay has responded by hitting an ever-so-slightly above-average .252/.308/.437 (101 wRC+) with more than a few clutch, late-inning hits, plus he plays very good defense at first. He's a platoon bat — 121 wRC+ vs. RHP but only 46 vs. LHP — but the Yankees have had to play him everyday, so the fact that his overall season line is a bit better than average is a testament to how productive he's been against righties. Overbay has exceeded even the highest of expectations and has probably been the team's third best everyday position player. No, really.
CC Sabathia
Sunday's disaster start makes this seem silly, but even the diminished version of CC Sabathia is a reliable innings eating workhorse. As I've been saying the last five years now, even bad Sabathia is still pretty good. He's got a 4.07 ERA and 4.05 FIP in 137 innings, the fifth most in all of baseball. His biggest problem this season has been the long ball — CC has already surrendered 21 homers, just one fewer than his career-high set last year. Learning to live with reduced fastball velocity is not an easy thing to do, but Sabathia has worked through it and typically gives the team a chance to win. Well, at least gives a team with an average offense to win. He's not an ace right now and he may never be again, but the sheer volume of innings he provides makes him a better than average hurler despite the an ERA and FIP that are worse than his career norms.