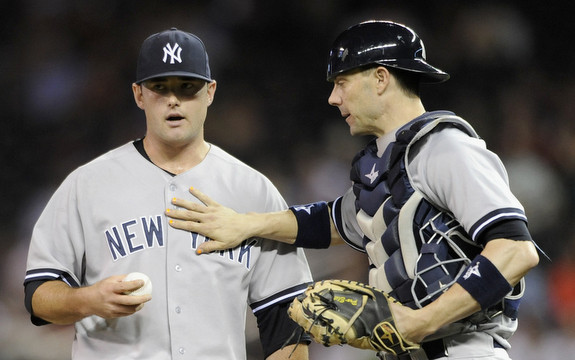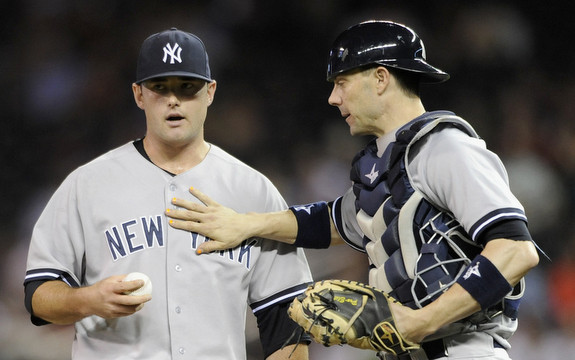 Outside of last season, when the Yankees lost Mariano Rivera to the knee injury in early-May, the team has always enjoyed a deep and productive bullpen during the Joe Girardi era. This year is no different, as New York's relief corps has been solidly above-average with a 3.39 ERA and 3.61 FIP. Their 25.1% strikeout rate and 7.7% walk rate are the second and fifth best marks in baseball, respectively. Girardi's bullpen has a whole has been very good this year yet again.
The weird thing about bullpen is that its usage depends largely on the game situation. The starting rotation is on a set schedule and while the lineup is tailored to the handedness of the opposing starter, it doesn't really change throughout the course of a game. Which relievers are used on a given night depends entirely on the score, the inning, the opposing batter, basically everything you have no way of knowing going into the game. Bullpen usage is unpredictable on a day to day basis.
Because the Yankees don't score many runs and are forced to play in close games night after night, Girardi has had to use David Robertson and Rivera probably more than he would like so far. Robertson is on pace for a career-high 71 appearances while Rivera is on pace for 67 appearances, which would be his most since 2007, the year before Girardi was hired. Both guys have appeared in five of the last eight games and ten of the last 20 games. That's a lot of work.
Unless the Yankees magically start scoring a bunch more runs, they're only going to continue playing close games as the division and playoff races get tighter in the second half. That means even more stressful innings for Robertson and Rivera. Shawn Kelley has emerged as a fine seventh inning option (2.05 ERA and 1.89 FIP in 22 innings since May 1st) and Adam Warren has pitched about as well as a long reliever can be expected to pitch, but Joba Chamberlain has been a disaster since coming off the DL and Preston Claiborne has hit a (really) rough path of late. The middle innings are a bit of a mess right now.
So while improving the offense needs to be priorities one, two, and the three leading up to the deadline, it wouldn't be a bad idea for the Yankees to seek out a late-inning reliever type to partner with Robertson and Rivera, just to lighten the load down the stretch. The team's internal options right now aren't all that great:
RHP Mark Montgomery: Currently on the Triple-A DL with a shoulder problem. He was dealing with Kevin Whelan Syndrome when healthy anyway. Disappointing year.
RHP Chase Whitley: Has a 4.22 ERA and 3.20 FIP while repeating Triple-A. Middle reliever type more than a high-leverage guy.
RHP Matt Daley: Has a 1.57 ERA and 2.02 FIP across three minor league levels after missing most of 2011 and all of 2012 following shoulder surgery. Another middle reliever type.
RHP David Herndon: Rehabbing from Tommy John surgery and expected to be ready sometime later this month or early-August. Ken Rosenthal says Herndon has been up to 94 mph recently. He was a middle reliever with the Phillies.
RHP Dellin Betances: He's been killing it as a reliever — 2.27 ERA and 1.93 FIP in 31.2 innings — since making the switch in early-May. Easily the best bullpen option at this very moment.
When Betances is your best internal option for a late-inning bullpen arm, it's probably best to see what's available on the trade market. I supposed the Yankees could stick either Phil Hughes or Michael Pineda in the bullpen (with the other staying in the rotation), but that seems very unlikely at this point.
Trading for bullpen help is a very risky proposition because of the volatility of the position, but sometimes it's a necessary evil. The Yankees aren't at that point yet. Finding a running mate for Robertson and Rivera is just something that is on the radar and not imperative at the moment. They should keep an ear to the bullpen market ground to see if a 2010 Kerry Wood-type (Matt Thornton?) becomes available in the coming weeks, but that's something they do all the time anyway.
The Yankees aren't desperate for bullpen help like some of their competitors — the Red Sox and Tigers, specifically — but I don't think they should be completely comfortable with their reliever situation either. Joba seems likely to be traded before the end of the month and Kelley is a bit too homer prone to be fully trusted in the late innings of close games. No one knows what to expect from Claiborne. There's some uncertainty there beyond Robertson and Rivera, which is a little scary given their recent workload and the sheer number of close games this team plays.