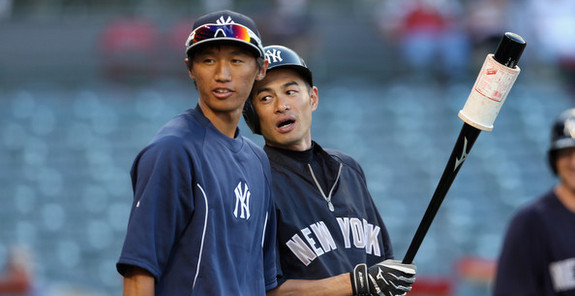 Baseball America has started publishing their annual top 20 prospects lists for each of the 16 minor leagues this week, and the series continued today with the Rookie Gulf Coast League. Ninth overall pick OF Austin Meadows (Pirates) topped the list, predictably. The Yankees landed six (!) players in the top 20: C Luis Torrens (#10), 3B Miguel Andujar (#11), SS Abi Avelino (#13), 2B Gosuke Katoh (#15), RHP Luis Severino (#17), and SS Thairo Estrada (#20). LHP Ian Clarkin didn't not have enough innings to qualify.
In the subscriber-only scouting report, Baseball America says Torrens "has a sound hitting approach and a loose, easy swing with good hand-eye coordination" while lauding his ability to recognize breaking balls and power potential because "his swing generates loft." He is rough around the edges defensively, mostly due to a lack of experience — he moved from shortstop/third base to catcher last year — but his arm is strong and accurate. The Yankees gave Torrens a $1.3M bonus as their top international signing last summer.
Andujar "did a better job recognizing breaking pitches and taking a better hitting approach to use the whole field" this year than he did at the same level last year, though the write-up says he'll sell out for power and still needs to improve his approach. "Avelino has a mature hitting approach for his age, with good barrel awareness that allows him to use the whole field and the discipline to not expand his strike zone," said Baseball America while also cautioning that his lack of power has some concerned about how his bat will play at the upper levels. "At shortstop he has a good internal clock, shows smooth hands and footwork along with an above-average arm," they added.
Katoh, who led the GCL in homers (six) and was second is SLG (.522), was described as a "difficult out" because of his "plate discipline and bat-to-ball ability … (he) works the count, uses the whole field and has plus speed." Baseball America says his defense at second is a plus despite not having the arm for short. Severino "sits in the low- to mid-90s and has reached 98," but can get radar gun happy at times. His changeup has jumped ahead of his slider, but the latter still shows signs of being a put-away pitch. Estrada, who is praised for his defense, is also said to have "excellent instincts and is an advanced hitter for his age. He has good bat control, makes plenty of contact and has a good hitting approach."
Six prospects in a league top 20 list is an awful lot, though the obvious caveat here is that this is rookie ball. It's the lowest level of domestic minor league baseball and literally every team has interesting prospects this far down. These six guys — I'm a fan of Avelino and Severino, in particular — are going to be real important to the Yankees going forward and not just because they might be able to plug them into the lineup down the road. Developing into trade bait would be a big help as well.
Anyway, the next league top 20 of interest to Yankees fans is the Short Season NY-Penn League, which will be released on Friday. 3B Eric Jagielo will definitely make that list while OF Michael O'Neill, OF Brandon Thomas, RHP Rookie Davis, and RHP Gio Gallegos are on the fence.