The 2013 season is over and now it's time to review all aspects of the year that was, continuing today with a disastrous pick-up that still has not yet to pay any dividends.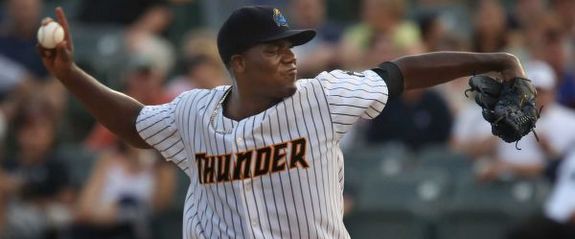 When the season started, I said I would be thrilled if the Yankees got a hundred league average innings out of Michael Pineda in 2013. He had major shoulder surgery last May and was expected back sometime in June, so maybe asking him to throw even that many innings was a bit unrealistic. Labrum tears, even only anterior tears like the one Pineda had, are no joke. They're career-altering injuries.
Rather than get those 100-ish average innings this summer, the Yankees got absolutely nothing out of Pineda for the second straight season. Literally zero pitches at the big league level. You know what? Forget about pitches. Pineda has not spent even one day on the team's active roster since being acquired 22 months ago. Not one. The shoulder injury has wiped out his age 23-24 seasons and, more importantly, two years of dirt cheap, pre-arbitration-eligible production.
Unlike last season, Pineda did manage to pitch in official minor league games this summer. He started a minor league rehab assignment with High-A Tampa on June 9th, one year, one month, and eight days after surgery. Pineda allowed one unearned run in 4.1 innings that afternoon and eleven days later he surrendered just two runs (one earned) in four innings in his second and final rehab start with Tampa. The team was off for the All-Star break between the two starts, so he threw a simulated game instead.
Pineda moved up to Double-A Trenton and made two more starts, one good (six scoreless innings) and one not so good (four runs in three innings). He was then bumped up to Triple-A Scranton, where he allowed two runs in five innings in his first outing. On July 7th, with his 30-day rehab window about to expire, the Yankees activated Pineda off the 60-day for the first time since he joined the organization and immediately optioned him to Scranton to continue working his way back from surgery.
In five starts following the optional assignment, Pineda allowed eight runs in 18.2 innings — three of the five starts were scoreless — while striking out 19 and walking four. His comeback trail came to an abrupt end on August 2nd, when he exited a game after only two innings due to shoulder stiffness. Tests revealing no structural problems, just the usual inflammation and the like. Pineda was originally expected to be shut down for 7-10 days but instead his season was over. He didn't even start throwing off flat ground until three weeks later.
All told, Pineda pitched to a 3.32 ERA (~3.75 FIP) with 41 strikeouts (9.1 K/9 and 23.8 K%) and 14 walks (3.1 BB/9 and 8.1 BB%) in 40.2 innings across ten minor league starts. Only three times did he a) complete five innings of work, or b) throw more than 80 pitches in a start. Velocity reports from the team were good, consistently in the low-90s and touching 94-95, but those came from the team. Gotta take that stuff with a grain of salt. Reports (and box scores) indicate Pineda regularly ran out of gas around the 65-70 pitch mark, which isn't surprising following shoulder surgery, I suppose.
The only positive to come out of Pineda's season was that he was activated off the DL and optioned to the minors early enough to both push his free agency and arbitration clocks back a year. That's it. Brian Cashman said Pineda was healthy when the Yankees shut him down in August — they supposedly decided it was best to let him rest after rehabbing and pitching for over a year leading up to that point. He's not going to pitch in winter ball or anything like that. The next time Pineda will pick up a ball in a competitive environment is when Spring Training opens in February and he's given an opportunity to win a rotation spot, according to the GM.
There's a decent chance Pineda will never be an effective big league pitcher again and, frankly, there's a chance he will never throw a single meaningful pitch in pinstripes as well. It's entirely possible. Missing two full years due to shoulder surgery (at a crucial development age, remember) is serious stuff. The Yankees had one chance to shoot the Jesus Montero bullet and they fired a total dud. They've gotten zero return from the trade. Absolutely nothing. Wrap your head around that. The trade and Pineda specifically have been complete and total disasters. Maybe it'll look better in a few years, but right now it's a catastrophic failure that set the team back … I don't know how much. But it did.